UNLV baseball to take aggressive approach this season
February 16, 2017 - 7:17 pm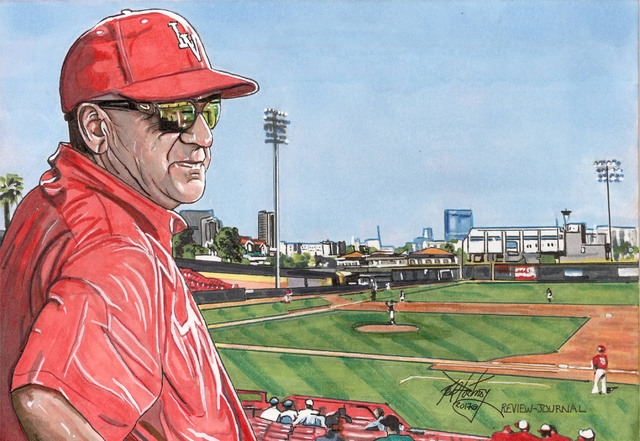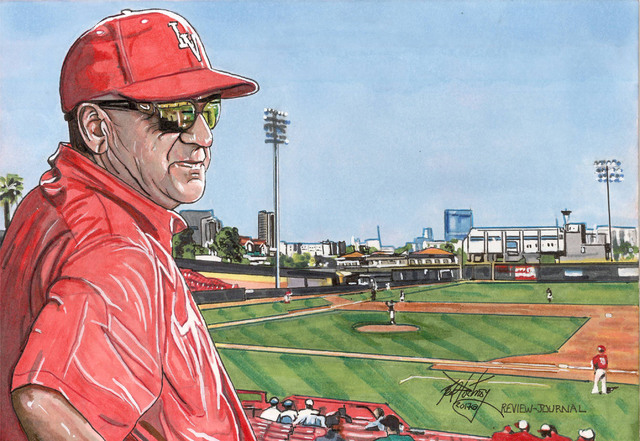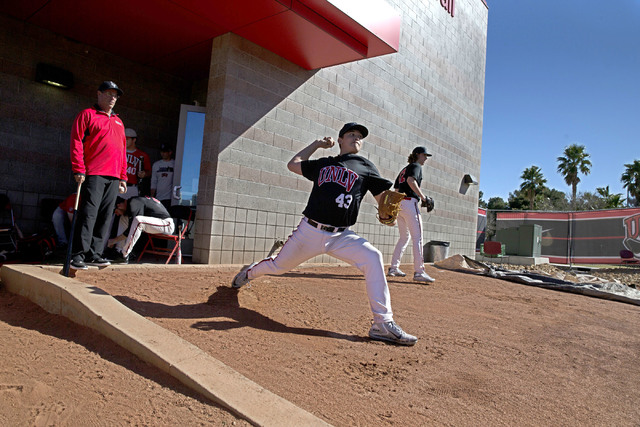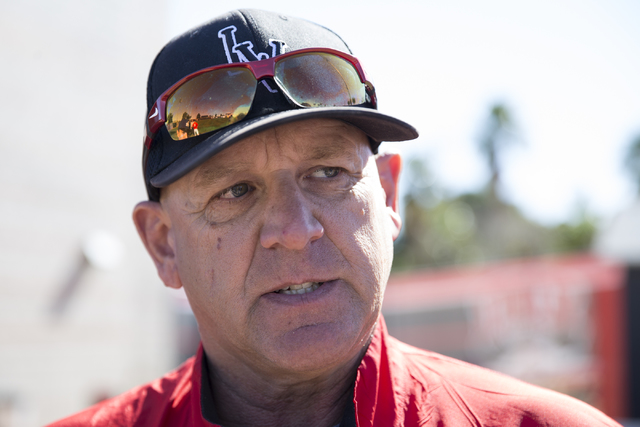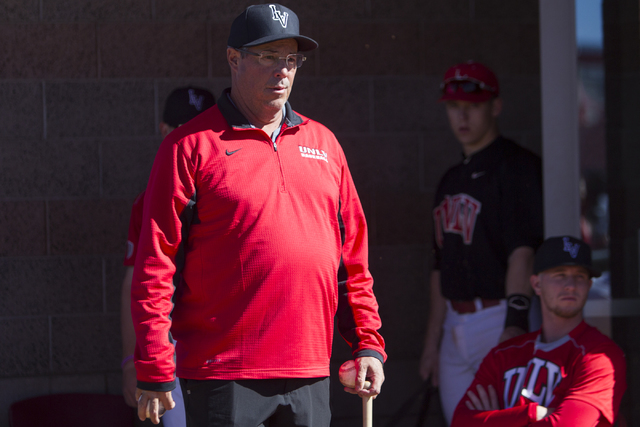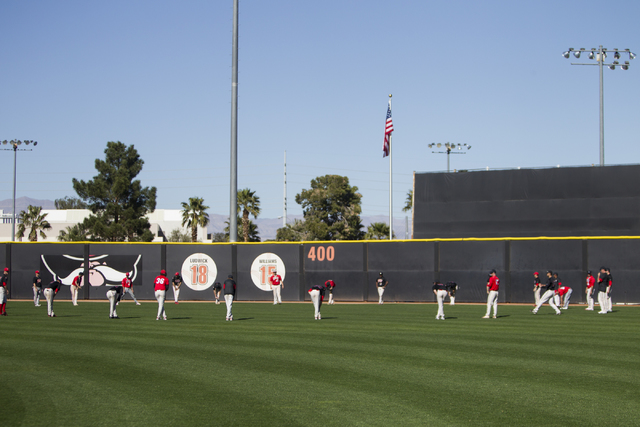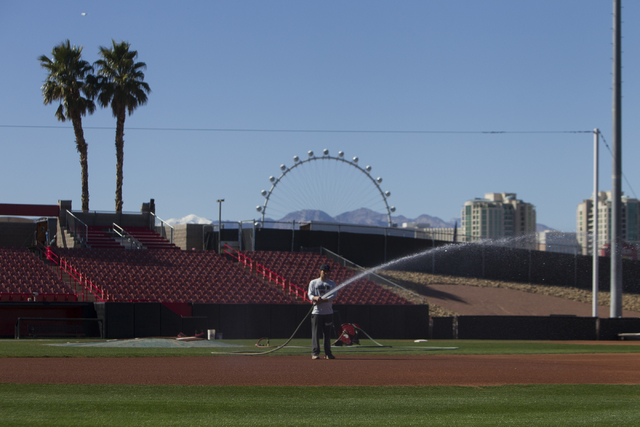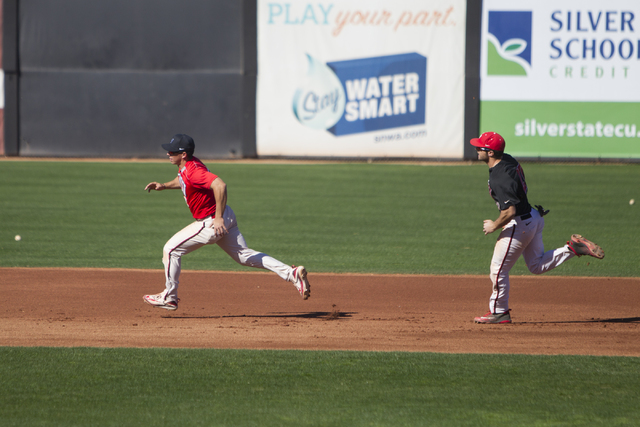 Stan Stolte doesn't like to be called the second-year UNLV baseball coach.
For Stolte, he opens his first season this weekend, and described last season as "the substitute teacher" filling in.
"From a coaching standpoint, it wasn't hard," Stolte said of being the interim coach in 2016. "It did hurt us recruiting wise, but as far as the kids, they played hard and they did everything we asked them to do."
Stolte, who received a three-year contract in June after a 24-32 season, said the promotion allowed him to instill his coaching blueprint, and it includes a lot of risk-taking and running.
The Rebels open the season at 6:05 p.m. Friday against Omaha in the first game of the UNLV Classic at Wilson Stadium. UNLV faces Saint Mary's on Saturday, UC Davis on Sunday and concludes the tournament against Omaha on Monday.
"We'll be aggressive," Stolte said. "We have some very good athletes who can run. We can get on base, and we have some power. We'll be balanced offensively."
Stolte wants his players to create havoc on the bases.
"We're going to keep defenses on its toes," said Justin Jones, a senior captain and infielder. "If we have to bunt, then we'll bunt. Defenses won't like playing us. This team can really hit, and it doesn't matter in what order we hit."
Stolte said Jones, Kyle Isbel, Payton Squier, Bryson Stott and Ernie De La Trinidad will be the speed demons for the Rebels, who return six starting positional players.
First 500 fans at the gate on Friday get a FREE Baseball Hat (Courtesy of @SNSHF)!!

Get your tickets here: https://t.co/RCZevWCjlm pic.twitter.com/CENxTMp61u

— UNLV Baseball (@unlvbaseball) February 15, 2017
Isbel, one of the top freshmen in the nation last year, will move from third base to the outfield and hit leadoff. He was named to the Mountain West's preseason all-conference team.
Squier, a junior catcher, led UNLV with a .375 average a year ago and was named to the All-Mountain West first team. Stott, a freshman from Desert Oasis High School, will be the starting shortstop.
"It's pretty special to start for my home team," said Stott, who had offers from Oregon, Nebraska and Cal State Fullerton. "Recruiting was a little crazy, but I made the right choice coming here. I knew deep down I wanted to stay home."
Jones said he expects Nick Ames to have a breakout sophomore season at first base.
"Nick Ames didn't play too much last year, but he has improved so much," Jones said. "He probably has the most power on the team. He'll be one of our RBI guys."
Stolte said he feels at ease with the hitting and defense, but admits he had concerns about the pitching staff.
UNLV lost its top three starters and closer from last year to the big leagues, and arguably its top returner, Ryan Hare, was lost for the 2017 season because of Tommy John surgery.
Baseball Hall of Famer Greg Maddux took a volunteer job as the pitching coach for the Rebels. His son, Chase, is a sophomore right-handed pitcher at UNLV.
"My major concern in the fall was the pitching," Stolte said. "I feel a lot better about it now. Greg has done a tremendous job, and the kids have stepped up. We'll surprise some people with our pitching."
Alan Strong, a junior right-hander who transferred from Grossmont College in San Diego, will be the opening night starter. He said he has a fastball that can reach 92 mph.
Tevita Gerber, Larry Quaney III and Garrett Poole are the Rebels' other starting pitchers.
"It's exciting to be the No. 1 guy," Strong said. "I just want the first inning to start already so I can show what I'm capable of."
Jake Lewis, Paul Richy, Blaze Bohall and Corey Wilson will be key bullpen pitchers. Bryan Menendez will open as the closer.
"We're going to be aggressive with the bullpen," Stolte said. "We might ask one to get three outs and another to get one player out. Same with the starters."
UNLV was picked to finish tied for fifth place in the Mountain West preseason coaches' poll. New Mexico and Fresno State were chosen to finish first and second.
"Let them doubt us," Jones said. "We know what we got going on over here."
Contact Gilbert Manzano at gmanzano@reviewjournal.com or 702-383-0492. Follow @gmanzano24 on Twitter.
UNLV WEEKEND SCHEDULE
All games at Wilson Stadium
Friday: vs. Omaha, 6:05 p.m.
Saturday: vs. Saint Mary's, 6:05 p.m.
Sunday: vs. UC Davis, 3:05 p.m.
Monday: vs. Omaha, 12:05 p.m.