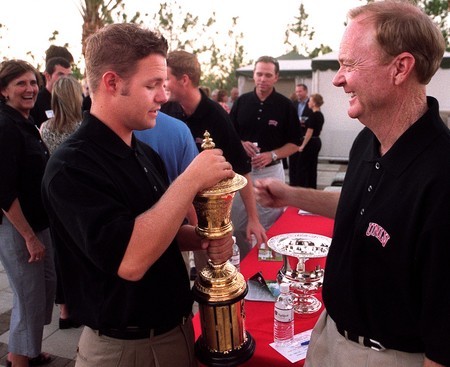 For those who have lived in Las Vegas since the mid-1980s and follow golf, the 2009 inductees to the Las Vegas Golf Hall of Fame will be familiar.
Dwaine Knight, the coach who took UNLV's program to a championship level, will be honored tonight at the induction banquet at TPC Summerlin. Joining Knight will be one of his former players, Edward Fryatt, along with longtime teaching professional Jimmie Bullard and golf writer and historian Jack Sheehan.
"It's a great honor for our program, not just for me personally," Knight said of going into the hall, which recently settled into its permanent home at Las Vegas National Golf Club. "The community has been so supportive in embracing our program and allowing us to play at the highest level."
Knight, who came to UNLV in 1987 from New Mexico, said he saw the potential for the sport to grow in Las Vegas early on.
"There was a can-do spirit in the town which intrigued me," he said. "I think I raised $50,000 at New Mexico, and when I got here I talked about raising $500,000 to endow the scholarship program. When I talked to people, they didn't see it as a big problem."
Knight got his money and then some. He rewarded his backers by winning the 1998 national championship, and UNLV remains an elite golf program.
Fryatt, who was taught the game by Bullard, went to Chaparral High School and played for Knight at UNLV. He went on to succeed as a professional, playing on the PGA Tour and winning more than $1 million in his career.
"It's a nice gesture for them to think of me," Fryatt said. "I've been out of the game four, five years, so when I got the call, it was somewhat of a surprise. But I was fortunate to grow up in this town where there were so many opportunities the game offers. It's nice to be recognized for all the hard work over the years."
Bullard, who has been teaching the game in Las Vegas since 1981 and still works at Palm Valley in Sun City Summerlin, said he didn't expect such an honor to be bestowed upon him.
"I guess it shows if you work hard and you're interested in helping other people, someone will notice," Bullard said.
For Sheehan, a former University of Oregon golfer who was a teammate of longtime PGA Tour player Peter Jacobsen, the honor is especially meaningful.
"I'm certainly not getting in for my playing ability," Sheehan said. "But it's nice to be recognized for chronicling the growth of the game and seeing it take off here."
Contact reporter Steve Carp at scarp@reviewjournal.com or 702-387-2913.