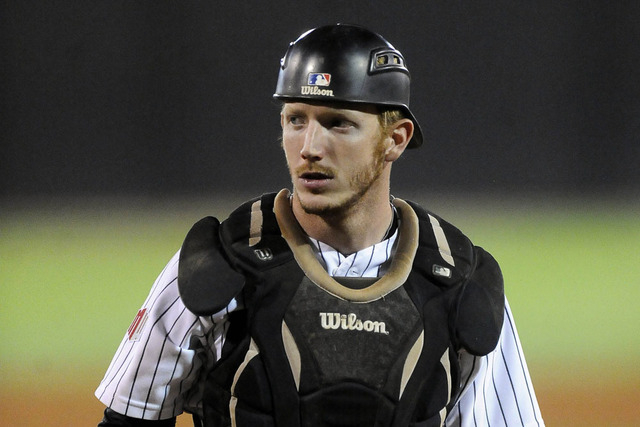 After defeating seventh-seeded San Jose State 2-1 in the play-in game of the Mountain West baseball tournament in Reno, sixth-seeded UNLV suffered a 6-5 defeat by third-seeded Fresno State on Wednesday to drop into the losers' bracket of the double-elimination tournament.
The Rebels (25-30) rallied in both games, but were unable to hold the lead against Fresno State, and now they have no room for error. UNLV plays an elimination game at 11 a.m. today against fifth-seeded Air Force (22-27), which was beaten 13-1 in seven innings by No. 4 seed New Mexico later Wednesday.
UNLV looked as if it would be playing in the winners' bracket after scoring four runs in the eighth inning to take a 5-4 lead over Fresno State (30-26). But the Bulldogs scored two runs in the bottom half against Rebels right-hander Bryan Bonnell (1-5), getting RBI singles by Torin Goldstein and Taylor Tempel.
UNLV began the day with the win over San Jose State (13-44) to gain entry into the double-elimination event. The game was delayed after the seventh inning for 1 hour, 35 minutes because of lightning.
Rebels right-handed starter Kenny Oakley (4-5) allowed five hits and one run in seven innings, and left-hander Brayden Torres tossed two shutout innings to gain his fifth save.
San Jose State scored in the first inning, and the Rebels scored two in the sixth. Edgar Montes' sacrifice fly and Morgan Stotts' RBI single accounted for the runs.
Two Rebels were honored by the Mountain West. Senior catcher Erik VanMeetren was selected to the all-conference first team and Oakley to the second team.
VanMeetren, who went to Bishop Gorman High School, batted .300 during the regular season, with 26 RBIs and 34 runs. Oakley, a junior who went to Coronado, went 3-5 with a 3.39 ERA and 57 strikeouts in 61 innings.