UNLV falls to Air Force in 15 innings, ends season with 25-31 record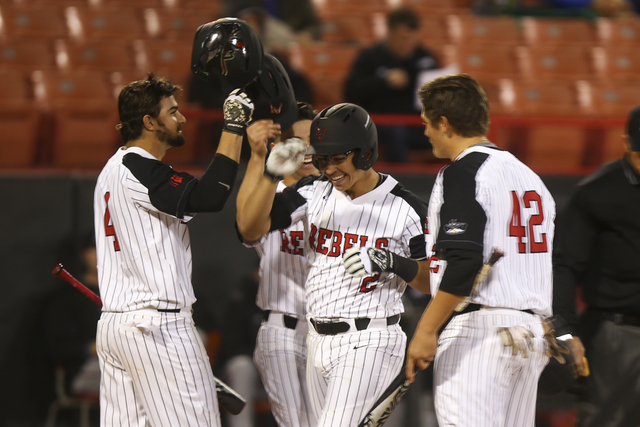 UNLV first baseman's Morgan Stotts' fielding error allowed Adam Groesbeck to score the winning run with no outs in the 15th inning and give Air Force a 4-3 victory Thursday in the Mountain West baseball tournament in Reno.
The loss ended the sixth-seeded Rebels' season at 25-31, their first losing record since going 26-31 in 2012. They won a combined 73 games the past two seasons, advancing to an NCAA regional in 2014.
UNLV put itself in position to keep its season alive, scoring twice in the first inning and once in the eighth to take a 3-0 lead. But Air Force answered with three runs in the bottom half, the second day in a row the Rebels' bullpen gave up a lead in the eighth.
But their bullpen came through for the most part against the No. 5 Falcons (23-28), allowing no earned runs in 6 2/3 innings. Right-handed starter Blaze Bohall also pitched well, giving up three runs and five hits in 7 1/3 innings. He tossed shutout ball for seven innings.
UNLV's offense ultimately let down the Rebels, failing to score after the eighth and leaving 11 men on base. Their defense also committed four errors.
The Rebels paid for the offensive drought when Air Force loaded the bases in the 15th and then scoring the winning run.