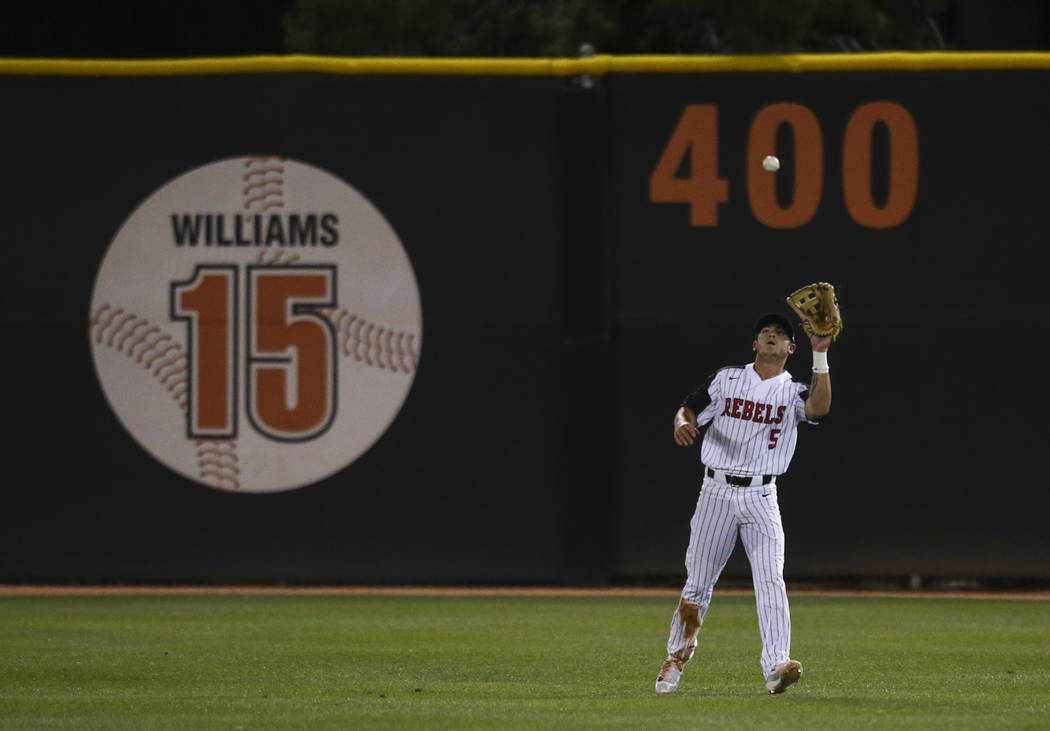 Bryson Stott and Nick Rodriguez had consecutive two-run hits in UNLV's 12-run seventh inning, and each finished with four RBIs as the Rebels rallied for a 19-15 win over Air Force in a Mountain West baseball game Saturday in Colorado Springs, Colorado.
Trailing 7-3 entering the seventh, 21st-ranked UNLV (18-2, 5-0) erupted for seven consecutive run-scoring hits, all with two outs, en route to its seventh straight win.
Rodriguez and Jack-Thomas Wold each went 4-for-5, Rodriguez and Grant Robbins homered, Wold had two doubles and scored four runs, and Robbins had three RBIs and scored three runs for the Rebels, who used 10 pitchers.
In the seventh, after one run scored on a double-play grounder, Kyle Isbel hit an RBI single, Max Smith a two-run double, Robbins a two-run single, Vince Taormina an RBI single, Stott a two-run double, Rodriguez a two-run single and Nick Ames an RBI single.
Nic Ready went 4-for-6 with two home runs, a triple and five RBIs for the Falcons (6-12, 1-4), who held a 21-18 edge in hits.
Also for Air Force, Colby Brown went 5-for-6 with a double, Tyler Zabojnik went 3-for-6 with two RBIs and three runs, and Daniel Jones went 2-for-5 with a home run and four RBIs.
SOFTBALL
At Albuquerque, N.M., Devynn Marshall and Kiley Harrison each had a pinch-hit RBI single in the Rebels' six-run seventh inning, backing a three-hit shutout by Charlie Masterson and leading UNLV to a 6-0 victory over New Mexico.
Reina Bondi and Justine Federe had consecutive run-scoring singles in the seventh, and Brooke Stover capped the outburst with a three-run double — with all six runs scoring with two outs.
Masterson (5-3) struck out seven and walked two to outduel Alexis Ruel (1-6), who blanked the Rebels (18-8, 1-1 Mountain West) on one hit through six innings.
UNLV totaled five hits and two walks in the decisive seventh. The Lobos (7-20, 1-1) mustered no extra-base hits off Masterson.
TRACK AND FIELD
At Tempe, Ariz., Jasmyne Graham and Najia Hudspeth were part of relays that placed third and fifth in the Baldy Castillo Invitational, the Rebels' first outdoor meet of the season.
Graham and Hudspeth teamed with Destiny Smith-Barnett and Kaysha Love to finish third in the 400-meter relay in 45.26 seconds. They teamed with Nylia Hudspeth and Elisa Rovere to place fifth in the 1,600 relay in 3 minutes, 50.58 seconds.
Also for UNLV, MacKenna Howard placed sixth in the shot put (48 feet, 1.25 inches), Hannah Davis sixth in the 400 hurdles (1:05.00), Nylia Hudspeth seventh in the 400 (55.77 seconds) and Caitlin Amburgey eighth in the 800 (2:20.57).
WOMEN'S SWIMMING AND DIVING
At Columbus, Ohio, Sofia Carnevale capped her sophomore season by placing 52nd in the 200-yard breaststroke in 2 minutes, 14.05 seconds in the NCAA Championships.