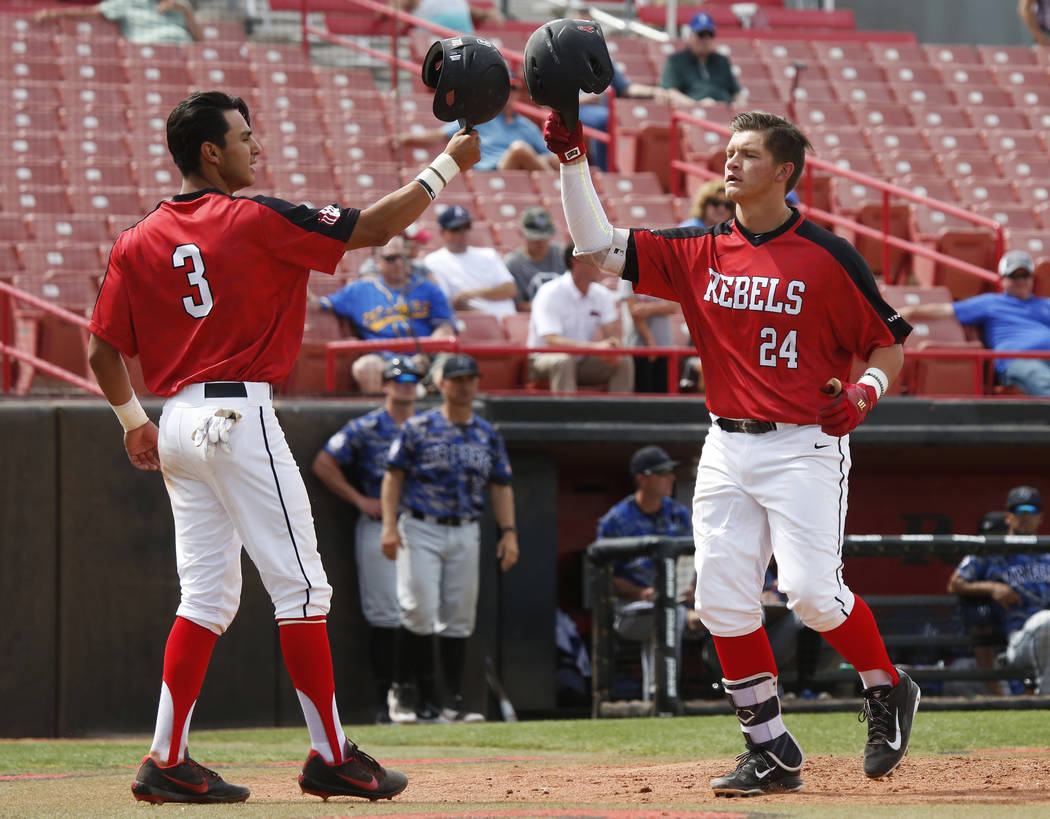 Nick Rodriguez went 4-for-5 with two home runs to power UNLV to an 8-1 win over UNR in a Mountain West baseball game Saturday at Wilson Stadium.
Kyle Isbel hit a two-run homer and Dillon Johnson a two-run double in a four-run fifth inning by the Rebels (32-19, 13-13 Mountain West), who held an 18-6 edge in hits.
Bryson Stott went 3-for-3 with two doubles, and Max Smith homered to back Trevor Horn (4-5), who held the Wolf Pack (26-21, 17-8) to one unearned run on five hits and no walks over 6 1/3 innings.
Johnson, Grant Robbins and Nick Ames had two hits apiece for UNLV.
Green Valley product Keaton Smith and Dillan Shrum each went 2-for-4 for UNR.
SOFTBALL
At Eller Media Stadium, Madison Kilcrease went 2-for-3 with two RBIs to back Bridgette Hutton, who pitched a four-hitter, as Colorado State notched a 3-1 victory over the Rebels.
Hutton (14-11) held UNLV (31-18, 13-11 Mountain West) to one run and three walks while striking out two as the Rams (26-21, 10-14) halted a seven-game losing streak.
Danni Klein went 1-for-2 with an RBI single, and Hannah McCorkhill had a double and scored for Colorado State, which held a 10-4 edge in hits.
Myranda Bueno went 2-for-3 and scored on Mia Trejo's fifth-inning sacrifice fly for the Rebels, who have their best overall record since 2010 and most league wins since 2014.
Janine Petmecky (19-7), who had won her previous six starts, allowed three runs on 10 hits and one walk and struck out four in a complete-game effort.
TRACK AND FIELD
At Clovis, Calif., Avi'Tal Perteete won the 800-meter run in a league-record time, and Jasmyne Graham won the 100 hurdles in a program-record time, helping the Rebels place second in the 11-team Mountain West Outdoor Championships.
Perteete's time of 2 minutes, 2.87 seconds is second in UNLV history, and Graham's time of 13.10 seconds is the third-fastest in league history.
The Rebels' team finish tied their best showing since the league's first meet in 2000. UNLV has placed second twice and third twice.
UNLV totaled 108 points, behind only champion San Diego State (120.5). Colorado State was third with 106.5, followed by Boise State (84), Utah State (78), New Mexico (60), Fresno State (58.5), UNR (57.5), San Jose State (55), Air Force (46) and Wyoming (44).
The Rebels had runner-up finishes in the 100, 400, 400 relay and 1,600 relay.
Destiny Smith-Barnett was second in the 100 in 11.40 seconds, and Najia Hudspeth was second in the 400 in 54.69 seconds.
Perteete, Nylia Hudspeth, Kaysha Love and Najia Hudspeth placed second in the 1,600 relay in 3:39.12, and Graham, Love, Najia Hudspeth and Smith-Barnett were second in the 400 relay in 44.56 seconds.