UNLV roundup: Hall, Oda power men's golf team to third at Goodwin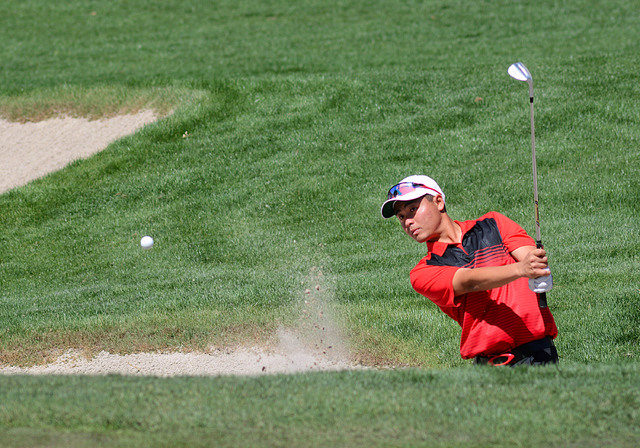 John Oda shot 4-under-par 66 to finish in a two-way tie for the day's best score, and UNLV teammate Harry Hall finished in a two-way tie for second overall Saturday to help the 15th-ranked Rebels hold onto third place after the final round of The Goodwin in Palo Alto, California.
Oda, a junior, finished at 1-under 209 to tie for fifth, two strokes behind sophomore Hall and three behind medalist Rhett Rasmussen of Brigham Young in the 126-player field.
UNLV shot 10-over 850, four shots behind top-ranked Southern California and 13 back of No. 12 Stanford, the champion of the 24-team field featuring nine teams ranked in the top 44 nationally.
No. 5 Oregon was fourth at 14-over 854, followed by No. 36 Washington (860) and No. 28 Pepperdine (870).
Also for the Rebels, freshman Justin Kim tied for 25th at 6-over 216, junior Shintaro Ban tied for 46th at 220, and senior Taylor Montgomery tied for 63rd at 223.
BASEBALL
At Iowa City, Iowa, Mitchell Boe hit a two-run double in Iowa's three-run ninth inning in the first game and a two-run double in the Hawkeyes' three-run eighth in the second game as the Hawkeyes rallied to sweep a doubleheader from UNLV by scores of 6-5 and 7-6.
Ernie De La Trinidad finished 5-for-9 with a home run, a double and four RBIs for the Rebels (10-20), who have lost 11 straight.
Solo home runs by Nick Rodriguez in the seventh inning, De La Trinidad in the eighth and Corey Pool in the ninth put the Rebels up 5-3 in the opener.
The Hawkeyes (17-9) then strung together a walk and three straight hits in the bottom of the ninth, all with two outs, capped by Chris Whelan's walk-off RBI single.
UNLV starter Tevita Gerber held Iowa to two runs on four hits and two walks in six innings. Larry Quaney (1-2) gave up four runs on four hits and one walk in the final 2⅔ innings.
Justin Jones had a double, a single and a run for the Rebels, who matched the Hawkeyes' eight first-game hits.
In the second game, UNLV held a 13-12 edge in hits but committed four errors and left 13 runners on base.
De La Trinidad, Nick Ames, Kyle Isbel, Justin Jones and Nick Rodriguez had two hits apiece for the Rebels, with De La Trinidad and Ames driving in two runs each.
Ben Norman went 3-for-4 to pace four players with multiple hits in the second game for Iowa, which has won six straight.
SOFTBALL
At Corvallis, Ore., McKenna Arriola went 3-for-4 with a double and three RBIs to back Meehra Nelson (4-3), who gave up one earned run and struck out seven in seven innings, leading Oregon State to a 9-2 victory over UNLV.
Shelby Weeks went 3-for-4 and Kayleen Shafer 2-for-3, and each drove in two runs for the Beavers (17-15), who held a 17-6 edge in hits.
Jadelyn Yadao-Valdez went 3-for-3 with a stolen base and a run, and Alyssa Navarro homered for the Rebels (19-14).
Three UNLV pitchers — starter Breana Burke, Charlie Masterson (2-3) and Mara Kemmer — each gave up three runs in two innings, and they combined for one strikeout.
TRACK AND FIELD
At Palo Alto, Calif., Destiny Smith-Barnett won the 200-meter dash with a personal-best time of 23.50 seconds that put her atop the Mountain West rankings, one of three first-place efforts by UNLV on the final day of the Stanford Invitational.
The Rebels finished 1-2-3 in the 100 hurdles, with Taylor Pegram winning in 13.52 seconds, followed by Jaela Williams (13.58) and Amari Norris (13.82).
Smith-Barnett teamed with Ayana Gales, Najia Hudspeth and Drea Austin to win the 400 relay in 45.03 seconds.
UNLV's Mandy Chitwood, Austin, Hannah Davis and Najia Hudspeth placed third in the 1,600 relay in a season-best 3 minutes, 38.89 seconds.