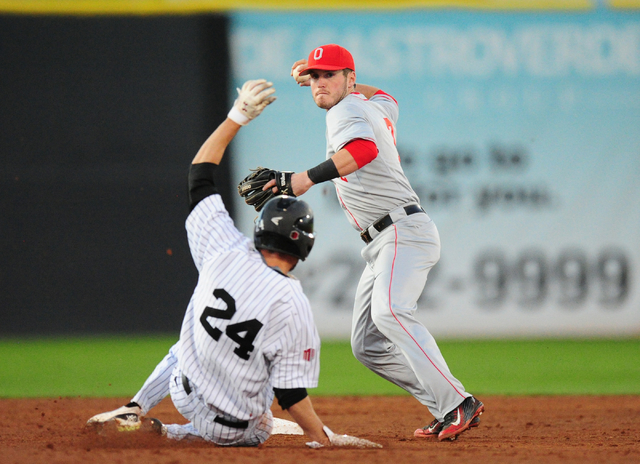 Justin Jones and Cody Howard each went 2-for-4 with a home run and two RBIs to help UNLV to a 14-5 victory over Fresno State in a Mountain West baseball game Sunday at Wilson Stadium.
Howard scored four runs and Jones three as the Rebels (18-32, 8-16) avoided a series sweep and halted a five-game win streak by the Bulldogs (25-22, 13-11).
Bryson Stott and Vince Taormina each had a double and two singles, with Stott driving in four runs and Taormina scoring three for UNLV, which scored in every inning except the fifth.
Ernie De La Trinidad and Payton Squier each went 2-for-4 with an RBI for the Rebels, and Kyle Isbel went 2-for-5 with a double and two RBIs.
UNLV starter Paul Richy (3-3) gave up five runs, four earned, on five hits and one walk and struck out one in 5⅔ innings. Corey Wilson blanked Fresno State on one hit and struck out two over the next 1⅔ innings, and Blaze Bohall pitched a hitless 1⅓ innings to wrap it up.
Scott Silva went 2-for-4 with a home run and two RBIs, and Jesse Medrano also homered for the Bulldogs, who used seven pitchers and were outhit 18-6.