UNLV roundup: Lady Rebels edged by UC Riverside
December 2, 2017 - 10:19 pm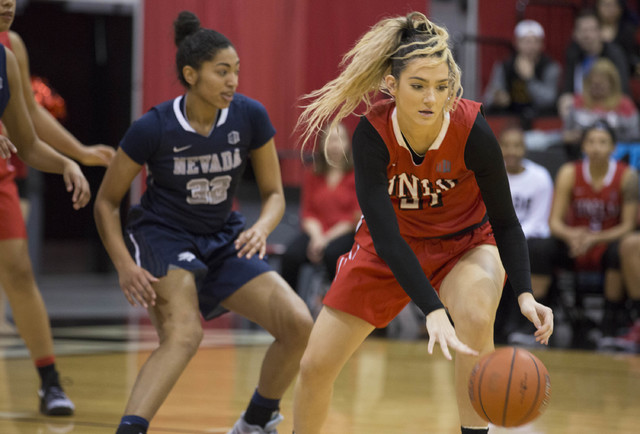 Lauren Holt scored 28 points to lead UC Riverside to a 95-88 win over UNLV in the first game of the Arizona State Classic women's basketball tournament Saturday in Tempe, Arizona.
Michelle Curry added 27 points for the Highlanders (2-6), who shot 59.3 percent — including 69.0 percent in the first half — and led 51-38 at halftime.
Katie Powell had 20 points and 12 rebounds for the Lady Rebels (4-2), who went on a 14-1 run to get within 86-80 in the fourth quarter but never led after the first quarter.
Nikki Wheatley added 18 points and Brooke Johnson 17 for UNLV, which held a 39-36 edge in rebounds but missed 14 of 42 free throws.
Skyler Lewis had 14 points and 10 rebounds and Jannon Otto 14 points for UC Riverside, which made 21 of 26 free throws.
The Lady Rebels will face Buffalo (4-1) in the tournament consolation game Sunday, before the Highlanders play Arizona State (6-2) for the title.
SWIMMING AND DIVING
At Austin, Texas, freshman Brad Gonzales set two school records to highlight the final day of action for the Rebels in the 14-team Texas Invitational, which did not feature team scoring.
Gonzales set both records in the 1,650-yard freestyle. His third-place swim of 14 minutes, 46.31 seconds broke the previous UNLV record by more than six seconds. His 1,000 split of 8:58.91 also set a program standard.
Also for the Rebels men, Or Sabatier, Dylan Tarazona, Francois Van Wynsberge and Forrest Beesley placed 14th in the 400 freestyle relay in 2:58.96; Van Wynsberge placed 23rd in the 200 breaststroke in 2:00.20; and Beesley placed 27th in the 100 freestyle in 44.23 seconds.
For the UNLV women, Kyndal Phillips placed seventh in the 200 backstroke in 1:55.74; Sofia Carnevale placed 11th in the 200 breaststroke in 2:15.23; and Carnevale, Phillips, Kate Afanasyeva and Ida Schutt placed 13th in the 400 freestyle relay in 3:24.89.