UNLV roundup: Men's golf team climbs to third at The Goodwin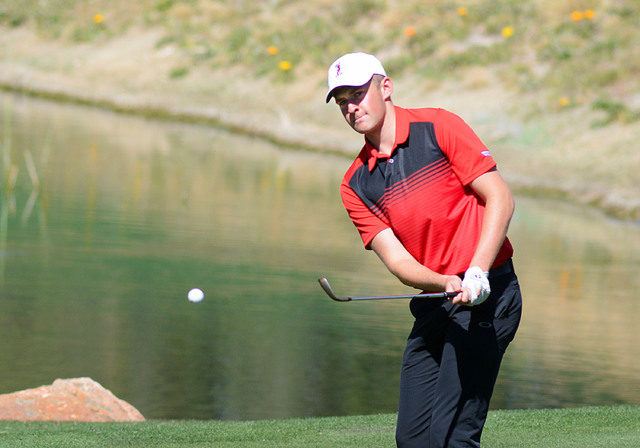 Harry Hall shot even-par 70 for a 2-under 138 total and moved into a four-way tie for second place, helping the UNLV men's golf team climb to third Friday at The Goodwin in Palo Alto, California.
The 15th-ranked Rebels followed their opening sixth-place 289 with a 284 for a 13-over 573, nine strokes behind 12th-ranked Stanford, the leader in the 24-team field featuring nine teams ranked among the top 44 nationally.
Hall, a sophomore, is two strokes behind pace-setter Rhett Rasmussen of Brigham Young. UNLV junior John Oda is tied for 13th in the 126-player field a 3-over 143.
Also for the Rebels, freshman Justin Kim is tied for 30th at 6-over 146, junior Shintaro Ban is tied for 47th at 8-over 148, and senior Taylor Montgomery is tied for 74th at 11-over 151.
In the team standings, top-ranked Southern California is one stroke out of the lead. No. 36 Washington is one stroke behind UNLV at 574, followed by No. 5 Oregon (577).
BASEBALL
At Iowa City, Iowa, Tyler Cropley had two doubles and two RBIs to back Nick Gallagher (3-1), who gave up two hits and no walks in seven innings, sending Iowa to a 3-0 victory over UNLV.
Rebels starter Alan Strong (3-2) held the Hawkeyes (15-9) to one run into the eighth inning, when Cropley hit a two-out, two-run double, as UNLV (10-18) lost its ninth straight.
Strong was charged with three runs on six hits and four walks in 7 2/3 innings. He struck out seven.
Mitchell Boe hit a one-out triple in the third and scored on Chris Whelan's groundout, giving Iowa a 1-0 lead it nursed into the eighth.
Jake Adams hit a one-out double in the eighth and, after a two-out intentional walk, scored on Cropley's second double of the game.
Vince Taormina hit a two-out single up the middle in the second, and Bryson Stott hit a two-out infield single in the seventh for the Rebels' lone hits.
Josh Martsching pitched two hitless innings in relief for the Hawkeyes, who won their fourth straight.
WOMEN'S TENNIS
At San Diego, No. 27-ranked Carol Yang won in singles and teamed with Cristina Moroi for a doubles victory, and Paola Artiga and Anna Bogoslavets each won in singles and teamed for a doubles victory for UNLV in its 7-0 triumph over San Diego State in a Mountain West match.
Aiwen Zhu, En-Pei Huang and Jovana Kenic also prevailed for the Rebels (13-6, 3-0), who swept the singles matches. Huang outlasted Mia Smith 6-7 (6), 7-6 (6), 1-0 (12-10), and Kenic downed Olivia Larsson 3-6, 6-2, 1-0 (10-8).
The Aztecs (5-14) were playing their Mountain West opener.
TRACK AND FIELD
At Palo Alto, Calif., Destiny Smith-Barnett won the 100-meter dash to highlight UNLV's performance in the Stanford Invitational.
Smith-Barnett finished in a wind-aided 11.22 seconds, the second-best showing in program history.
Ayana Gales placed first in the long jump with a wind-aided distance of 20 feet, 8 inches.