UNLV roundup: Men's soccer team edged by Grand Canyon
November 3, 2018 - 12:24 am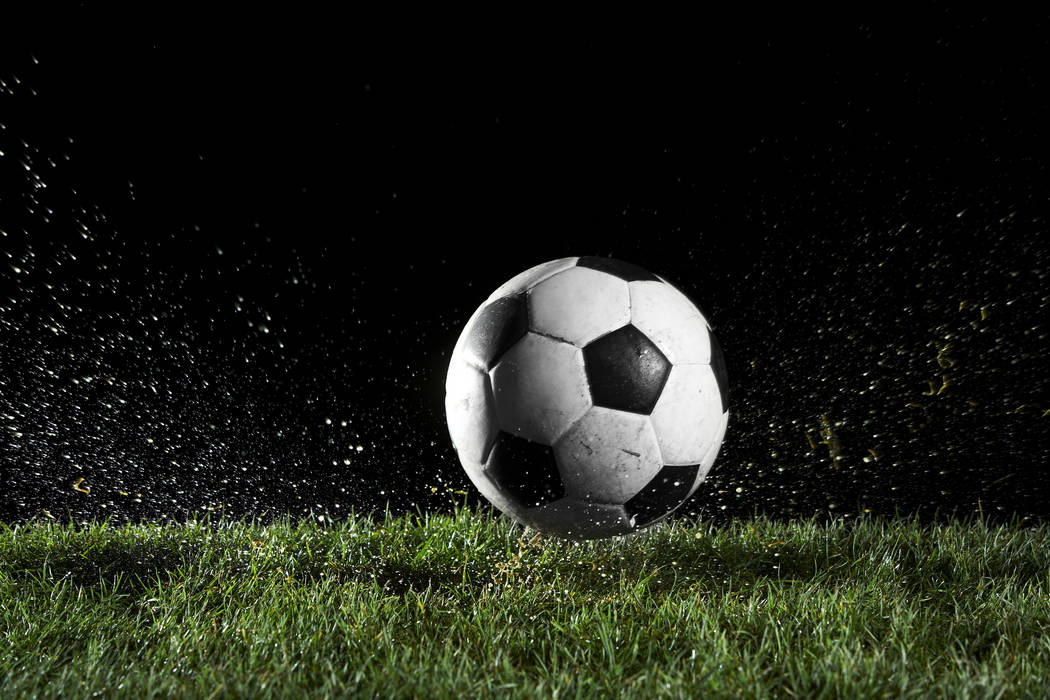 Marco Afonso and Esai Easley scored first-half goals to lead Grand Canyon to a 2-1 win over UNLV in the teams' Western Athletic Conference men's soccer regular-season finale Friday at Johann Memorial Field.
Marco Gonzalez scored his 10th goal of the season on a penalty kick in the 46th minute for the Rebels (10-9-1, 5-5-1), who held a 17-12 edge in shots, including a 5-4 advantage in shots on goal.
Afonso scored his second goal of the season in the 25th minute and Easley his first in the 32nd. Corey Marques had four saves for the Antelopes (9-8, 6-5), and Enrique Adame had two saves for UNLV.
MEN'S TENNIS
At Fertitta Tennis Complex, Auburn transfer Olle Thestrup advanced to the Easley Memorial Classic semifinals in Flight One and Tom Ciszewski in Flight Two after each notched two wins Friday, and both were part of doubles teams that moved to the quarterfinals.
Players from five other programs are competing in the individual event: UCLA, Southern Methodist, Arizona State, Loyola Marymount and Mesa Community College.
Thestrup downed UCLA's Bryce Pereira 7-6, 6-2 and Loyola Marymount's Lucas Moreno 6-3, 3-6, 6-4. Ciszewski beat SMU's Blaise Fagan 6-0, 6-1 and UCLA's Lucas Bellamy, who retired because of injury.
In Flight One, Jordan Sauer topped SMU's Michael Smith 6-3, 6-1 before losing to Arizona State's Makey Rakotomalala 6-3, 3-6, 6-4. Clayton Alenik lost to SMU's Jan Simon Vrbsky 6-1, 0-6, 6-2, and Eric Samuelsson lost to MCC's Kyryll Krychvun 6-4, 4-6, 7-5.
In consolation play, Alenik defeated MCC's Maxim Kirsch 7-5, 6-2.
In Flight Two, Mario Aguayo lost to UCLA's Lucas Bellamy 6-2, 7-5, Zach Garner lost to LMU's Ryan Brown 7-6, 3-6, 7-5, and Richard Solberg retired against SMU's Andrew Buhelos.
In consolation play, Aguayo lost to Fagan 7-5, 6-4.
SWIMMING AND DIVING
At Buchanan Natatorium, the Rebels were swept by Utah, with the women falling 147-96 and the men 142-91.
Freshman Julia Filippova won the 200- and 100-yard freestyles in 1:48.88 and 50.53 seconds and teamed with sophomores Zohar Shikler, Caitlyn Schreiber and Eva Kim to win the 200 freestyle relay in 1:33.29.
Shikler also won the 50 freestyle in 23.41 seconds, and freshman Carissa Armijo won the 500 freestyle in 4:59.96.
For the men, sophomore Jesse Cawley placed first in 1- and 3-meter diving with scores of 298.35 and 350.70, respectively.
BASEBALL
At Wilson Stadium, Jake McLean went 3-for-3 with two RBIs to help the Scarlet rally for eight unanswered runs in an 8-3 win in Game 2 of the Scarlet & Gray World Series.
Max Smith hit a two-run homer and Jack-Thomas Wold an RBI double in the third inning to stake the Gray to a 3-0 lead. The Scarlet pulled even in the fourth, highlighted by a run-scoring double by Vince Taormina.
Chase Hanson had a run-scoring groundout in the fourth and a two-run single in the fifth, when the Scarlet scored five runs with two outs. Austin Pfeifer had a two-run double in the fifth.
McLean is 5-for-6 with a walk through two games, helping the Scarlet to a 2-0 series lead. Game 3 is set for next week at a yet-to-be-determined time.