UNLV roundup: Men's soccer team notches another shutout
October 21, 2018 - 9:56 pm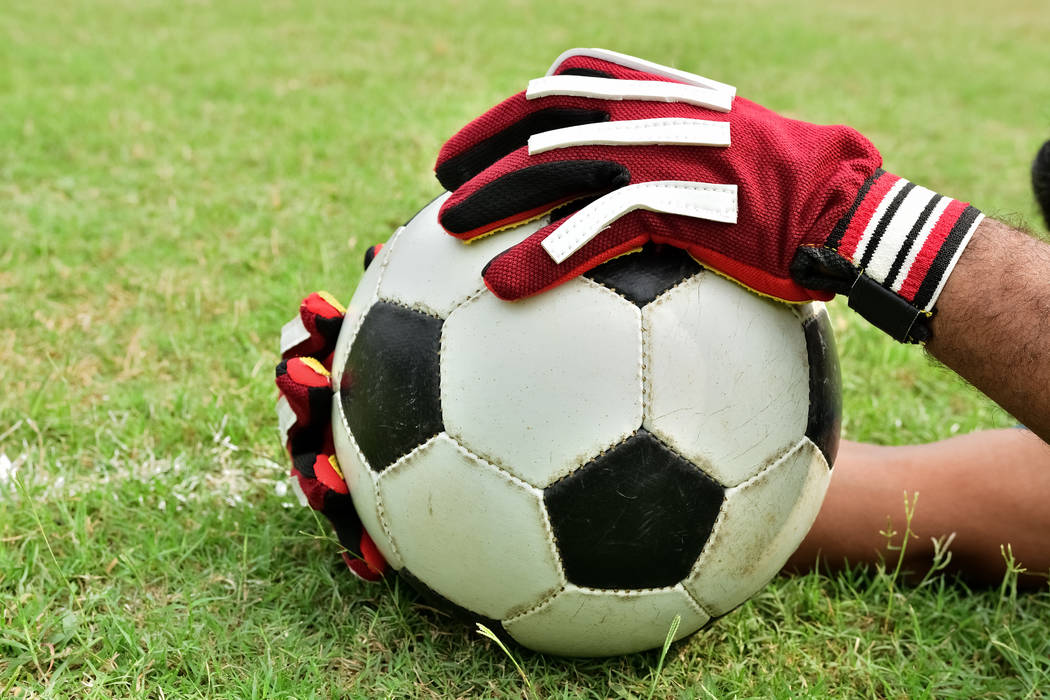 Jesus Partida scored his second winning goal in as many matches, and UNLV notched a second straight road shutout for the first time since 2003 with a 1-0 victory over host Houston Baptist in a Western Athletic Conference men's soccer match Sunday.
Partida, a sophomore midfielder, scored his third goal of the season, assisted by Ivan Lopez and John Lynam, in the 45th minute, and senior Nate Bohn had seven saves in his second straight shutout for the Rebels (9-7-1, 4-3-1), who matched the Huskies (4-6-3, 2-4-1) with 16 shots.
Houston Baptist held a 7-5 edge in shots on goal but lost its third straight. The Rebels, who have won three straight, posted their sixth shutout of the season.
WOMEN'S GOLF
At Boulder City, defending tournament champion Elizabeth Prior shot 1-under-par 71 to tie for 13th after one round of the Las Vegas Collegiate Showdown, helping the defending champion Rebels to a seventh-place tie at 2-over 290, 10 strokes behind pace-setting Oregon State in the three-round, 16-team event at Boulder Creek Golf Club.
Tulsa and Long Beach State are tied for second at 4-under 284, and Augusta and Idaho are tied for fourth at 2-under 286, followed by San Francisco (288), UNLV and Nebraska (290).
Tulsa's Olivia Jackson is alone atop the leaderboard by one stroke at 6-under 66 in the 90-player field.
For the Rebels, sophomore Polly Mack is tied for 26th at even-par 72, senior Alyssa Getty is tied for 35th at 1-over 73, junior Nastasia Kossacky is tied for 41st at 2-over 74, and sophomore Cathy Liu is tied for 63rd at 4-over 76.
Playing as individuals for UNLV, senior Shannon Oh is tied for 41st at 2-over 74, and freshman Veronica Joels is tied for 50th at 3-over 75.
WOMEN'S SOCCER
At Laramie, Wyoming, Madison Barrick scored her second goal of the match in the ninth minute of overtime to lift Wyoming to a 2-1 victory over the Rebels.
Barrick's first goal, in the 41st minute, was her third of the season and was assisted by Adalyn Vergara. Kaila Brinkman tied it with a penalty-kick goal, her sixth goal of the season, in the 86th minute.
Morgan McDougal assisted on Barrick's winning goal.
The Cowgirls (11-3-4, 6-2-2 Mountain West) held a 16-6 edge in shots, including a 5-2 advantage in shots on goal. Emberly Sevilla's three saves for UNLV (10-6-3, 4-4-2) all came in overtime, when the Rebels mustered no shots.
SWIMMING
At Buchanan Natatorium, the Rebels split their home-opening dual meet with Cal Baptist on Saturday, with the women winning 187-108 and the men losing 172-128.