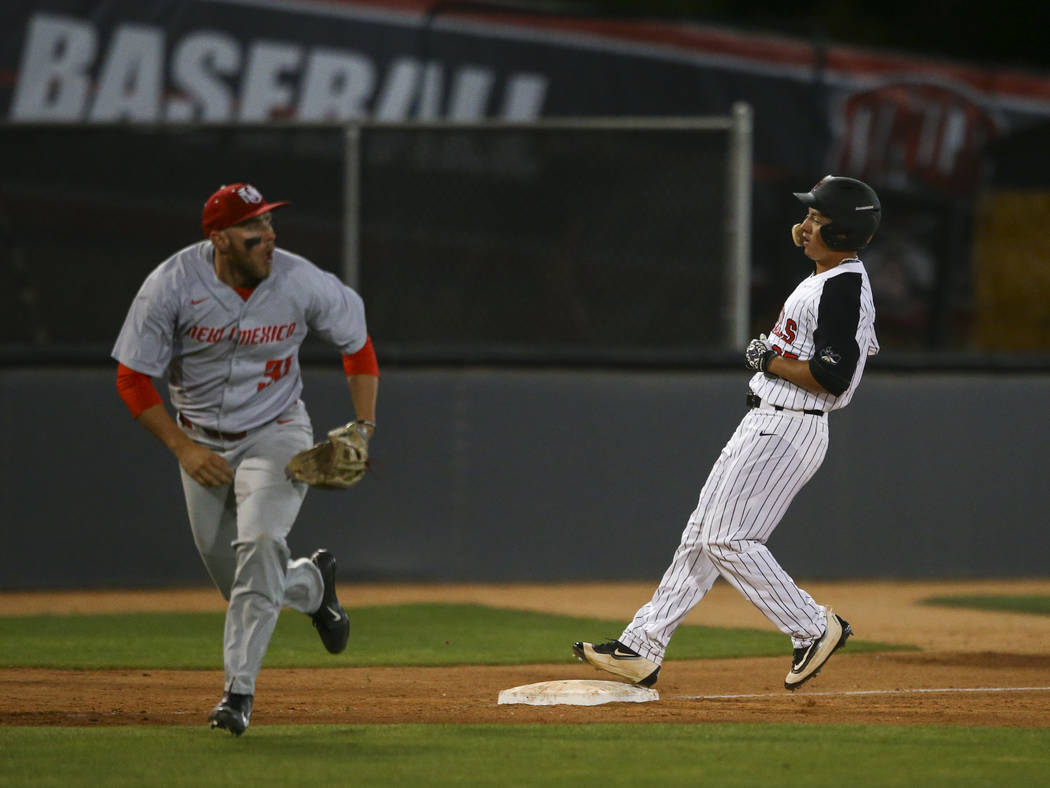 Hayden Schilling hit a go-ahead home run in the sixth inning to rally New Mexico to a 4-2 win over UNLV in a Mountain West baseball game Saturday at Wilson Stadium.
Ernie De La Trinidad's two-out, two-run single put the Rebels (10-15, 5-6) ahead 2-1 in the second. But Lobos right fielder Andre Vigil threw out a runner at third and another at home in that inning.
Andre Gregory went 2-for-3 with an RBI double and a sacrifice fly for New Mexico (14-9, 8-0), which was outhit 9-7.
Nick Rodriguez doubled twice and scored for UNLV, which lost its sixth straight.
Lobos starter Johnathon Tripp (2-0) gave up two runs on nine hits and two walks and struck out seven in seven innings.
In the second, Payton Squier hit a one-out grounder to Tripp that the pitcher threw into right field for an error. But Vigil threw out Squier, who tried advancing to third on the play.
After a walk to Nick Ames, Rodriguez doubled, and De La Trinidad hit a two-run single and went to second on the throw home. Justin Jones then singled to right, and Vigil threw out De La Trinidad at home to end the inning.
Rebels starter Tevita Gerber (2-4) permitted four runs, three earned, on seven hits and one walk and struck out one in 7 2/3 innings.
Squier, Jones and De La Trinidad had two hits apiece.
Jack Zoellner had two hits and scored twice, and Andre Pratt tripled and scored for New Mexico.
SOFTBALL
At Eller Media Stadium, Breana Burke pitched five shutout innings in relief, and Myranda Bueno had an RBI triple and scored twice to lead UNLV to a 4-2 victory over New Mexico in a Mountain West game.
Burke (1-0) entered in the first inning with no outs after the Lobos (15-12, 1-1) had scored twice off starter Charlie Masterson and blanked New Mexico on two hits through the fifth, issuing no walks and recording no strikeouts.
Bueno hit an RBI triple in the second and scored on Chrissi Omalza's sacrifice fly. The Rebels (18-12, 2-3) tacked on a run in the fourth thanks largely to two of the Lobos' three errors, and Janine Petmecky doubled and scored on Kiley Harrison's single in the fifth.
Cheyenne Smith went 2-for-3 with a run for New Mexico, which held an 8-5 edge in hits.
TRACK AND FIELD
At San Diego, Mandy Chitwood won the 800-meter run and was part of UNLV's victorious 1,600 relay team, highlighting UNLV's showing in the final day of the Aztec Invitational.
Chitwood finished the 800 in 2 minutes, 9.61 seconds and teamed with Micayla Coquia, Nylia Hudspeth and Najia Hudspeth to win the relay in 3:45.74.
The Rebels had 14 individuals and six relay teams place in the top eight.
Madison Aldred, Hannah Davis, Janeek Mollique and Sydney Land placed third in the 1,600 relay in 3:57.46, and Destiny Smith-Barnett, Kaysha Love, Najia Hudspeth and Drea Austin placed third in the 400 relay in 44.85 seconds.
Danielle Williams placed second in the triple jump with a 38-foot, 5-inch effort, and Nylia Hudspeth was third in the 400 in 56 seconds.
WOMEN'S TENNIS
At Fertitta Tennis Complex, Anna Bogoslavets won twice in singles and teamed with Paola Artiga for two doubles victories to help 42nd-ranked UNLV (12-6, 2-0 Mountain West) post a 6-1 triumph over Boise State (9-5, 0-1) and a 7-0 rout over Southern Utah (1-15).
Aiwen Zhu and Jovana Kenic each won twice in singles, and Carol Yang and Cristina Moroi each won in singles and teamed for a doubles win for the Rebels.
MEN'S TENNIS
At Houston, Jakob Amilon posted a singles victory and teamed with Evaldo Neto for two doubles wins as UNLV (11-5) recorded a 4-0 triumph over Texas A&M-Corpus Christi (11-5) and suffered a 4-1 loss to 37th-ranked Rice (18-15) in the Rice Invitational.
Alexandr Cozbinov won in singles against the Islanders and teamed with Courtney Lock for a doubles victory against the Owls.