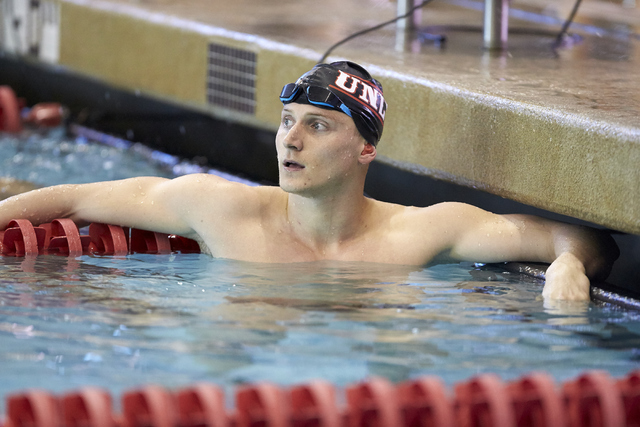 Kyndal Phillips and Sofia Carnevale had top-10 finishes Friday to pace the UNLV men's and women's swimming and diving teams on the third day of the 14-team Texas Invitational in Austin, Texas.
Phillips, a senior, placed fifth in the 100-yard backstroke in 53.58 seconds and 27th in the 100 butterfly in 54.54 seconds.
Carnevale, a sophomore, placed ninth in the 100 breaststroke in 1 minute, 0.67 seconds.
Also for the Rebels women, sophomore Ida Schutte was 14th in the 400 individual medley (4:20.93) and 32nd in the 200 freestyle (1:51.52), and sophomore Kate Afanasyeva was 31st in the 100 butterfly (55.52) and 18th in the 100 backstroke (55.03).
For the UNLV men, freshman Grant Norgan was 26th in the 200 freestyle (1:37.09), senior Dylan Tarazona was 25th in the 100 butterfly (48.20), and senior Francois Van Wynsberge was 25th in the 100 breaststroke (55.05).
The meet concludes Saturday.