UNLV roundup: Soccer teams notch dominant wins
October 6, 2017 - 10:55 pm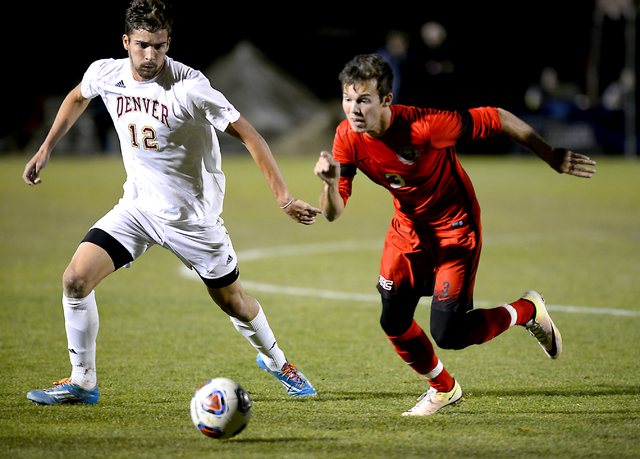 Danny Musovski recorded his second hat trick in three games to lead UNLV to a 5-2 win over San Jose State in a Western Athletic Conference men's soccer match Friday in San Jose, California.
Musovski, a senior Liberty High School product, opened the scoring on a penalty kick in the fifth minute. His other two goals, coming in the 10th and 25th minutes, each gave the Rebels (5-6, 2-0) a one-goal lead.
Freshman Jesus Partida scored his first goal, assisted by Musovski, in the 57th minute, and Marquis Pitt capped the scoring in the 81st minute for UNLV, which notched its third straight win and fourth in five games.
Carlos Valdovinos and Andrew Mendoza scored for the Spartans (2-8-1, 0-2-1), who had allowed three goals in their past three games. They were outshot 11-9 and are 0-6-1 in their past seven games.
Musovski, who has nine goals this season, is the fourth UNLV player to notch two hat tricks in one season.
WOMEN'S SOCCER
At Johann Memorial Field, Amanda Galbraith scored the go-ahead goal in the 77th minute as the Rebels downed Colorado State 3-1 in a Mountain West match.
Katie Ballou opened the scoring in the 14th minute with her third goal of the season for UNLV (11-3, 3-2), which improved to 7-1 at home.
Alex Lanning's first goal of the season, assisted by Taylor Steinke, forged a 1-1 tie in the 68th minute.
After Galbraith's fifth goal of the season, Michaela Morris scored her sixth in the 83rd minute.
The Rams (2-7-4, 0-3-2), who were outshot 22-2, lost their third straight and fell to 0-4-2 in their past six matches.
MEN'S TENNIS
At Tulsa, Okla., senior Alexandr Cozbinov rallied for a 2-6, 7-5, 6-3 victory over Artem Kapshuk of Texas Tech in the consolation draw of the St. Francis ITA All-American Championships.
Cozbinov next will face No. 32-ranked Nathan Ponwith of Georgia on Saturday in the round of 16.