UNLV roundup: Softball season ends with tournament loss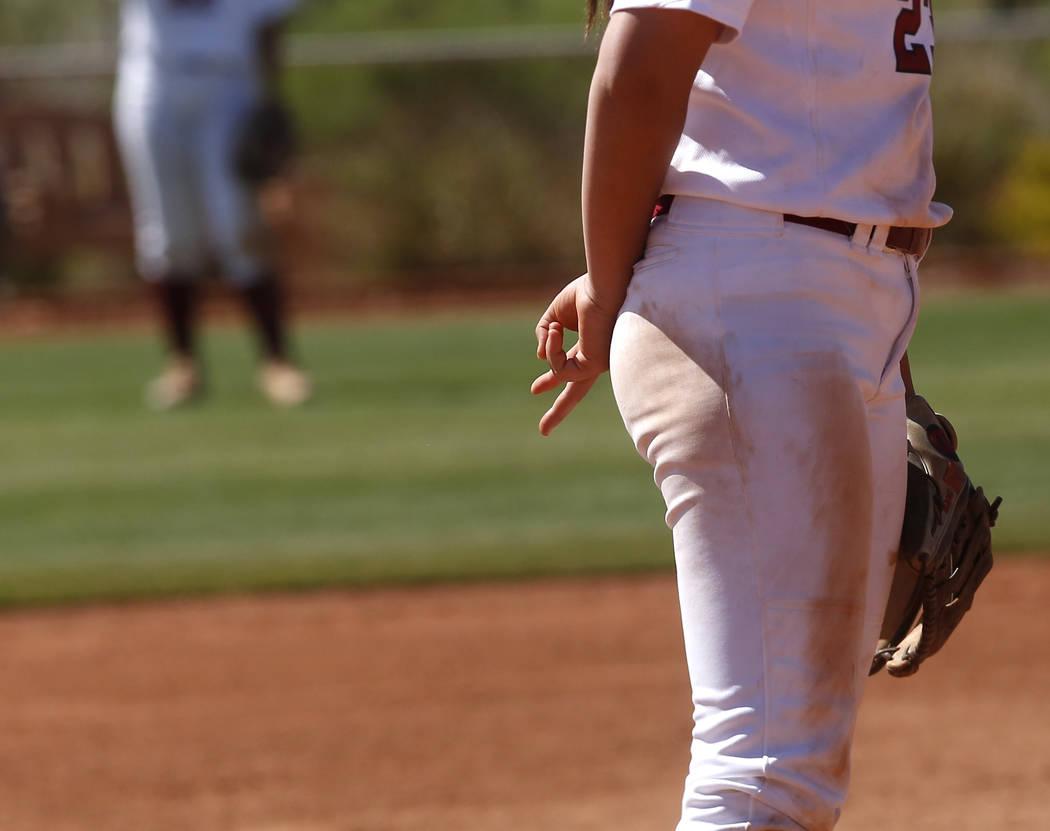 Chelsey Holley went 2-for-4 with a go-ahead two-run homer in the second inning to back Tayler Misfeldt, who pitched a four-hitter, leading UC Riverside past UNLV 7-1 in the title game of a National Invitational Softball Championship regional Friday at Eller Media Stadium.
Misfeldt (19-11) worked around five walks and struck out six to beat the Rebels (33-20) for the second time in the tournament and end their season.
Jenae Lockwood went 2-for-2 with two RBIs, and Hannah Rodriguez went 2-for-4 with a double and scored a run for the Highlanders (36-22), who held a 13-4 edge in hits.
UNLV starter Briana Burke (5-6) allowed two runs on two hits and one walk in one-plus innings. Charlie Masterson went the rest of the way, giving up five runs on 11 hits and striking out four in five innings.
Mia Trejo doubled in the fourth and scored on a single by Reina Bondi, cutting Riverside's lead to 3-1. But the Highlanders scored four runs in the sixth.
Justine Federe had a double and drew two walks for the Rebels, who advanced to the title game earlier Friday with a 5-0 victory over UNR in the losers' bracket final.
Janine Petmecky (21-7) pitched a three-hit shutout against the Wolf Pack (27-27) while issuing four walks and striking out three.
Samantha Diaz and Bondi hit RBI singles in the first and third innings, respectively. Kiley Harrison hit a two-run single in the fifth, and Federe had a run-scoring single in the sixth.
Brooke Stover went 2-for-4 with a double and scored twice for UNLV, and Diaz also went 2-for-4.
UNR starter Amanda Geil (6-4) allowed four runs on eight hits and five walks and struck out two in five innings.
Sadaria McAlister went 2-for-4, and Erika Hansen had a double for the Wolf Pack.
BASEBALL
At Fresno, Calif., Nick Ames homered and totaled three RBIs to back Trevor Horn, who allowed two earned runs over 6 2/3 innings, leading the Rebels to a 7-3 victory over Fresno State.
By virtue of its victory and a loss by Air Force, UNLV (33-21, 14-15 Mountain West) secured a berth and the No. 4 seed for next week's Mountain West Championship in San Diego.
UNR claimed the regular-season title and the No. 1 seed with its 13-3 win over San Diego State, which is the No. 2 seed.
San Jose State earned the No. 3 seed with its 6-5 win over Air Force.
The Rebels will open the double-elimination tournament against UNR at 1:30 p.m. Thursday. San Diego State and San Jose State will meet at 6 p.m.
Horn (5-5) held the Bulldogs (29-24, 12-17) to three runs on seven hits and one walk and struck out five as UNLV squared the series at one win apiece.
Jack-Thomas Wold went 3-for-4, Kyle Isbel went 2-for-3 with an RBI and a run, Grant Robbins went 2-for-4 with a run, and Nick Rodriguez went 1-for-3 and scored twice for the Rebels, who matched Fresno State's 10 hits.
Korby Batesole, Torin Goldstein, Emilio Nogales and Zach Ashford had two hits apiece for the Bulldogs, with Batesole and Goldstein each notching a double and Nogales driving in two runs.