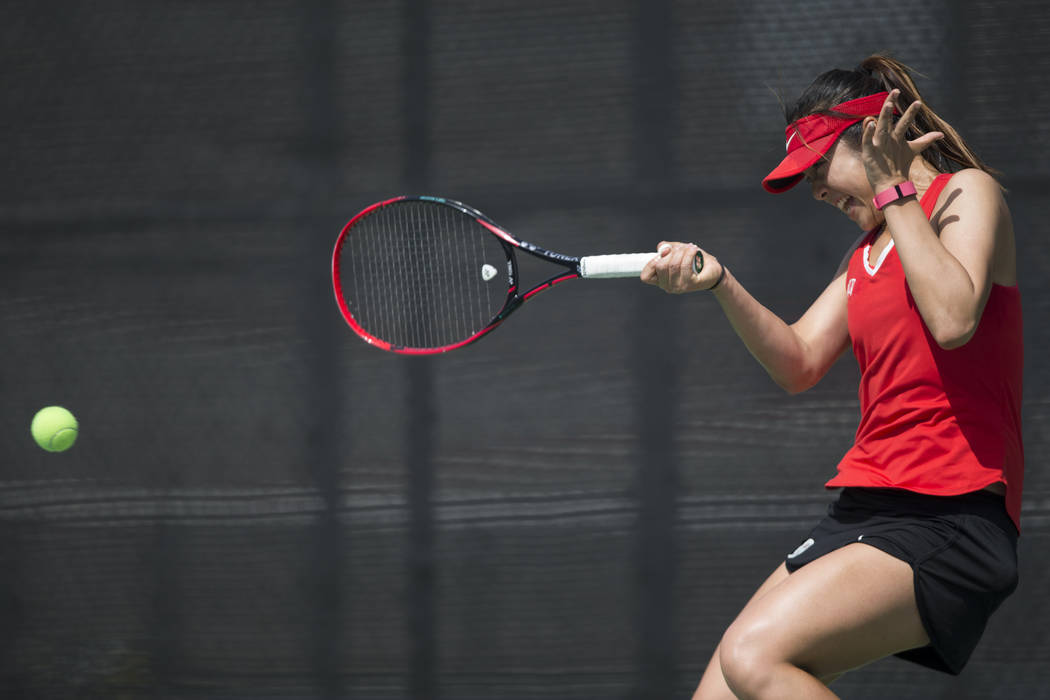 Aiwen Zhu, Samantha Li and En-Pei Huang each won twice in singles Thursday, and two UNLV doubles teams — Zhu and Huang, and Anna Bogoslavets and Li — won to advance at the ITA Mountain Region women's tennis championships in Salt Lake City.
Aiwen Zhu, seeded eighth and ranked 83rd in the nation, rallied past Brigham Young's Madeline Almedia 3-6, 6-1 6-3, and then got past Denver's Hada Chang 6-4, 7-6.
Li downed New Mexico State's Eli Amaudova 6-2, 6-2 and then finished off Montana's Julie Romney 6-2, 6-3.
Huang defeated New Mexico State's Lindsay Harlas 4-6, 6-3, 6-2 and topped seventh-seeded Alexia Petrovic of Utah 6-4, 5-7, 6-3.
Fourth-seeded Zhu and Huang outlasted BYU's Mayci Jones and Taylah Beckman 8-6, and Bogoslavets and Li rolled by Utah's Victoria Robertson and Petrovic 8-2.
There will be two rounds of doubles followed by one round of singles Friday, weather permitting.
Members from 19 Western teams are facing off as individuals through Sunday each day in singles and doubles.
VOLLEYBALL
At Cox Pavilion, Taylor Slover had 19 kills and Madelyn Halteman 35 assists and three aces to help Fresno State edge UNLV 3-2 in a topsy-turvy Mountain West match at Cox Pavilion.
Brielle Hefner had 13 kills and Lauren Torres nine blocks for the Bulldogs (8-11, 3-4), who won by scores of 25-20, 25-27, 27-25, 15-25, 15-8.
Ashley Owens had 16 kills and 10 blocks and Riley Jacobs 51 assists for the Rebels (6-14, 2-5), who had their two-match win streak halted.
Mariena Hayden had 11 kills and three aces and Leka Kiner-Falefa 20 digs for UNLV. Jacqueline Hutcheson had 22 digs for Fresno State.