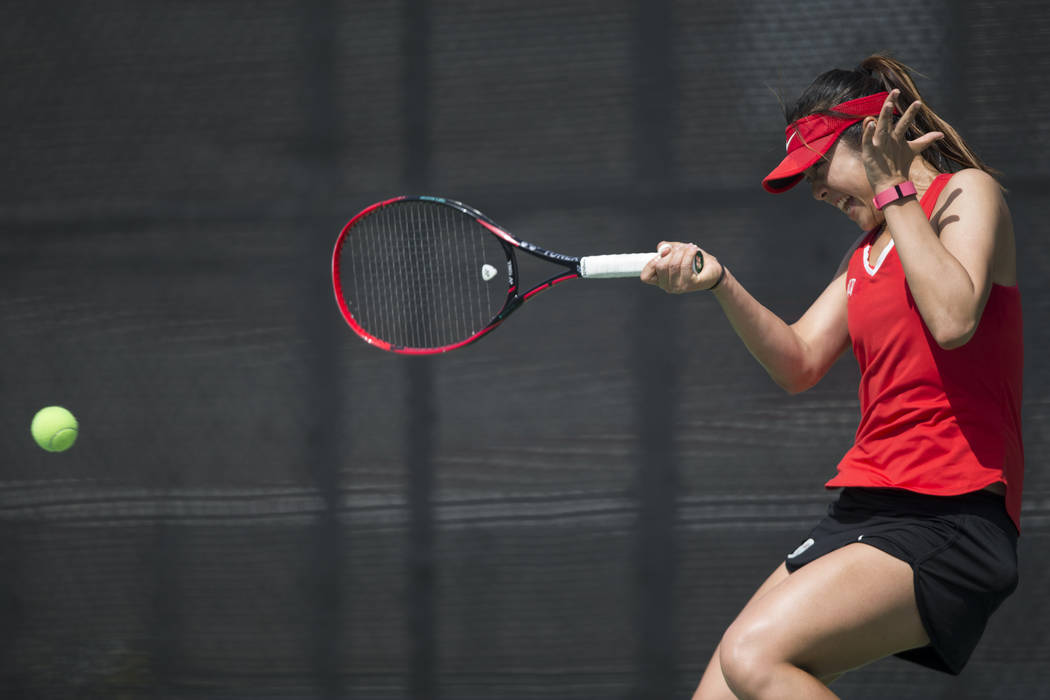 The UNLV women's tennis team closed its fall schedule by winning the main draw championship in every singles flight and coming one match point short of taking both doubles crowns Sunday in the Rebel Invitational at Fertitta Tennis Complex.
The event included competitors from Texas A&M, Purdue, North Carolina State, Arizona and Grand Canyon.
Aiwen Zhu won the first-flight title match 6-3, 6-4 over Texas A&M's Macca Olivares, En-Pei Huang downed North Carolina State's Amanda Rebol 7-6, 7-6 in the second flight, and Zhu teamed with Huang to win 8-1 over Texas A&M's Eva Paalma and Domenica Gonzalez.
Izumi Asano bested North Carolina State's Taylor Bridges 4-6, 7-6, 6-4 in the third flight, and Juliet Zhang downed N.C. State's Tayla Stenta 6-3, 6-1 in the fourth flight.
Asano and Zhang lost 8-7 to Grand Canyon's Emilia Occhipinit and Lana Rinaldi in the second doubles flight.
The Rebels return to action Jan. 12-14 when they host the annual Freeman Memorial Championships.
SWIMMING AND DIVING
At Los Angeles, UNLV had two men and four women make the finals in their events at the Trojan Diving Invitational, which concluded Sunday.
For the men, Jesse Cawley was the top finisher on the 3-meter board with a score of 582.90, and Robert Morgan was seventh (454.10).
Morgan placed third on the 1-meter board with a 557.70 score, and Cawley was fourth (500.00).
For the women, Alyssa Arnett was fifth on the 1-meter board with a score of 483.70. In the 3-meter finals, Mykayla Fielding was seventh (513.20), Katie Bezte 15th (482.55) and Kourtney Clark 18th (402.75).