UNLV roundup: Women's tennis team upset in league final
April 29, 2018 - 10:05 pm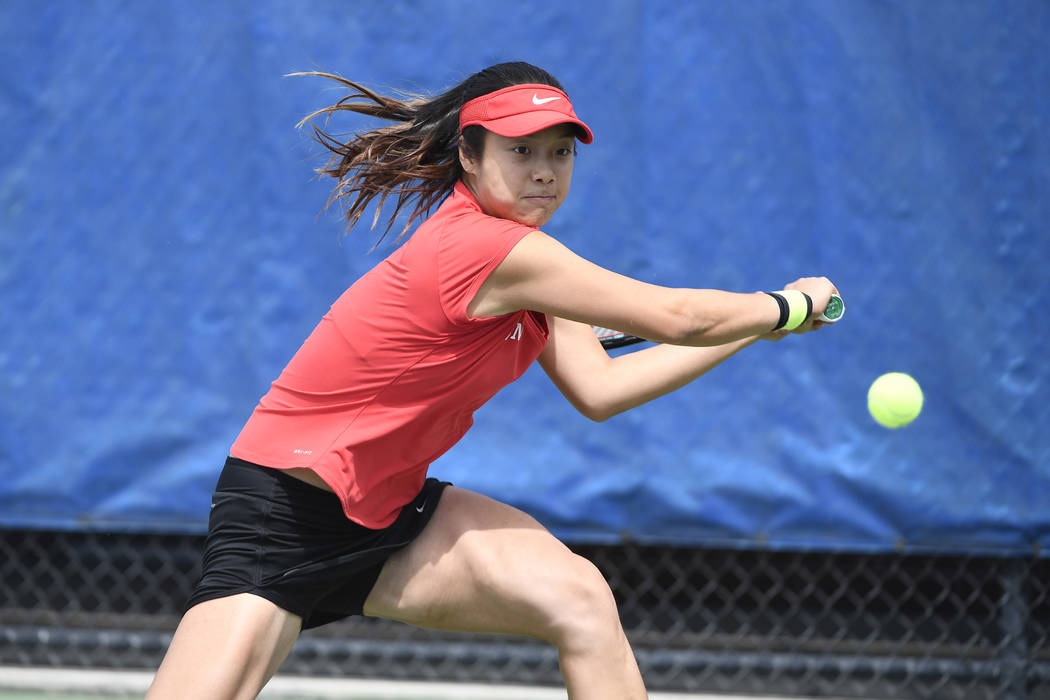 Unable to recover from losing a hotly contested doubles session, top-seeded UNLV was upset 4-2 by second-seeded Fresno State in the Mountain West women's tennis championship final Sunday in Boise, Idaho.
The Rebels (16-6) saw their seven-match win streak end with their first loss to a league opponent in eight matches this season. The Bulldogs (12-12) earned the league's automatic bid to the NCAA Tournament.
Aiwen Zhu defeated Emma Wilson 7-6 (5), 6-2 at No. 1 singles and teamed with En-Pei Huang for a 6-3 victory over Wilson and Georgia Lawson at No. 1 doubles for UNLV.
In doubles for the Rebels, Anna Bogoslavets and Juliet Zhang lost 7-5 to Juliane Triebe and Alessia Dario at No. 2, and Izumi Asano and Samantha Li lost 6-4 to Ndindi Ndunda and Abbey Watanabe 6-4 at No. 3.
Anna Bogoslavets defeated Ndunda 6-3, 7-5 at No. 4 singles, and Asano lost 6-2, 3-6, 6-2 to Katerina Stloukalova at No. 2 singles.
BASEBALL
At San Diego, Julian Escobedo and Chad Bible each had two hits, including an RBI double apiece in San Diego State's three-run fourth inning, helping the Aztecs cap a three-game Mountain West series sweep with a 4-2 victory over the Rebels.
Chase Calabuig went 2-for-3 with an RBI single in the seventh for San Diego State (30-14, 13-7), which held a 9-7 edge in hits.
Max Smith had an RBI single in a two-run sixth for UNLV (29-17, 10-11).
Kyle Isbel, Nick Rodriguez and Bryson Stott each went 2-for-4 for the Rebels, with Isbel notching a double and Rodriguez scoring a run.
Aztecs starter Jorge Fernandez (5-3) allowed two runs on five hits and two walks and struck out five over 5 1/3 innings. Casey Schmitt blanked UNLV on one hit over the final two innings to post his seventh save.
Rebels starter Trevor Horn (3-4) gave up three runs on eight hits and one walk and struck out four over six innings.
SOFTBALL
At Eller Media Stadium, Jyllian Ahart hit a two-run homer in UNR's five-run third inning to back Amanda Giel, who pitched a five-hitter, helping the Wolf Pack avoid a three-game Mountain West series sweep with an 8-1 victory over the Rebels.
Giel (5-2) walked two and struck out one. The lone run for UNLV (26-17, 8-10) came on Alyssa Navarro's fourth-inning home run.
Navarro, who went 2-for-3, was the lone Rebels player with multiple hits.
Sierra Mello went 4-for-4 with a double and an RBI and scored twice, and Ahart went 2-for-4 for UNR (20-23, 9-11), which held a 12-5 edge in hits.
UNLV starter Breana Burke (3-4) allowed three runs, two earned, on three hits and no walks and struck out two in 2 2/3 innings.