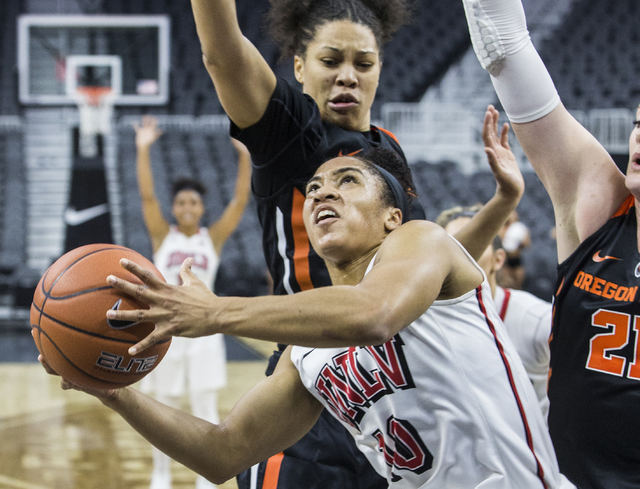 Liv Roberts scored 21 points to lead Wyoming to a 69-56 win over UNLV in a Mountain West women's basketball game Saturday in Laramie, Wyoming.
Natalie Baker and Marleah Campbell each scored 11 points, and each had three 3-pointers for the Cowgirls (16-7, 9-3), who made 14 of 24 3s in tying the Lady Rebels (14-9, 9-3) atop the league standings.
Nikki Wheatley had 18 points and four steals and Katie Powell 13 points and nine rebounds for UNLV, which had its four-game win streak halted and lost its sixth straight in Laramie.
Paris Strawther scored 12 points for the Lady Rebels, who trailed 44-24 at halftime and 62-39 entering the fourth quarter.
Wyoming shot 50 percent from the field (23-for-46) and held UNLV to 33.3 percent (17-for-51). Each team had 33 rebounds.
SOFTBALL
At Eller Media Stadium, Danielle Parlich went 2-for-3 with two RBIs, and Sydney Smith struck out seven in seven shutout innings to lead No. 16-ranked Minnesota to a 3-0 win over UNLV in the Sportco Kickoff Classic.
In the Rebels' second game of the day, Charlie Masterson pitched five shutout innings and went 2-for-3 with two RBIs to lead UNLV to an 8-0 victory over Utah Valley.
Smith (2-0) allowed eight hits and one walk, and the Rebels (3-1) left nine runners on base against the Golden Gophers (4-0).
Sydney Dwyer homered for Minnesota, which was outhit 8-6.
UNLV starter Breana Burke (1-1) allowed three runs on six hits and one walk and struck out one in seven innings.
Emily Vela went 2-for-2 with a double, and Jaclyn Candelas went 2-for-3 with a stolen base for the Rebels.
Against the Wolverines (0-3), Masterson (2-0) allowed four hits and no walks and struck out three.
Justine Federe went 3-for-4 with two runs, Mia Trejo 2-for-2 and Myranda Bueno 2-for-3 with an RBI for UNLV, which outhit Utah Valley 11-4.
WOMEN'S TENNIS
At Fertitta Tennis Complex, Izumi Asano and En-Pei Huang each won in singles and were part of a doubles victory for UNLV, which didn't drop a set in a 4-0 victory over Youngstown State.
Later, Aiwen Zhu and Huang won in singles and teamed for a win at No. 1 doubles to lift the Rebels (5-3) to a 4-1 triumph over UC Riverside.
Against the Penguins (0-6), Asano downed Sofia Macias 6-2, 6-0 at No. 2 singles and teamed with Juliet Zhang for a 6-0 victory over Ana Stroe and Lucia Zagar at No. 3 doubles.
Huang defeated Anastasia Khokhlova 6-1, 6-1 at No. 3 singles and teamed with Aiwen Zhu for a 6-0 win over Noelly Longi Nsimba and Khokhlova at No. 1 doubles.
Jovana Kenic appeared in the Rebels' singles lineup for a dual match for the first time this season and blanked Zagar 6-0, 6-0 at No. 6.
Against the Highlanders (1-6) in singles, Zhu downed Karla Dulay 6-0, 6-3 at No. 1, Asano beat Sarah Khattab 6-2, 6-2 at No. 2, Huang topped Chloe Pham 6-2, 6-0 at No. 3, and Samantha Li defeated Tamila Vaksman 6-1, 6-3 at No. 5.
In doubles, Zhu and Huang beat Khattab and Tia Elpusan 6-0, and UC Riverside won the other two doubles matches.
MEN'S TENNIS
At Los Angeles, Alexandr Cozbinov defeated the nation's top-ranked player, UCLA junior Martin Redlicki, 6-3, 4-6, 6-3 in the Rebels' 5-2 loss to the No. 7-ranked Bruins (7-1).
Eric Samuelsson and Clayton Alenik teamed for a doubles win for UNLV (4-3), as did Jordan Sauer and Ruben Alberts.
Samuelsson and Alenik slipped past Ben Goldberg and Austin Rapp 7-6 (4) at No. 2 doubles, and Sauer and Alberts toppled Bryce Pereira and Maxime Cressy 6-4 at No. 3.
At No. 2 singles, Alberts fell 6-3, 6-7 (4), 6-4 to No. 107-ranked Keegan Smith.
TRACK AND FIELD
At Seattle, the Rebels got wins from Kaysha Love in the 60-meter run (7.54 seconds), Jasyme Graham in the 60 hurdles (8.41 seconds) and the 1,600 relay team of Drea Austin, Avi'Tal Perteete, Love and Nylia Hudspeth (3 minutes, 41.20 seconds) at the Husky Classic.
Love also was first in the 60 preliminaries (7.51 seconds), and Graham paced the 60 hurdles preliminaries (8.57 seconds). The relay squad won by nearly six seconds.
The two-day meet included top-ranked Arkansas, No. 3 Oregon, No. 8 Texas, No. 15 Tennessee, No. 16 Stanford, No. 17 Michigan and many more collegiate teams.