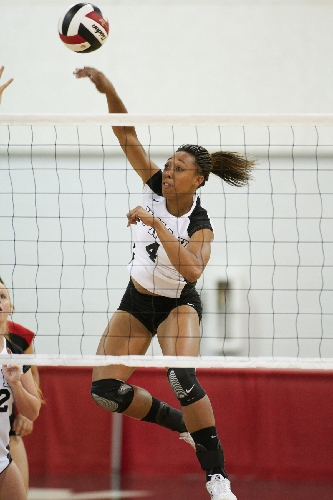 Volleyball players are supposed to be tall, and that generally means over 6 feet.
UNLV middle hitter Candice Thomas is just 5-10, but that matters only when she's standing on the ground.
With an extraordinary ability to rise above her opponents, the sophomore from Fort Worth, Texas, has emerged as a leader for the Rebels this season.
"At her height, Candice is incredible for a middle hitter," first-year UNLV coach Cindy Fredrick said. "She's got very long arms, she's an incredible jumper, and she gets off the ground quickly. She plays like she's 6-1."
Considering that Thomas is relatively new to the game, she might play more like she's 6-5 by the time her UNLV career ends.
"I didn't start playing volleyball until I was playing with a 17 team," said Thomas, who began playing competitively in 2008. "So I didn't expect to play much when I came here."
But the Rebels struggled last season, and Thomas wound up getting significant playing time. When Fredrick took over for former coach Allison Keeley in the spring, she knew Thomas was going to be a go-to player.
"Candice is an emotional player," Fredrick said. "She brings a lot of excitement to the court, and I think that fire is important to the team."
Thomas also puts stats in the scorebook. She has 89 kills and 39 blocks this season, which places her near the top of the team in each category.
Thomas said she relishes her role as a team leader.
"I love the responsibility I have," she said. "I've always been confident, and I refuse to lose, so when I was given a chance, I wanted to take it and run with it. I view it as an honor."
But Thomas is not the team's only leader. In fact, fellow sophomore Madeline Westman is considered the team's top middle hitter.
"You have to understand what your role is," Fredrick said. "And Candice accepts hers. She gets it very well."
That team mentality could take Thomas a long way. Fredrick said she sees unlimited potential.
"With another season under her belt, Candice will keep progressing," the coach said. "I think she can be one of the best middle hitters in the conference."
Though Thomas is focused mostly on the season at hand, she admitted she already is envisioning the possibilities to come.
"We can be really good," Thomas said. "I came in here with nine freshmen, and we're all still here. By the time I'm a senior, we should be really good. I think we'll go far."
Fredrick agreed. "This is a fun time to coach," she said. "I have high standards, and my players are buying into that. They have amped up their competitive level and their work ethic."
The Rebels (7-6) swept host UNR on Wednesday, after going 1-2 in the UNLV Classic at Cox Pavilion last weekend, beating Fresno State before losing to San Francisco and Baylor. Their remaining schedule is tough, and Thomas is trying to take a realistic approach to team goals.
"I think we can finish over .500," she said. "We should finish in the top three in conference if we keep doing what we're doing now."
UNLV will host San Diego State on Friday in a nonleague match before beginning Mountain West Conference play at home against Colorado State on Sept. 29.