UNLV struggles with patience during Southern Highlands Collegiate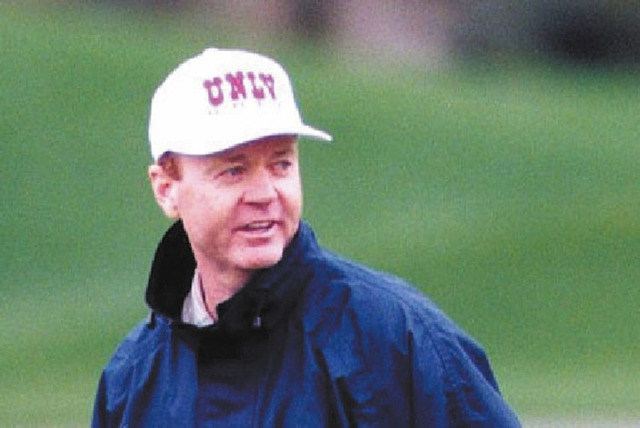 Of the previous 11 UNLV men's golf home tournaments, the Rebels won seven of them.
The team didn't add their eighth victory in 12 years after a disappointing effort at the Southern Highlands Collegiate played at Southern Highlands Golf Club.
UNLV finished 12th at 27 over par, 22 strokes behind winner Southern California, the fourth-ranked team in the country. Florida, coached by former UNLV player and assistant coach J.C. Deacon, finished second.
Florida's Sam Horsfield, the nation's 17th-ranked player, finished at 7 under and won the individual title by four strokes over USC's Sean Crocker.
"You really had to have a lot patience to play a challenging golf course like this well," said UNLV coach Dwaine Knight. "I thought we could have that patience, but this week we didn't. I'm disappointed, and this isn't what Rebel golf is about.
"These guys need to realize that whatever we did to prepare for this week didn't work, so we need to get better. We played against the best teams in the country, and we didn't match up this week."
As the USC players were given the trophy, Knight gathered his players to watch the ceremony. He wanted his players to feel the disappointment of not lifting the home trophy.
"I'm happy with the play of Shinny (Ban) because he had a pretty solid performance, and it's nice to see that," said Knight. "But there's a lot of frustration after this. The thing that we should have been able to do is control our emotions and get the ball back in play, but we didn't do that. We forced it, and the numbers mounted up."
A bright spot for the Rebels was the play of two sophomores. Shintaro Ban shot par for the tournament and finished in a tie for fifth. Ben Davis, from Las Vegas and playing as an individual after not qualifying for the competing team of six players, finished at 3 over and in a tie for 14th.
Another Las Vegas native, junior Monte Montgomery, was cruising at 4 under and tied for fourth after two rounds, but made a double bogey and triple bogey to begin his final round. He went on to shoot 11-over 83 and finished in a tie for 27th, also playing as an individual.
"I hit the ball the same way I did the first two days, but it's all about positioning out here, and it can get away from you quickly when you go for pins," said Montgomery, the son of former UNLV All-American Monte Montgomery. "I've been struggling for the last year. I didn't know what I was doing, so I started working with my dad and we now know what causes bad swings."