UNLV track team going for top-three finish at MW outdoors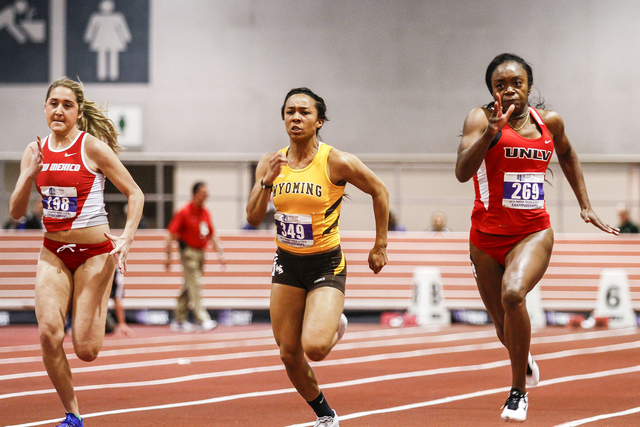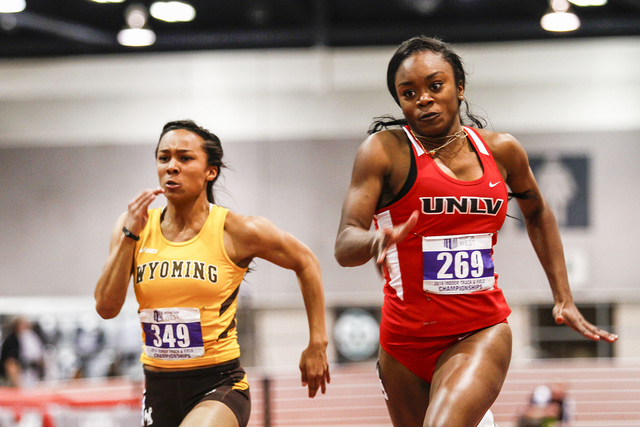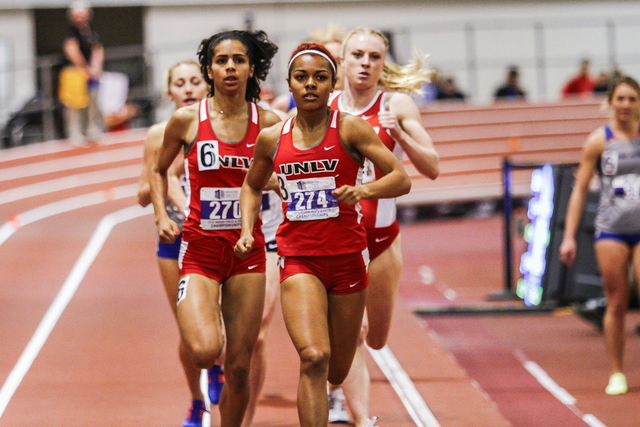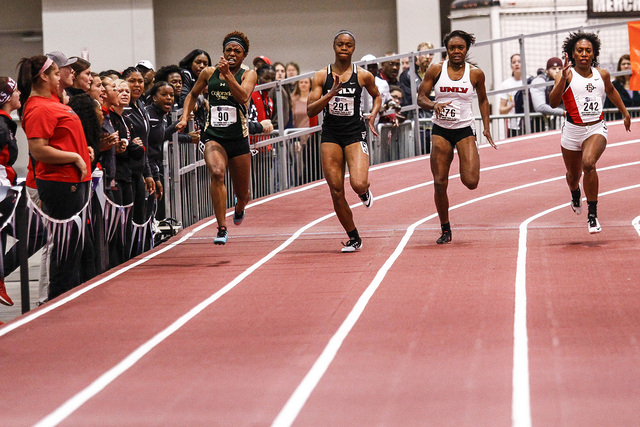 Even when UNLV was finishing fifth in the Mountain West Outdoor Championships last year, Rebels track coach Yvonne Wade knew she had a young team that could develop and become more of a contender.
This season has shown the Rebels have the ability to score, with UNLV athletes at or near the top of several categories.
And now the Rebels have the chance to put it all together and go for a top-three team finish at the conference meet Wednesday through Saturday in Clovis, California. UNLV last finished in the top three in 2012.
"San Diego State's going to give us a run for our money because what they have that we don't have is depth," Wade said. "So they have quite a few people who can get to the final and then score. It's all about what happens the day of."
UNLV could come out with its share of individual victories.
Senior Auzsane Crowe-Carter posted the top time this season in the Mountain West in the 800 meters at 2 minutes, 6.76 seconds. She won the 800 at the conference meet the past two seasons.
"Last year, I only raced one before conference because I had an injury (strained hamstring), and I was able to overcome it and still win," Crowe-Carter said. "So I'm feeling confident about this one coming in healthy."
Junior Laura Anuakpado owns the top time in the 400 meters (54.41 seconds), and junior Kaysee Pilgrim has the best high jump (6 feet, 0¾ inches).
Several others are second in their respective events, including sophomore Destiny Smith-Barnett, who recorded a time of 11.46 seconds in the 100 meters.
"Everybody has stepped their game up physically and mentally," Smith-Barnett said. "We also are acting more as a team now instead of individually, even though track is mostly individual. Everybody is cheering everybody on. It's positive energy throughout the whole thing. It makes a huge difference because especially during long-distance races, they love hearing us cheer."
Drea Austin, a sophomore from Foothill High School, could score points in multiple areas. She was second in the 200 meters (23.45 seconds) and fifth in the 100 (11.58). In last year's conference championship, Austin scored 22 of UNLV's 55 points on the final day by scoring in those two events as well as the 400- and 1,600-meter relays.
"I have really high expectations for the team," Austin said. "Being the team captain, I feel like I have a lot on my back and so do they. We're going in as a smaller team. We're always going to be a smaller team because we don't have a men's team. Coming in as just a bunch of young women, we have to hold our own and represent the letters that are on our chests."
DOUBLE DUTY
The Rebels men's and women's tennis teams are competing in NCAA regionals in the same season for just the fourth time. They also made the postseason together in 1997, 1998 and 2007.
UNLV's men (15-9) will play at host No. 11 Southern California (15-6) at 1 p.m. Friday. The winner plays No. 33 Georgia Tech (16-8) or No. 46 UC Santa Barbara (17-6) at 1 p.m. the following day.
The UNLV women (24-1) will play No. 20 USC (12-5) at Pepperdine at 10 a.m. Friday. Should the Rebels win, they would face No. 8 Pepperdine (21-2) or Idaho (19-8) at 1 p.m. Saturday.
WRAPPING UP
UNLV's softball team (23-28, 7-13 MW) concludes its season with a three-game series at Fresno State beginning at 6 p.m. Friday. There is no Mountain West softball tournament, so the Rebels won't be able to play their way into the postseason.
No. 20 Fresno State (37-9-1, 18-0) has clinched the league's automatic berth to the NCAA Tournament.
Contact Mark Anderson at manderson@reviewjournal.com or 702-387-2914. Follow him on Twitter: @markanderson65