UNLV volleyball coach arrives with big name, desire to build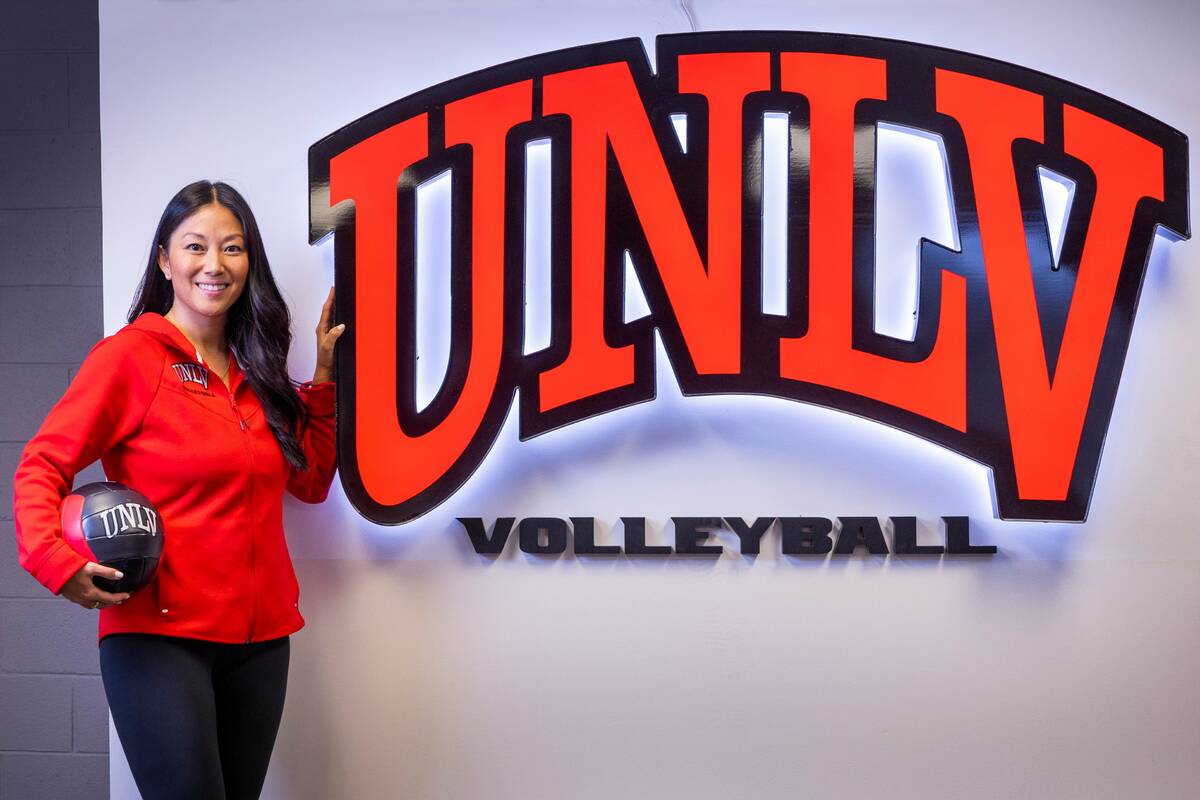 As soon as Tom Shoji set foot in the small, cream-colored house in Salem, Oregon, he was assaulted by the smell of cat urine.
Tom Shoji was taking his daughter, Malia Shoji, house shopping for the very first time. Malia Shoji, who was hired as the UNLV volleyball coach in January, had moved to Salem in 2011 to join her father's Willamette University staff as an assistant.
The property was the first they'd seen. Tom Shoji immediately ruled it out.
Inside, it was an absolute mess. The previous owner's cat had torn up the blinds and ruined the shag carpet. The hardwood floor needed to be sanded, and the bathroom had to be tiled. The oven didn't work, and the house needed a new coat of paint. His nephew, upon seeing the place, remarked it could've been featured on the TV show "Intervention."
Malia Shoji didn't care.
"Two weeks later," Tom Shoji said, "she bought the house."
During the following year and a half, Malia Shoji renovated the run-down property. She was a graduate student with very little money and even less time.
Slowly but surely, however, she began to turn the house into something special — and eventually sold it for a major profit.
"That's the kind of person she is," Tom Shoji said. "She puts her mind to something, and she takes care of it."
Malia Shoji is the eighth coach in UNLV volleyball history. The Rebels open their season this weekend at the Buffs Invitational in Boulder, Colorado, and their home opener is Sept. 12 against Southern Utah at Cox Pavilion.
An assistant at Utah for the past eight seasons, she arrives at UNLV with one of the most recognizable surnames in the sport of volleyball.
Her father, Tom Shoji, spent more than three decades coaching at various levels around the sport. Her uncle, Dave Shoji, is one of the most successful Division I coaches in NCAA volleyball history, winning four national championships during his 42-year tenure leading Hawaii.
Both of Dave Shoji's sons, Kawika Shoji and Erik Shoji, have enjoyed lengthy careers with the U.S. national volleyball team and won bronze medals at the 2016 Olympics in Rio de Janeiro. Their sister, Cobey Shoji, was a volleyball letter-winner at UNLV for one season before moving on to Michigan, and she spent several years as the director of operations at Stanford.
Yet, Malia Shoji's journey to UNLV has been one of her own.
"The family name definitely opened doors for me," Malia Shoji said. "But then I also felt a sense of pride, that I needed to live up to the family name."
She's unafraid of change or challenges that may require hard work. She built something of her own instead of accepting a seemingly predestined career. She wants to create, then invest time and energy into a project, just like she did with the house in Salem all those years ago.
"She's really carved out her own path," Erik Shoji said. "It wasn't necessarily the most traditional route, but she didn't let that external pressure get to her. She really worked her way up, confident in who she was and where she was going to go."
Early crossroads
The first major divergence in Malia Shoji's path came as she was preparing for college.
She played volleyball throughout her youth and signed a letter of intent to join her father's program at Colorado State University of Pueblo. But just before she was supposed to report for preseason, the university let Tom Shoji go.
Stuck without a place to play or go to school, Malia Shoji scrambled to find somewhere to spend her freshman year and ended up attending Irvine Valley College, a junior college in Southern California. She called the time she spent there with coach Tom Pestolesi "two of the most amazing years of my life."
However, she once again found herself at a crossroads following her graduation from Irvine Valley. Malia Shoji had options. She could search for a four-year university that might give her an opportunity to continue playing, or she could go somewhere to simply pursue her education.
"I thought maybe it was time for me to find some different passions," she said.
Malia Shoji chose UC San Diego, at the time a Division II school. Her father remembers the volleyball coach, Tom Black — now the coach at Georgia — asking him to convince his daughter to come try out for the team, but Malia Shoji resisted.
Instead, she got her first chances to coach. She began working with local clubs and high schools in the San Diego area to make extra money. Upon graduation from UCSD with a bachelor's degree in communications in 2009, she took a job working in finance at a sports technology company.
At the time, she said she believed her volleyball journey had come to an end.
Just months after graduating, though, Malia Shoji felt like she was missing something. The sport she'd spent her entire life around was beckoning, and she heeded its call, returning to the world of club volleyball.
"The minute I took it out of my life, I realized it's such a big part of who I am and what fulfills me," she said.
Coaching journey
Malia Shoji's college coaching career began, slightly unintentionally, in 2011. One of Tom Shoji's assistants at Division III Willamette got married and left the program midseason. In desperate need of some help, he asked his daughter to move to Oregon to coach for a few months.
Both expected it to be a temporary arrangement. Malia Shoji sublet her apartment in San Diego for three months, fully believing she was going to move back once the season was over.
Instead, she stayed in the Pacific Northwest. Brad Saindon, coach at Division II Western Oregon, offered her a graduate assistant position in 2012 that allowed her to pursue a master's degree in education, information technologies, and convinced her to put a potential return to California on hold.
Her personal coaching breakthrough came while working for Saindon in Monmouth, Oregon. She said she developed a passion for teaching, and fell in love with college volleyball, which was a refreshing change after dealing with the politics that can define the sport at the club and high school levels.
She began searching for opportunities at the Division I level in 2014, when she attended the Hawaii Volleyball Combine. Her father was also there, scouting his own prospects, when Utah coach Beth Launiere ran into him and asked if there was anyone he'd recommend for an assistant job.
On a whim, Tom Shoji mentioned his daughter. He said he thinks it's one of the only times he's ever actively helped his daughter's career. Early on, he admitted he'd tried to dissuade her from following in his footsteps.
"I don't think I talked to a single athletic director about her as a coach," he said.
Launiere and Malia Shoji quickly established a strong rapport, and she joined the Utah staff for the 2015 season. The Utah coach said she tested her new assistant immediately by putting her in charge of recruiting.
Malia Shoji spent eight seasons at Utah, including five as the associate head coach. She helped the Utes qualify for six consecutive NCAA Tournaments, developing her coaching style along the way.
Launiere and Tom Shoji said they consider her a player's coach, who succeeds by building strong relationships with her staff and players.
"She has a high emotional intelligence in terms of understanding the pulse of a team," Launiere said.
She also praised Malia Shoji's loyalty. Launiere said her former assistant had several chances to leave, but waited for the right opportunity.
Shoji's patience was rewarded when she began interviewing with UNLV. She said she felt an instant connection with the athletic department, the campus and felt the city was going to be a good place to raise her two young children. Those attributes made UNLV stand out despite discussions she had with schools like Arizona State, Kansas State and Loyola Marymount.
She also didn't want to pass up on the chance to inherit such a strong team. The Rebels were the 2022 Mountain West regular-season champions and have qualified for the NCAA Tournament two of the past three seasons.
Leading the Rebels likely won't require the same type of renovation as her old house in Salem. However, Malia Shoji once again has an opportunity to build something of her own, this time in Las Vegas.
"I like the investment part of things," she said. "I like to create, and I like to see those creations come to fruition."
Contact reporter Andy Yamashita at ayamashita@reviewjournal.com. Follow @ANYamashita on X.