UNLV women confident entering regional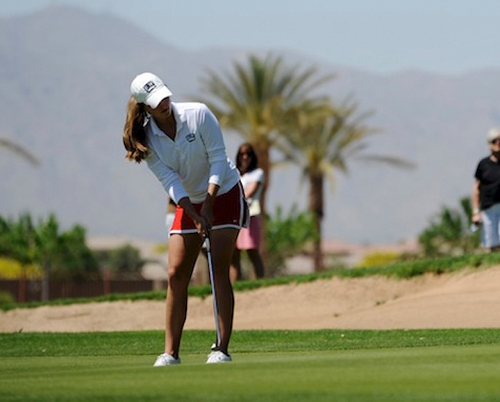 Therese Koelbaek's sprained left shoulder is healthy. Ellis Keenan continues to wield a hot putter, and coach Amy Bush is brimming with confidence.
Still, it doesn't guarantee UNLV will advance to the NCAA women's golf championships.
The Rebels will have a lot of work to do to get out of the 24-team Central Regional, which begins Thursday at Warren Golf Course in Notre Dame, Ind. The top eight teams will advance to the nationals May 18 to 21 at the Traditions Club in Bryan, Texas.
"We're ready," Bush said Tuesday. "Therese's shoulder is fine. No problems. She's been practicing with no restrictions, and she's hitting the ball great."
Koelbaek, the Mountain West Conference's Player of the Year, sprained her left shoulder during practice before the conference tournament. She will have to play well for UNLV to have any chance to advance.
The senior from Denmark also has taken freshman Katerina Prorokova under her wing, rooming with her on the road and trying to impart some of her wisdom on the young Russian, who will play in the No. 3 spot.
"Kat has been striking the ball better than I've seen her all year," said Bush, who will walk with Prorokova on Thursday when the Rebels, seeded 15th in the regional, start their round at 9:30 a.m. PDT. They will be playing with Minnesota and Northwestern.
"She is really airing it out in practice, and she's played in every event for us this year," Bush said. "That experience should help her at regionals."
Keenan, UNLV's No. 2, has used a solid short game to improve her standing. She started the fall season trying to break into the starting lineup, but now the sophomore from England is firmly entrenched in Bush's starting five.
"She's really worked hard to get where she is," Bush said. "That change of putter earlier this spring really helped Ellis. But her short irons have gotten better, too, and it's giving her a chance to have a lot of makeable putts because she has been hitting the ball so close to the pin."
Senior Alejandra Guacaneme and junior Bethany Glassford round out UNLV's starting five. The top four scores count toward the overall total. Bush said the keys to advancing will be how her team handles playing a course it has never stepped foot on, along with possible inclement weather.
"We'll get a practice round in (today)," she said of Warren, which will play to 6,744 yards this week as a par-71 course. "But sometimes knowledge can be a dangerous thing. You can get caught up thinking too much about where you should hit your shot instead of just playing.
"We're going to have to beat the elements. The weather isn't going to be particularly nice (Thursday's forecast calls for rain, winds up to 15 mph and temperatures in the upper 50s). But they've been practicing in the wind, so they should be able to deal with it."
UCLA is the regional's No. 1 seed.
Contact reporter Steve Carp at scarp@reviewjournal.com or 702-387-2913. Follow him on Twitter: @stevecarprj.