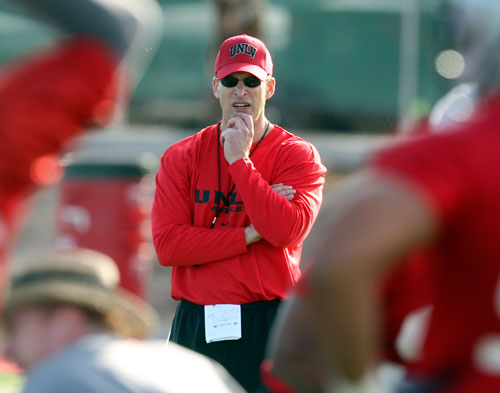 UNLV football coach Bobby Hauck told defensive tackle Malo Taumua to stop talking and start playing.
Taumua, who last week was demoted to the second team, listened. And during practice, he was elevated back to the starting unit, joining promoted defensive end Preston Brooks.
"(Hauck) told me to go with the ones (starters), and I proved to him that I could be a one," said Taumua, who made at least two tackles for loss.
Hauck said the depth chart changes daily, and if videotape from today's practice shows Taumua deserves to be on the first team, that's where he'll be when UNLV returns to practice Wednesday.
As for Taumua, he used the position demotion as motivation.
"It really fired me up," he said. "These are new coaches. When new people come in, you've got to prove something to them because they know nothing about you."
LOOKING GOOD
All three quarterbacks — Omar Clayton, Mike Clausen and Caleb Herring — were sharp.
Clayton twice hooked up with tight end Austin Harrington on tough throws, one across the field between two defenders and the other in tight coverage from linebacker Starr Fuimaono.
"I think progressively as we get going, things get a little bit easier," Clayton said. "Today's installation wasn't as heavy on the pass side, so I didn't have to worry about too many new things. So I think I was able to do a pretty decent job, probably my best day so far in camp throwing the ball."
As for Clausen, on one play he rolled left and dropped in pretty pass to tight end Max Johnson for about a 25-yard gain.
Herring also was on target, once rolling right and throwing a perfect pass to wide receiver Michael Johnson and later tossing a terrific sideline pass to Harrington.
NOT LOOKING GOOD
Hauck was disappointed with how practice began.
"We were a little lethargic," he said. "We had to kind of get it going. I didn't think we started very fast, so we've got to go. It's a learning process. We've got to understand that every time we come out here, we've got to go."
He said the tempo did pick up later when the Rebels went into team sessions.
BANGED UP
Wide receivers Phillip Payne and Tate Knutson and tight end Kyle Watkins were injured. Hauck said he didn't how what the injuries were, but didn't believe they were serious.