UNLV AD eyes potential move to Power 5 conference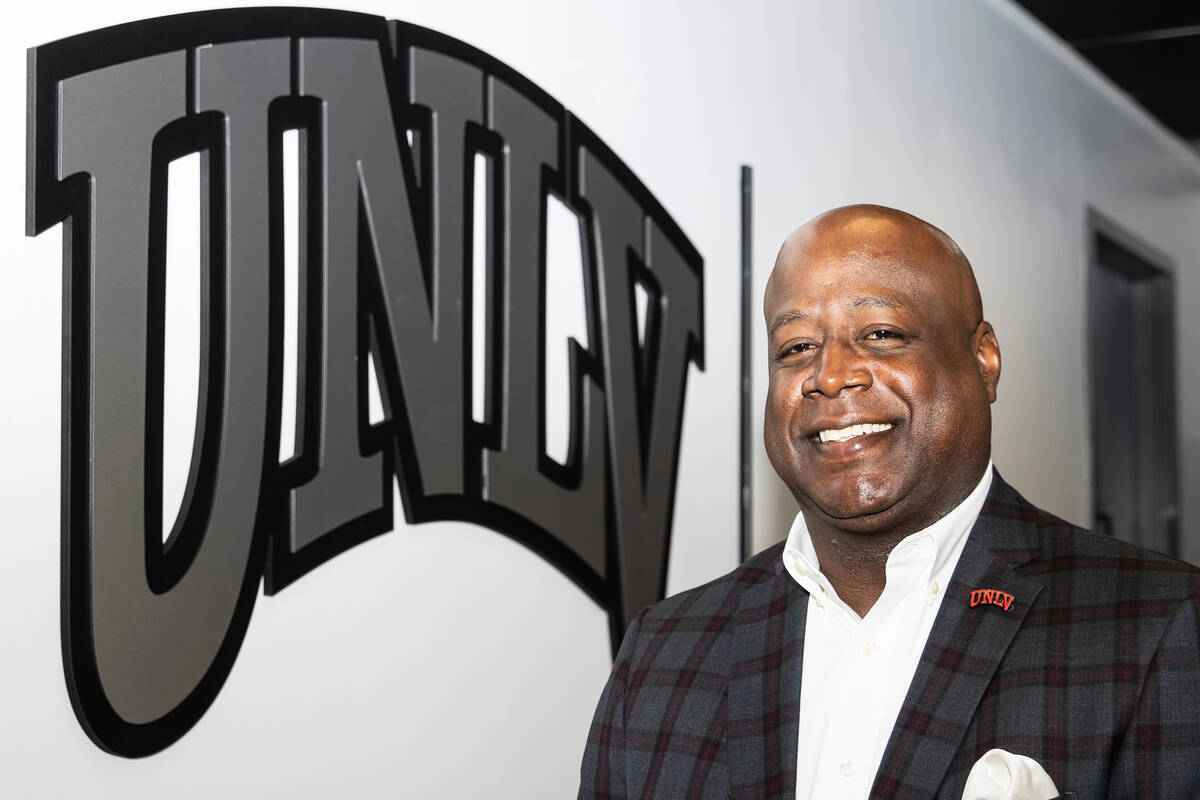 UNLV fans for years have been calling on the university to make the jump to a Power Five athletic conference.
When talk of potential expansion of the various elite conferences arise, UNLV's name gets floated, but as of yet has not been part of any serious conversations of the school moving upward from the Mountain West conference.
UNLV athletic director Erick Harper on Thursday said the school has aspirations to better position itself within the college athletics landscape, but it's not a deal that will happen overnight.
"Our mission and vision is to take care of home," Harper told the Review-Journal. "Take care of everything we can to make UNLV attractive. At the end of the day we've got to make the decision that's best for the university, our student-athletes, our fan base and the city of Las Vegas. We're just doing everything we can to position ourselves for what might happen."
Part of that is improving the on-field results in football, the biggest revenue-producing sport, and reclaiming some of the past glory of the basketball program.
If a move to a Power Five conference were to happen, it would elevate the standing of UNLV to those around the country, Harper noted.
"If you're in the conversation of P5, there's a different mindset and perceptually that you're going to be better," Harper said. "But you've still got to recruit at a high level."
The two most likely Power Five landing spots for the Rebels lie with the Pac-12 and the Big 12, due to geographic location.
Harper noted UNLV's sports facilities are a big plus, with UNLV football's on-campus Fertitta Football Complex and its home field at Allegiant Stadium, the "historic" Runnin' Rebels' home at the Thomas & Mack Center and the Mendenhall Center practice facility.
"We have really good facilities, but we're always going to look to try and improve them," Harper said. "Regardless of what conference we're in, we're still going to have the mindset that our facilities are at the top of whatever conference we're in."
With two of its perennial members, Southern California and UCLA, moving on to the Big Ten, the Pac-12 will be looking to add at least two teams. Those decisions will not be made until the Pac-12 lands a new media rights deal, which is expected to occur sometime in the first half of this year.
Although Pac-12 Commissioner George Kliavkoff didn't want to go into detail on schools that could be added, he broke down what the conference will concentrate on when the decision to add new members is made.
"We'll look at things like media market, athletic competency, academic fit and cultural fit," Kliavkoff said in December. "We take all of those into account, and then we're going to run a process and our board will decide whether or not we expand and, if so, who do we invite."
If that process does recommend UNLV, the school has its own process to undergo before any move would be made official, Harper noted.
"We can't just pick up the phone and call them and say, 'Hey, we want to get in your conference.' There's a lot more to it than that," Harper said. "We also report to the Nevada System of Higher Education, so we have to cross those t's and dot those i's. We can't just say yes without going through our protocols and policies and guidelines as it relates to being in the state of Nevada."
Kliavkoff is a former longtime MGM Resorts International executive who knows the Las Vegas market as well as anyone. He noted that the Pac-12 basketball and football championship have been played in Las Vegas, along with the Pac-12 being involved with the revamped Las Vegas Bowl format.
With all that involvement, some of the conference's staff have joined Kliavkoff and moved to Las Vegas, he noted.
As the conference works on a new media rights deal, the expansion topic has taken a backseat. But Kliavkoff expects the conference's future plans to be known, "certainly by next year (2024)," he said.
Contact Mick Akers at makers@reviewjournal.com or 702-387-2920. Follow @mickakers on Twitter.