UNLV announces athletic director Tina Kunzer-Murphy's departure
October 24, 2016 - 5:58 pm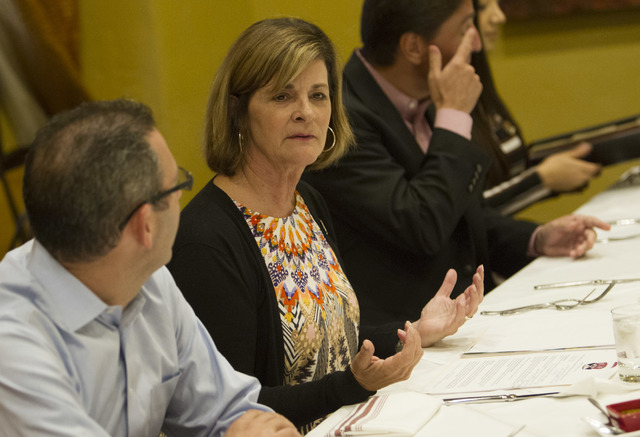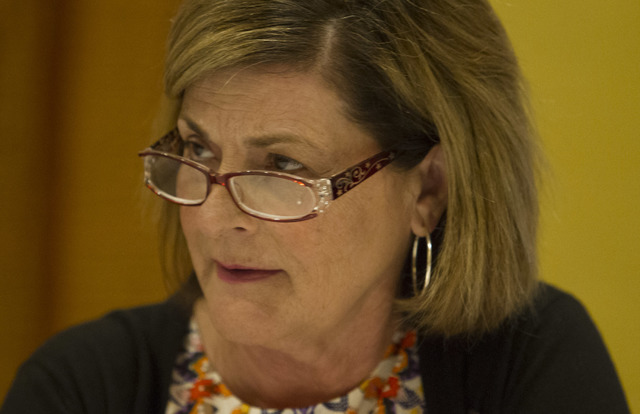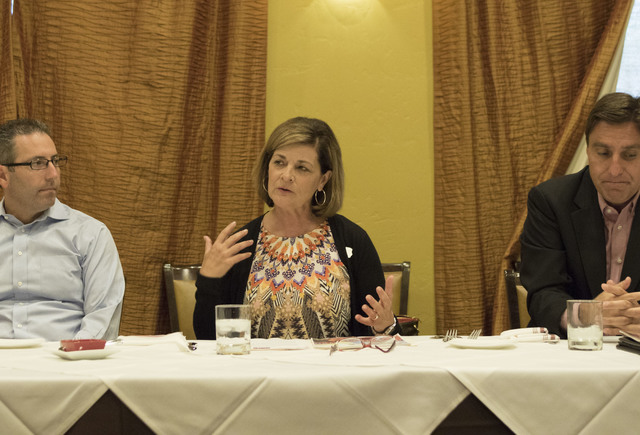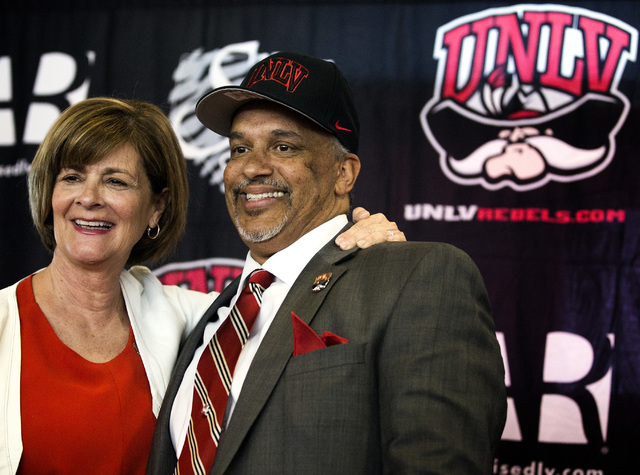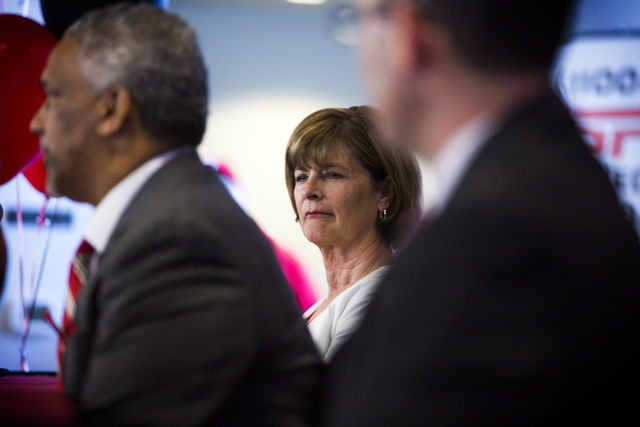 UNLV made it official Monday, announcing athletic director Tina Kunzer-Murphy will receive a six-month extension and then step down when the fiscal year concludes June 30.
She then will move to the UNLV Foundation and be mostly responsible for fundraising.
Sources told the Review-Journal this month that Kunzer-Murphy would make such a move, but she said at the time no decision had been made regarding her three-year contract, which was set to expire at the end of his calendar year.
"I would tell you this, I love my job very much," Kunzer-Murphy said Monday. "I woudn't mind being in this job forever, but that just doesn't happen all the time the way you want things to work out."
Kunzer-Murphy said she and UNLV president Len Jessup reached the agreement together.
UNLV officials said a national search will begin around the start of 2017. Kunzer-Murphy said she would have no role in picking her successor.
"It's a great job," she said. "I'm born and raised here. I'm a Rebel. To think that I could come and sit in this chair, it will be four years when I step away. It's been a gift, and I love that. I want to make it perfectly clear how much I love this job. I'm not going to stand up and say, 'Oh, I'm happy.'
"I mean I'm happy because we made a decision together, and now I've made that announcement that (I'm) moving on, but I have a passion for intercollegiate athletics. I have a passion for winning and for taking care of coaches and student-athletes, and I've loved every minute of it. Len and I have agreed to this, and I appreciate the opportunity to continue on to June."
She said there was plenty left to accomplish during her remaining eight months in charge of athletics. Among the top items is the continued fundraising for the Fertitta Football Complex, which will cost between $24 million and $26 million. Kunzer-Murphy said about $17 million has been raised.
Also, she wants to increase student fees and find other ways to raise revenue for the athletic department.
Kunzer-Murphy, who turned 64 on Saturday, is the only female athletic director since UNLV began its athletics program in 1958. She became athletic director July 1, 2013.
Under her watch, UNLV received a record $10 million pledge by the Fertitta family and another $2 million from an anonymous donor, both for the football program. UNLV also opened the Anthony and Lyndy Marnell III Baseball Clubhouse, a $2.75 million facility.
The men's and women's golf teams and men's and women's tennis teams won Mountain West championships during the 2015-16 academic year.
Kunzer-Murphy also made hires in the two most visible sports, bringing in Marvin Menzies in men's basketball and Tony Sanchez in football.
The Menzies hire, however, was far from smooth, with Cincinnati's Mick Cronin turning down the job and Chris Beard accepting it only to later leave for Texas Tech.
The University of Nevada Board of Regents didn't help matters with Beard, with the more than two-hour approval meeting a probable factor in his decision to leave.
Kunzer-Murphy was at the center of controversy with former men's basketball Dave Rice, who received an extension one year before he was fired at midseason. Also, former baseball coach Tim Chambers resigned under her watch in December after being arrested two months earlier for driving under the influence.
So Kunzer-Murphy leaves the next athletic director with some positive accomplishments on which to build and some challenges as well.
"Tina's unwavering commitment to UNLV, our athletics program, and our student athletes is simply unmatched," Jessup said in a statement. "Under her leadership as athletics director, our programs have been successful in competition, in the classroom, and in the community. As the first alum to lead UNLV Athletics, Tina has been and remains a stalwart ambassador for our university and we look forward to her continued service."
Contact Mark Anderson at manderson@reviewjournal.com or 702-387-2914. Follow @markanderson65 on Twitter.
RELATED
UNLV athletic director Tina Kunzer-Murphy expected to leave job in spring, sources say
Like Vegas Sports News on Facebook: