UNLV assistant hockey coach shot at concert, expected to recover
October 2, 2017 - 2:08 pm
Updated October 2, 2017 - 6:54 pm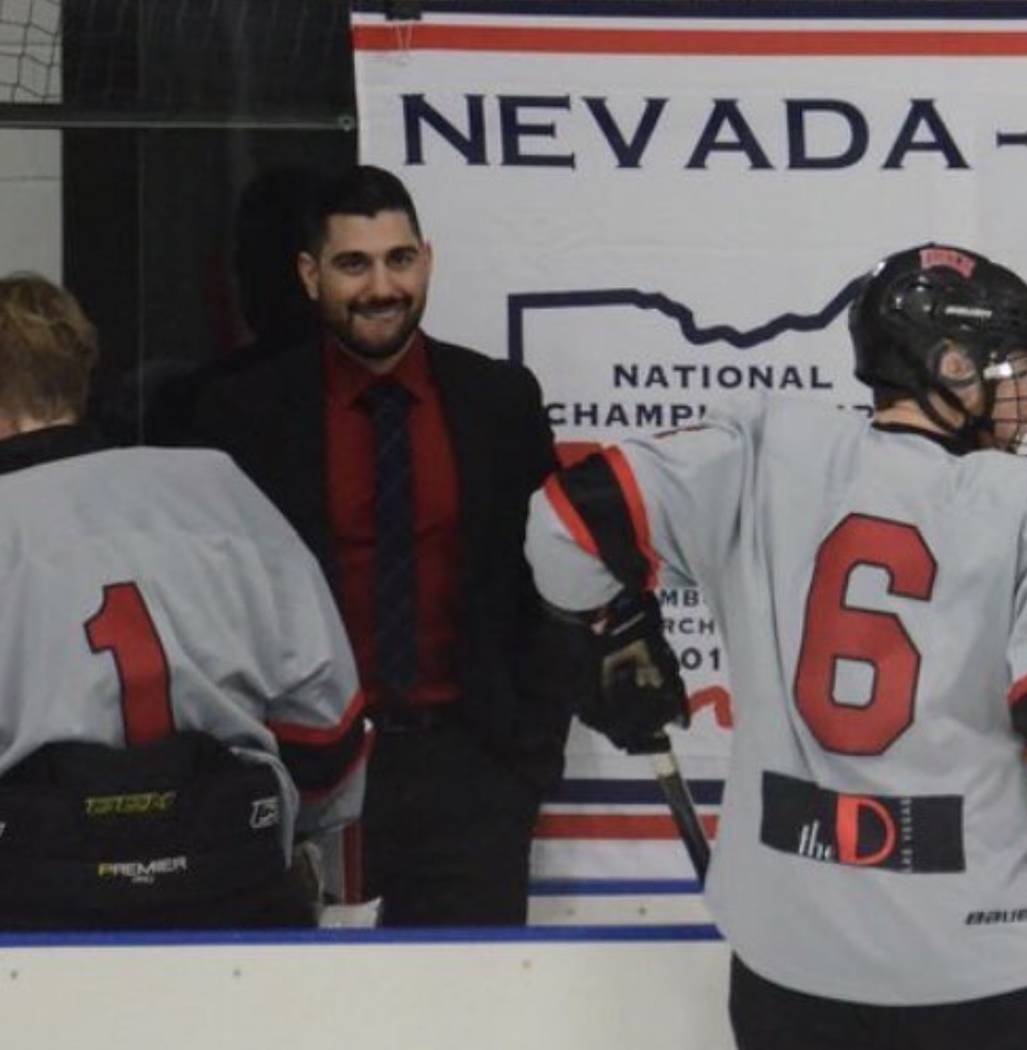 UNLV assistant hockey coach Nick Robone was shot in the chest during Sunday night's massacre across from Mandalay Bay but is expected to recover.
Team general manager Zee Khan said Robone, 28, is in intensive care at Sunrise Hospital and Medical Center, where he had a bullet removed from his chest. The shot missed Robone's lung.
"They removed the bullet and the fragments, but he's badly bruised," Khan said. "If all goes well, he will make a full recovery."
Robone was at the Route 91 Harvest country music festival with head coach Anthony Vignieri Greener and family members when the shooting broke out that has claimed at least 59 lives and injured at least 527. Greener and his wife, Ashley, escaped unhurt.
"My wife and I are in a state of shock still," Greener said. "People are reaching out and checking in on us and making sure (we're OK), but some of the things I saw last night, I wouldn't wish upon anybody.
"I've never witnessed anything like that. You always see it in movies. Words don't justify it."
Greener said he stood about 10 yards behind Robone during the concert, and at first thought the gunshots were firecrackers. Then when the second round of shooting occurred, Greener told Ashley they needed to leave the area, and panic with the crowd set in when the third round of shots began.
"Everybody dropped to the floor," Greener said. "So we ran probably 30 yards, 40 yards and another long one came. I don't know how long it is. It sounded like it was going on for 10 minutes. We hit the floor twice in a span of probably 200 yards."
They ran through the far right side of the venue and saw police officers and a woman who was shot in the stomach.
"She was bleeding everywhere, and they're running toward us," Greener said.
A police officer told him to keep moving.
"Every time we heard shots, we would get behind something if we could," Greener said. "You see people bleeding everywhere. It was just madness."
His group became separated from Robone's, so Greener texted him. Robone responded that he was shot and headed to Sunrise. Robone's brother, Anthony, is a firefighter who also was at the concert. After helping his brother into an ambulance, Anthony Robone stayed behind to assist other injured people.
The UNLV hockey team, which is a club sport, will play Utah as scheduled on Friday and Saturday at City National Arena, where the Vegas Golden Knights train.
UNLV athletic director Desiree Reed-Francois said in a statement the school's varsity athletes, coaches and athletic department personnel "are accounted for and safe."
"Our thoughts and prayers are with the victims and families affected by this horrible tragedy," Reed-Francois said. "We have learned that Nick Robone, a member of the UNLV club hockey program's coaching staff, was wounded and we are praying for his full recovery.
"Thank you to our law enforcement, first responders and volunteers throughout Southern Nevada and here at the Thomas &Mack Center for their work throughout the night. Our city is strong and resilient, and UNLV athletics will do all that we can to help heal as a community."
From our Director of Athletics @DRFrancois1 on the horrific tragedy last night in Las Vegas: pic.twitter.com/mk0tW29Rbd

— UNLV Athletics (@UNLVathletics) October 2, 2017
Rebels men's basketball coach Marvin Menzies and football coach Tony Sanchez posted their thoughts on Twitter.
#PrayForVegas," Menzies wrote, "the #UNLVmbb Family has a heavy heart today for all those tragically impacted. Our prayers go out to our #VegasFamily."
#PrayForVegas the #UNLVmbb Family has a heavy heart today for all those tragically impacted. Our prayers go out to our #VegasFamily pic.twitter.com/7iOIJsypDT

— Coach Marvin Menzies (@MarvinMenzies) October 2, 2017
"Our thoughts (and) prayers go out to the victims, their families, and all those affected by this senseless and tragic event," Sanchez said.
Our thoughts are prayers go out to the victims, their families, and all those affected by this senseless and tragic event.

— Coach Tony Sanchez (@UNLVSanchez) October 2, 2017
Mountain West commissioner Craig Thompson issued a statement that read: "The entire Mountain West family offers our thoughts, prayers, love and support to our family members and friends in the Las Vegas and UNLV communities, and to all those who have been impacted by this unimaginable tragedy.
"We hope you draw strength in knowing we stand with you in this most difficult hour."
UNLV is expected to announce later this week how it plans to honor the victims.
Contact Mark Anderson at manderson@reviewjournal.com. Follow @markanderson65 on Twitter.