UNLV athletics looks to find its place locally, nationally
Updated August 25, 2018 - 6:31 pm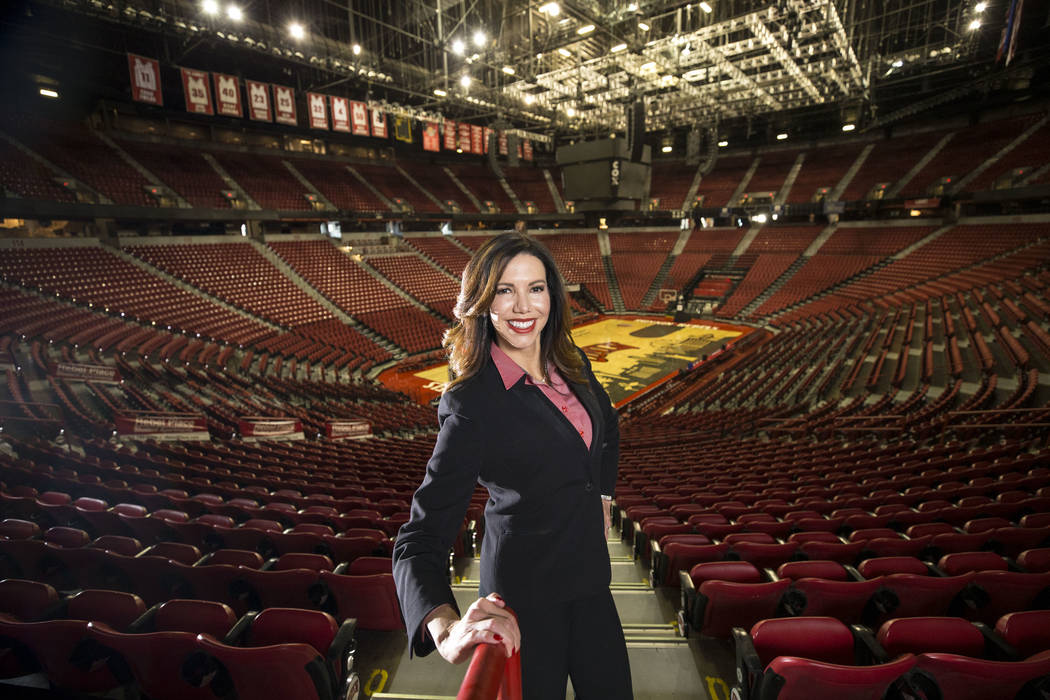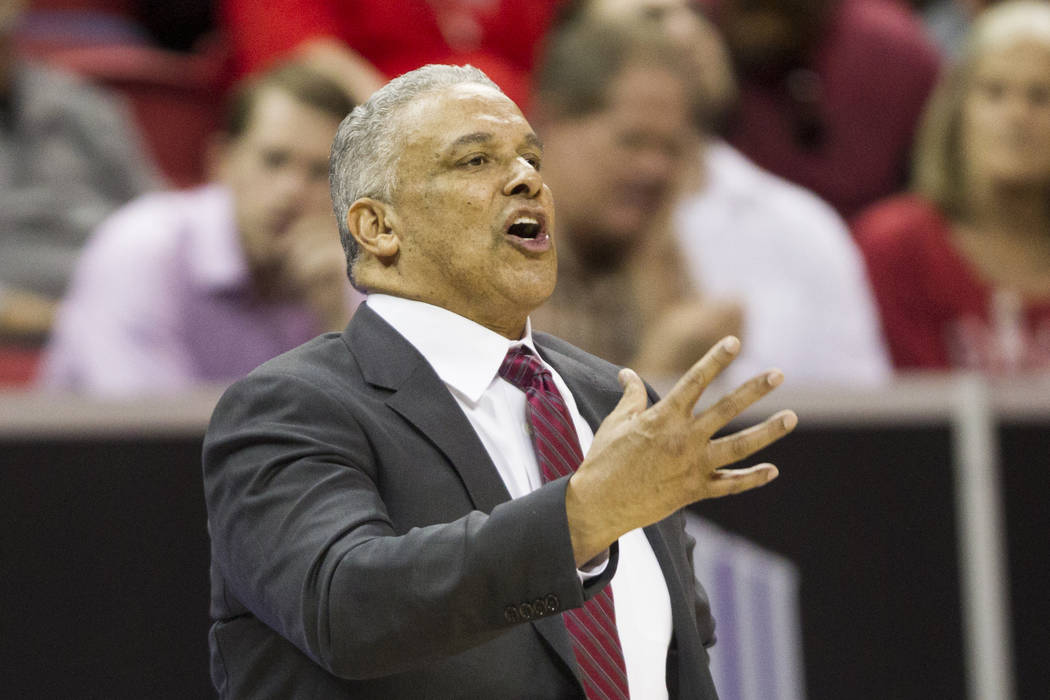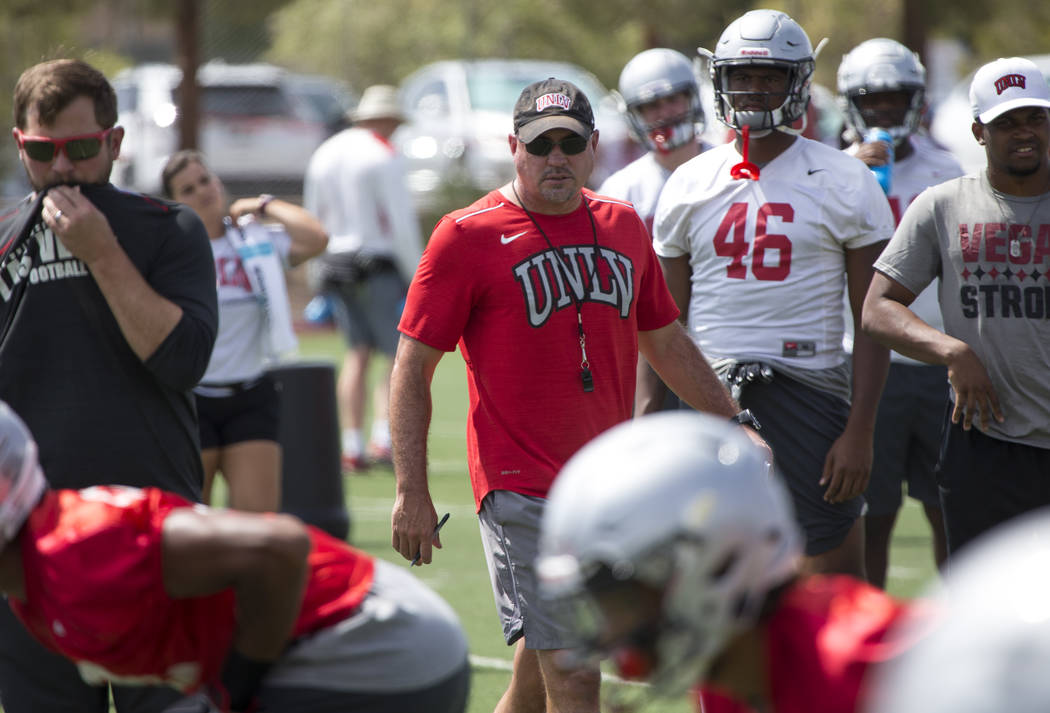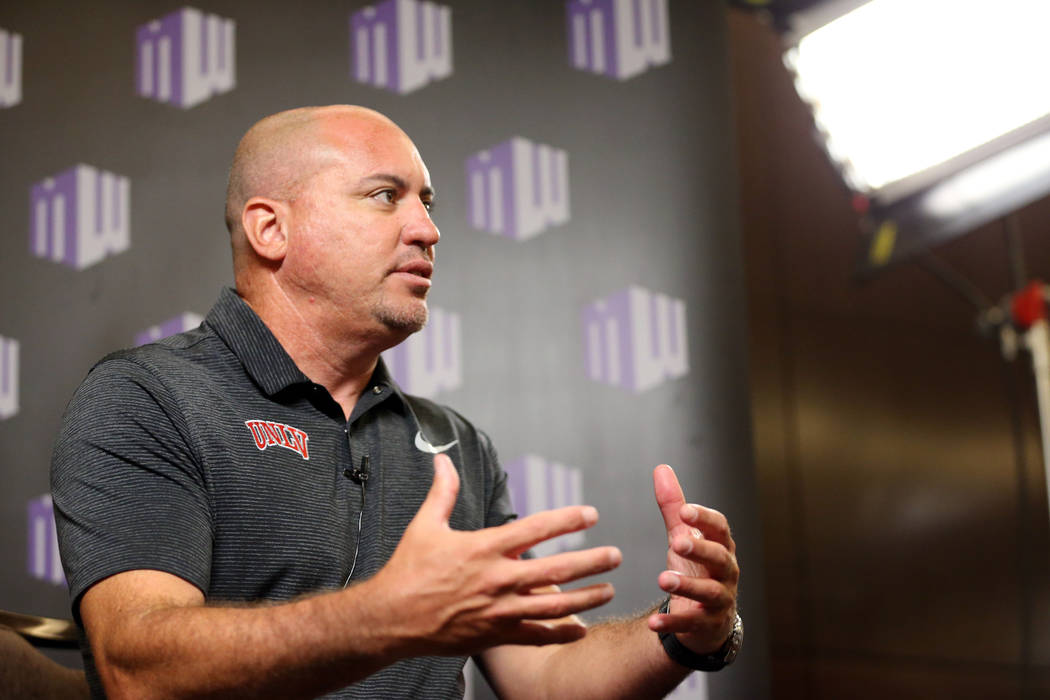 Desiree Reed-Francois was driving a golf cart from her office at the Thomas & Mack Center to the student union, and on the way she stopped by the William F. Harrah College of Hospitality.
Though parts of the $59 million building remained unfinished, she was excited to show a visitor its open spaces and eye-catching views of the Strip and a campus that would distract even the most diligent honors student.
As athletic director, Reed-Francois is in the driver's seat of UNLV's athletic department. And like the hospitality building, the self-described "recovering attorney" oversees an athletic department that has had plenty to show off with its Olympic sports winning five conference championships in the last academic year.
But it's also a department very much under construction, in the literal and figurative sense. The Fertitta Football Complex is going up on campus, and the UNLV team will share a sparkling 65,000-seat stadium that is being built for the Raiders and scheduled to open in 2020.
UNLV's two major revenue-producing sports — football and men's basketball — also are working on building their programs. Or, in the case of basketball, rebuilding.
The future of the two major programs is among several significant issues that face Reed-Francois and UNLV. There also are questions about where UNLV athletics fit in the local sporting landscape with the NHL's Golden Knights, the NFL's Raiders and the WNBA's Aces, and where the Rebels place nationally as a Group of Five member fighting an uphill financial battle against the Power Five heavyweights.
"These jobs can be challenging," said Reed-Francois, who took over June 1, 2017. "I thought this was a little bit like a marathon this first year. I felt like at one time I was at mile 18 and hitting a wall, but there were so many beautiful moments that kind of make your heart sing, and I feel like I'm at mile 26 and I can see the finish line. I can see that we're making progress."
Crowded marketplace
Reed-Francois has to deal with something previous UNLV athletic directors didn't — a major professional team down the street. The Golden Knights attracted crowds beyond capacity at T-Mobile Arena on their way to a historic run to the Stanley Cup Final.
The Raiders are on their way, the Aces carved out their own space with an average attendance of more than 5,000, and speculation continues that an NBA team could arrive within the next few years.
UNLV, in many ways, has become an afterthought, the mania spurred as the Knights racked up victory after victory, evoking memories among longtime Las Vegans of the Rebels' basketball glory days under Jerry Tarkanian.
But Reed-Francois and others in the athletic department said the Knights' success helps create excitement for other teams. She found herself watching hockey more than ever, and football coach Tony Sanchez tweeted a photo of himself from at least one playoff game.
Men's basketball coach Marvin Menzies attended the Knights' 4-2 home playoff victory over the Winnipeg Jets on May 16 and was blown away by the atmosphere.
"Man, that was so electric and so fun and engaging," Menzies said. "I know those guys fed off that energy, and you look at what happens when you get butts in the seats."
It's the lack of atmosphere that has been mostly missing at the once-rocking Thomas & Mack Center, where sections of seats are often left unoccupied. At Sam Boyd Stadium, it's become notable when more than 20,000 show up.
Reed-Francois is trying to address attendance problems, creating "The FANtastic 20," a list of steps to better engage supporters during the football season. Included is an all-you-can-eat promotion and efforts to improve pregame and in-game activities.
Similar efforts are being considered for men's basketball, such as a pregame tailgate to keep students who finish class at 3 p.m. on campus for tipoff four hours later.
It's the new reality for the Rebels, once the kingpins of the Las Vegas market.
But Reed-Francois won't say the Knights — or the Raiders or Aces, for that matter — are bad for business. She even met with Knights management last year and borrowed marketing ideas.
"We don't see them as competitors," Reed-Francois said. "We see them as an opportunity for our community to come together. But we've got something different, something unique. We've got student-athletes. We want to provide our fans with an amazing experience, but we also have a responsibility to educate young people."
UNLV has done that, with its athletes achieving a combined GPA of more than 3.0 in each the fall and spring semesters for the first time in school history. Reed-Francois also emphasizes life beyond college, with the employment for UNLV student-athlete graduates rising 29 percent under her short watch.
Needing revenue sports to win
It's the kind of news that athletic administrators and their bosses love, but most fans care mainly about game results for football and men's basketball.
UNLV, particularly in men's basketball, still occasionally draws a large crowd. That happened in December when the Rebels almost upset Arizona, an experience that Reed-Francois has said more than once confirms her belief in the future of UNLV athletics.
Expectations are typically higher for men's basketball than football because of four Final Four appearances that include the 1990 national championship. But the Rebels haven't been to the NCAA Tournament since 2013, and Menzies is still trying to climb out of a hole left by a disaster of a coaching search in early 2016.
Menzies oversaw a nine-victory improvement last season, and he touts the importance of building a program for long-lasting success and not just a quick turnaround. The question is what the athletic director thinks, but Menzies said if the program shows noticeable progress, "then I think that's what any boss is going to want."
His boss has been supportive in her comments.
"We've seen progress, and I want to continue seeing that upward trajectory," Reed-Francois said. "I also know (Menzies is) passionately committed to building a championship and building it the right way. That's really important. I'm not interested in cutting corners. I'm interested in building a program that this community can be proud of, and we've got to do it in alignment with our core values and our expectations, and that's winning with integrity."
Sanchez oversees a program that has posted two winning seasons in 23 years, but the Rebels have increased their victory total by one each of his three seasons, from three, to four, to five. He also was the driving force behind the financing of the Fertitta Football Complex, a two-story building by the practice fields scheduled to open next spring.
The interior of the second floor is not expected to be completed by that point, however, because the total cost rose by at least $5 million to $31 million and funding isn't available at this point to cover the gap.
Sanchez, similarly, is looking to close the gap to a bowl appearance. The Rebels gave away three almost sure victories in 2017 and finished 5-7, one game short of qualifying.
"Going into year four, I know (Sanchez) shares the same expectations, the same desires that I do," Reed-Francois said. "We want to win, and there's no magic number. But we've got to be on that championship path, because in 2020 we're going to go into a brand new, beautiful, $2 billion stadium, and we need to have that solid football foundation going into there."
Sanchez has been bullish on the program's potential since he took the job, and nothing has changed entering Saturday's season opener at Southern California.
"There are not a lot of excuses," Sanchez said. "All the things that are happening, they're all trending in the right direction."
Money matters and Power Five
UNLV, which operates about a $39 million budget, needs the financial boost that probably would come with winning football and men's basketball teams.
Reed-Francois balanced the budget last fiscal year, which ended June 30. Under a new arrangement, the university provides $5.1 million to athletics near the beginning of the fiscal year. Before Reed-Francois arrived, the university helped close any deficits on the back end.
By receiving money up front, Reed-Francois is forced to act within the strictures of the budget, and she said she projects conservative revenue numbers to minimize the chances of unpleasant surprises later in the fiscal year.
It doesn't help that UNLV isn't in a Power Five conference. Mostly because of lucrative TV contracts, those schools bring in at least two to three times more revenue than UNLV.
Missouri athletic director Jim Sterk was the AD at San Diego State from 2010 to 2016, so he understands the challenges Mountain West schools such as UNLV face.
"I've had the opportunity to serve as an athletics director at both the FCS and FBS levels, and I believe that the core mission is the same — to provide a great student-athlete experience, academically and athletically, while helping them grow as individuals," Sterk said. "The big difference is that Power Five institutions are able to put more staff and programming toward that core mission because of available financial resources."
Doing more with less. It's the life of a Group of Five athletic director.
"Our budget is very similar to your checking account," Reed-Francois said. "You spend to what you have, but we also need as administrators to look at what kind of growth can we have and where does that come from and are we looking at every single possible revenue source out there? And we need to be really aggressive and creative."
More Rebels: Follow all of our Rebels coverage online at reviewjournal.com/Rebels and @RJRebels on Twitter.
Contact Mark Anderson at manderson@reviewjournal.com. Follow @markanderson65 on Twitter.
Crowded local sports market
Aces — Came up just short of the playoffs, and the young, promising WNBA team led by star-in-the-making A'ja Wilson created a dedicated fan base.
51s — Wrapping up 36th season at Cashman Field, the Triple-A baseball team moves into a $150 million stadium next year in Summerlin.
Golden Knights — Made a shocking run to the Stanley Cup Final while drawing overflow crowds and setting NHL expansion records.
Lights — The first-year United Soccer League entry quickly obtained a rabid fan base, but the season has been filled with controversy and below-par results.
Raiders — Won't move from Oakland until 2020 into their shiny $1.8 billion stadium near the Strip, but the presence of the NFL will overshadow all other sports.
NBA — The Summer League had all 30 teams for the first time, and talk persists that a franchise could be placed in Las Vegas in the coming years.