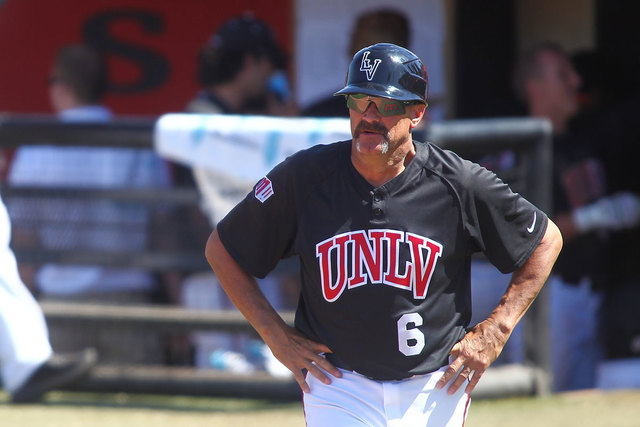 A contract extension and a pay raise topped Tim Chambers' wish list for months, and the UNLV baseball coach finally got what he wanted.
It pays to produce results. On the heels of his most successful season with the Rebels, Chambers was handed a new five-year contract on Friday.
"I've always said I want Tim to stay. I want him to be our coach," UNLV athletic director Tina Kunzer-Murphy said. "We had a great season, and it was important for us to move forward."
Kunzer-Murphy announced the deal, which includes a raise in Chambers' $110,000 base salary and a change in incentive opportunities, after a morning meeting that was scheduled to settle their lengthy negotiations.
"Tim and I were able to come to an agreement," Kunzer-Murphy said. "I'm glad we got there. You want everybody to feel that they are wanted. I feel it's a very good, fair package, and I think Tim is happy with it."
Kunzer-Murphy did not release details of the contract, which must be approved by the proper school and state university system officials. Chambers was the fifth-highest paid baseball coach in the Mountain West last season.
Chambers guided the Rebels (36-25) to a share of the Mountain West regular-season championship and a berth in the NCAA regionals, the team's first postseason appearance since 2005.
"I appreciate the confidence the administration has in me and my coaching staff," Chambers said. "We had a vision coming in four years ago, and while we have had a tremendous amount of success, we still have some work to do and some goals to accomplish."
Chambers, who was entering the final year on his current contract, has compiled a four-year record of 132-101. He was the fastest coach in program history to reach the 100-win mark.
He previously coached at the College of Southern Nevada and Bishop Gorman High School, and his strong local recruiting connections helped him revive a UNLV program that dwelled in mediocrity for several years.
The Rebels' postseason run this spring was cut short, partly because of an injury to ace right-hander Erick Fedde, a Las Vegas High School product. Fedde needed Tommy John elbow surgery and missed the last month of the season.
Despite the injury, Fedde was a first-round draft pick (18th overall) by the Washington Nationals.
Four UNLV players were selected in the major league draft, including junior right-hander John Richy, who went to the Los Angeles Dodgers in the third round. It was the first time the Rebels had two players go in the draft's top 100.
Chambers, who led CSN to the Junior College World Series championship in 2003, was able to resume recruiting with a new contract to back up his talk.
"I am so happy to be the head coach of the UNLV baseball program and to be locked in for five more years," he said.
Contact reporter Matt Youmans at myoumans@reviewjournal.com or 702-387-2907. Follow him on Twitter: @mattyoumans247.