3 takeaways from UNLV's 65-61 loss to Cincinnati
Updated December 1, 2018 - 7:16 pm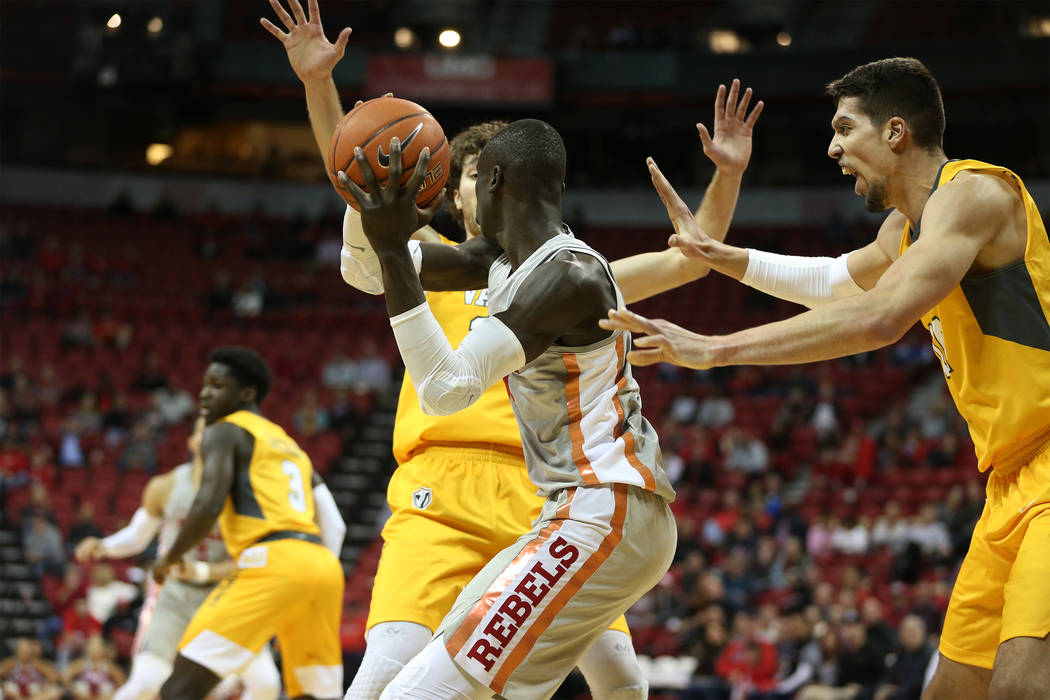 Three takeaways from UNLV's 65-61 loss to Cincinnati on Saturday at the Thomas & Mack Center:
1. UNLV needs to build on this effort.
The Rebels trailed all game, but after looking as if they were going to get blown out early, they hung around and made Cincinnati earn its victory.
Most notably, UNLV stopping handing the ball over to the Bearcats. After committing eight turnovers in the first 10 minutes, UNLV gave the ball away six times the rest of the way.
"Their plan is to speed you up," Rebels guard Amauri Hardy said. "We don't want to fall into their game plan, so our job was to take care of the ball in the second half and not do what we did in the first half."
That was a key reason the Rebels almost came back to win, and it's something they can take with them to Illinois next Saturday. If UNLV takes care of the ball, the Rebels can win that game. Illinois is 2-5, but three losses occurred in the loaded Maui Invitational, including by six points to top-ranked Gonzaga.
So beating the Illini remains a difficult task, but if the Rebels bring the same energy and determination they brought against Cincinnati, they have a chance.
"It's something we can take with us, but at the end of the day, we know we should've won that game," UNLV guard Kris Clyburn said. "But it's definitely a momentum builder for going to play a team like Illinois."
2. UNLV's inside game has to improve.
The Rebels need Shakur Juiston to score, but he has been turning down open shots to try to thread the ball to teammates in traffic. He has committed five turnovers in each of the past three games and went 0-for-3 from the field against the Bearcats and scored three points.
"Shakur does make some passes that I would prefer he take those shots," UNLV coach Marvin Menzies said. "But he's a great teammate, and he's trying to play within the system where I need him to be, not selfish, but I need him to be a little more aggressive offensively at times."
Mbacke Diong was averaging 10.2 points and 6.8 rebounds after five games, but in the past two has totaled four points and four rebounds.
"Mbacke's just got to play lower," Menzies said. "There's a song by Kem, 'It's a matter of time.' I can't speed up the clock. He's got to get stronger. He's got to get more physical. So we're going to do some things to help him because he's athletic and he's quick."
3. Free throws continue to be a problem.
At some point, the failure to convert at the line was going to catch up to the Rebels. It certainly did in this game, with UNLV making 18 of 29 foul shots, or 62.1 percent.
Cincinnati wasn't much better in converting 68.8 percent (11 of 16), but to miss 11 free throws in a four-point game kept the Rebels from at least having a shot to win at the end.
This looks to be a season-long problem. UNLV is last in the Mountain West in making 64.7 percent of its free throws.
More Rebels: Follow all of our UNLV coverage online at reviewjournal.com/Rebels and @RJ_Sports on Twitter.
Contact Mark Anderson at manderson@reviewjournal.com. Follow @markanderson65 on Twitter.