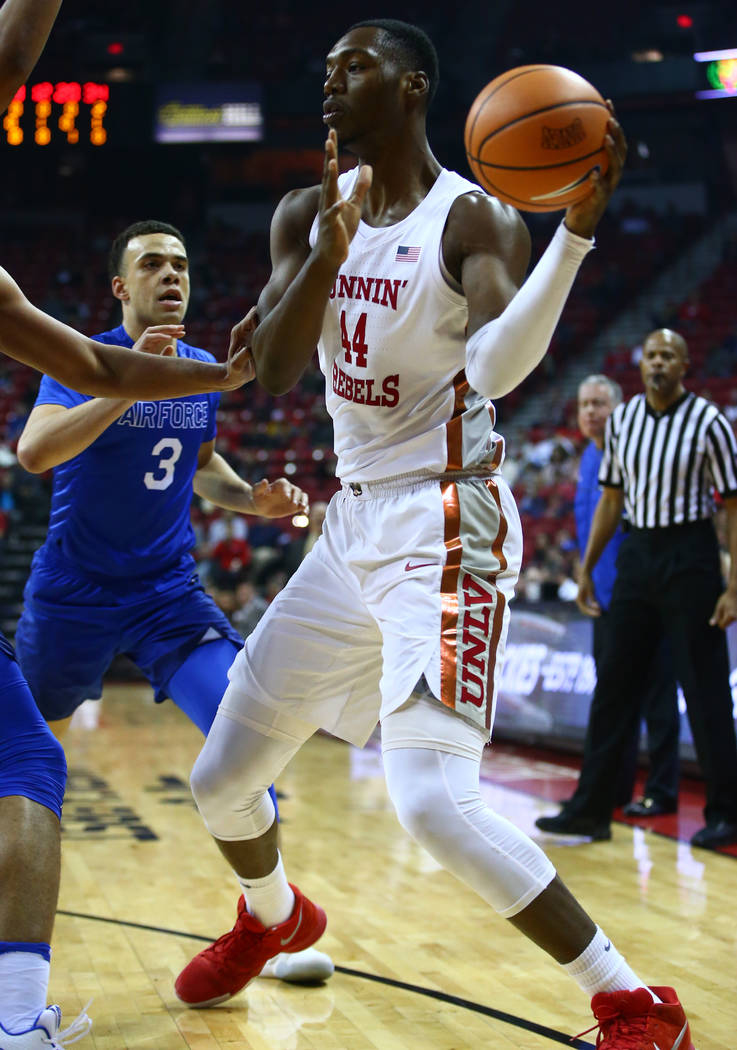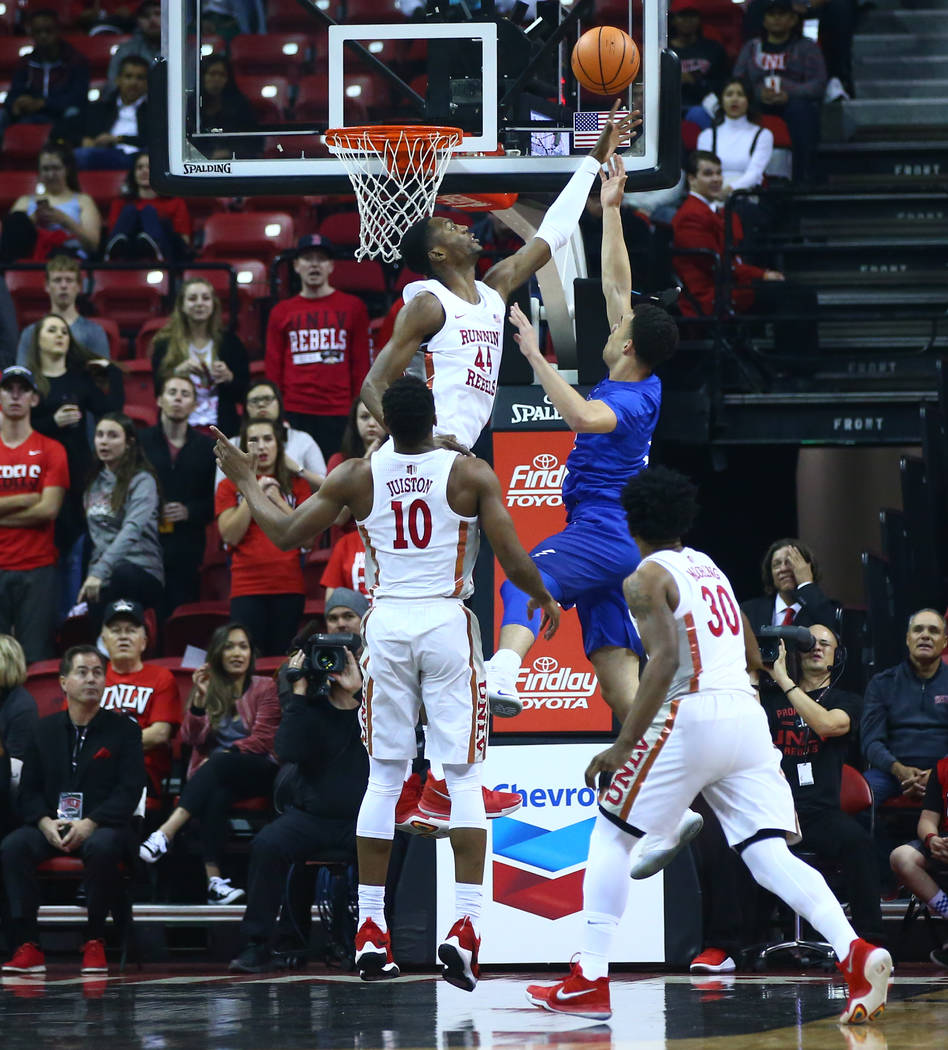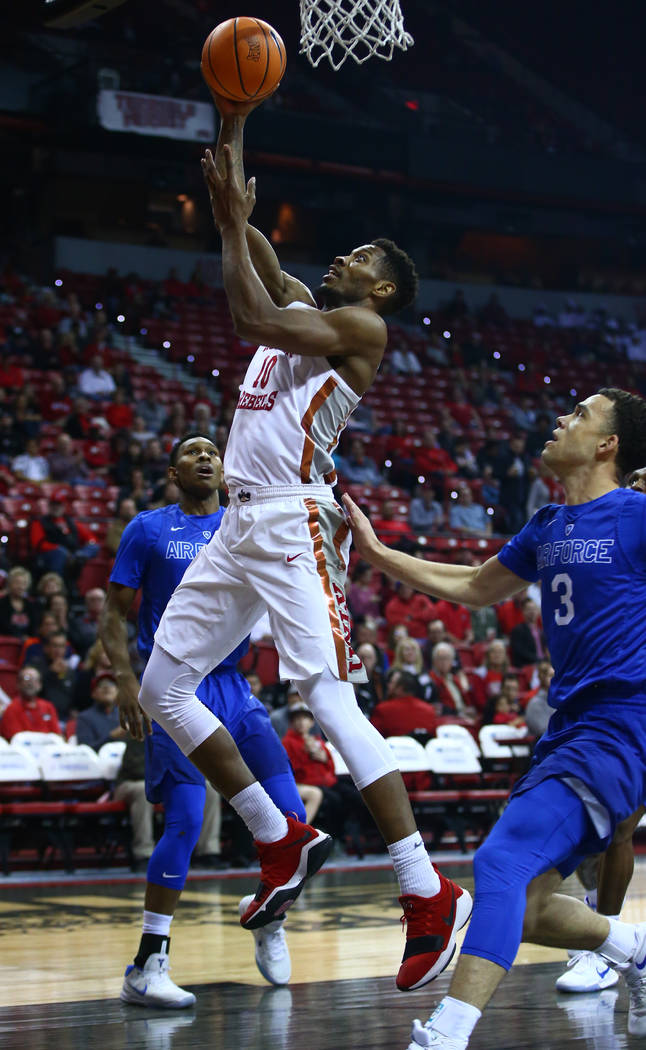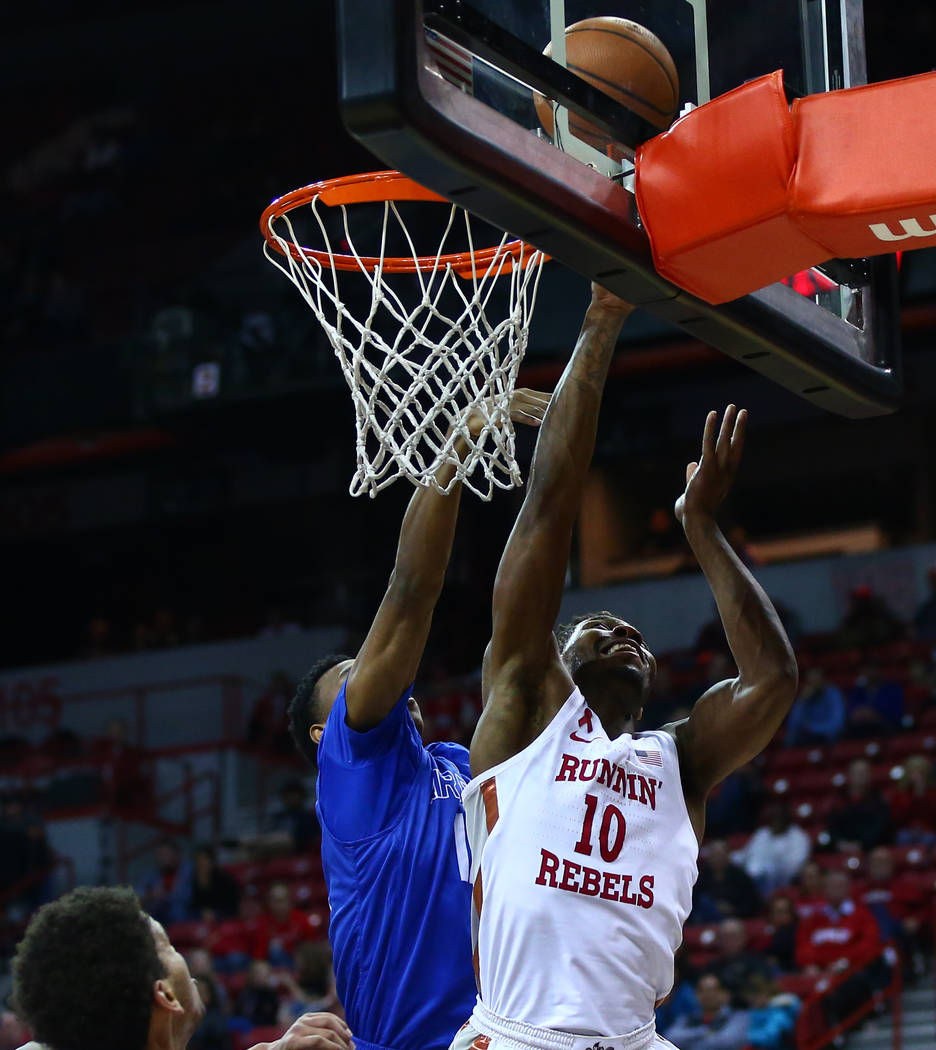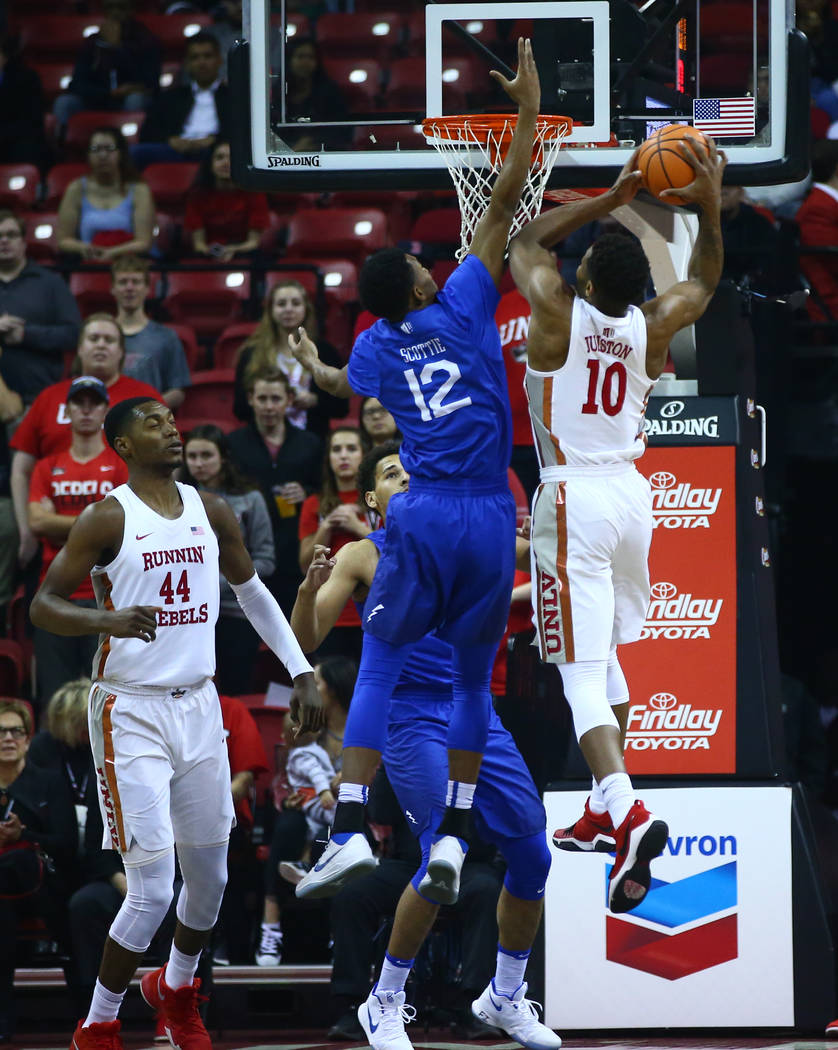 Three takeaways from the UNLV basketball team's 81-73 victory over Air Force on Wednesday at the Thomas & Mack Center:
1. UNLV dominated the boards.
Brandon McCoy and Shakur Juiston struggled to score for the Rebels, combining to make just four of 19 shots. But they cleaned up on the glass, with McCoy grabbing 13 rebounds and Juiston 12.
As a team, UNLV outrebounded Air Force 52-25, including 19-8 on the offensive end. That helped the Rebels outscore Air Force 18-7 on second-chance points.
It was quite a change from the first meeting Jan. 10 at Air Force in which the Falcons won the rebounding battle 33-29, with McCoy and Juiston combining for 11 boards. UNLV, however, emerged with an 81-76 victory that night.
"We made it an emphasis because they did a really good job on the glass last game," UNLV coach Marvin Menzies said. "They get running starts against that zone. It's tough to block teams out when you're in a zone. We added a couple of drills and we talked about it a little bit, but you've got to give credit to the guys on the floor being aware."
The work inside made life easier for the guards, with Jovan Mooring and Jordan Johnson combining to make 11 of 19 shots, including 6 of 12 3-pointers, and score 40 points.
"We obviously had the advantage down low," Mooring said. "I expected them to outrebound them by more than they did."
2. Layups and turnovers were problems for the Rebels.
UNLV made 52.9 percent of its 3-point shots, but shot 44.6 percent overall. That's because the Rebels missed nine layups, allowing the Falcons to hang around and make a game of it.
And the Rebels committed 18 turnovers, including 12 in the first half as Air Force overcame an early 23-8 deficit to rally to within 31-25 at halftime.
"They weren't doing anything special," Mooring said. "They're not really a big team of forcing turnovers, but we were moving a little too fast. We were losing the ball and throwing the ball out of bounds. Just small things that we can always clean up."
That's exactly what UNLV did late. The Rebels committed no turnovers after Tervell Beck's giveaway with 6:29 left.
"You're going to have ups and downs, but when we get to winning time … you've got to make good decisions and you've got to take care of the ball," Menzies said.
3. Classy tribute by Air Force.
Falcons players wore shirts that read "VEGAS STRONG" as they warmed up before the game. It obviously was in honor of the 58 victims who died on the Oct. 1 shooting near Mandalay Bay.
Our guys are warming up in #VegasStrong shirts tonight to show their support for UNLV and the Las Vegas community. pic.twitter.com/rIaqPdKHlT

— Air Force Men's Basketball (@AF_MBB) February 15, 2018
There also was a moment of silence before the game for the shooting at a Florida high school Wednesday that claimed 17 lives.
Contact Mark Anderson at manderson@reviewjournal.com. Follow @markanderson65 on Twitter.