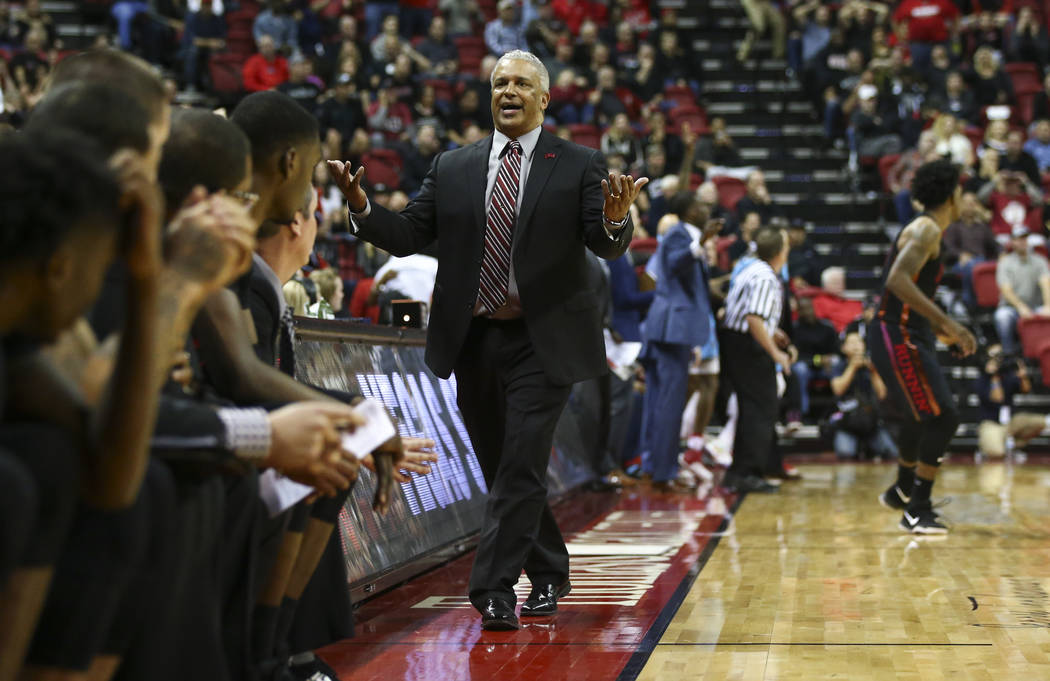 Three takeaways from the UNLV basketball team's 85-81 loss to New Mexico on Wednesday at the Thomas & Mack Center:
1. The Rebels gave this one away.
When UNLV went ahead 67-56 with 6:48 left, it looked as if the Rebels were starting to assert control. The game was there for the taking as they were driving and finding fairly easy shots, and New Mexico wasn't hitting much of anything.
Two four-point possessions — a technical foul on Brandon McCoy on one and a foul by Jovan Mooring on a 3-point shot on the other — helped the Lobos come back. Mooring also made a defensive mistake on Anthony Mathis' winning 3-pointer with 11.7 seconds left.
"I feel like we played harder than we did in some of our previous games, but we didn't play smart," UNLV coach Marvin Menzies said. "We have to understand that the discipline necessary in games against teams in conference is a very, very thin margin. When you foul guys in the act of shooting, when you have missed defensive assignments, when you do things that basically cost your team moments of the game, those moments add up and sometimes equate to a loss.
"That was the storyline tonight — several immature, inexperienced moments that led to another loss at home."
This was a troubling loss in many ways. New Mexico is down to eight scholarship players and one walk-on. Makuach Maluach, who led the Lobos with 19 points, fouled out with 3:26 left.
And the rest of the schedule doesn't get easier. The Rebels next visit Colorado State on Saturday, and then follow with a trip to Fresno State and a home game against San Diego State.
"This is a tough team loss because the practice we had prior to this was good," UNLV forward Shakur Juiston said. "I felt like we stepped it up a notch and came and competed in practice. We're not going to hang our heads and get down. We're going to move on and prepare for the next game.
2. Missing free throws came back to haunt UNLV.
The Rebels made 19 of 30 free throws, compared to 19 of 22 for the Lobos.
Those missed opportunities became even more glaring as the game got tighter.
"The game's over if we make our free throws," Menzies said.
3. Mbacke Diong is earning the extra time.
McCoy's defensive struggles have hardly been a secret, and Diong's presence made it more difficult for the Lobos to go at the rim. He blocked four shots and had nine points and six rebounds.
Menzies played Diong 16 minutes, which ties his season high. This is the fourth game in a row he has played double-digit minutes.
Diong isn't perfect. He was on the court for much of the game down the stretch as New Mexico came back, but his defense and overall game should only improve.
More Rebels: Follow all of our UNLV coverage online at reviewjournal.com/Rebels and @RJRebels on Twitter.
Contact Mark Anderson at manderson@reviewjournal.com. Follow @markanderson65 on Twitter.