3 takeaways from UNLV's loss at Air Force
February 22, 2017 - 9:32 pm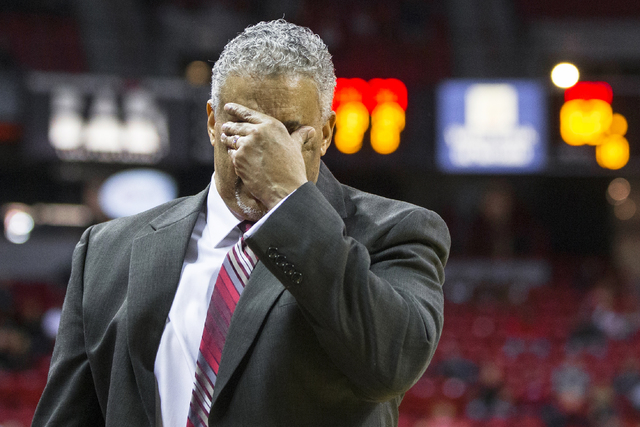 AIR FORCE ACADEMY, Colo. — Three takeaways from the UNLV basketball team's 81-58 loss to Air Force on Wednesday at Clune Arena:
1. THE DUMPSTER FIRE CONTINUES
Air Force was supposed to be one of the games UNLV could win down the stretch, but after this 23-point loss, it can't be overstated how bad a shape the program and this season are in.
Rebels coach Marvin Menzies didn't hold back, blasting his players after the game.
"Collectively, I thought they were all really bad tonight," Menzies said. "I don't throw them under the bus often, so I think I'm allowed every once in a while to say the collective effort was not there. I don't think trying to find a silver lining in individual play sends the right message to them or to our fans."
This season has been on a downward spiral for quite some time, with the losing streak reaching eight games, one shy of the school record set in the 1958-59 season.
No UNLV players were made available to the media for the third time in five games.
Menzies doesn't have any problem representing the entire team, but he sounds like a coach out of answers. And with only three regular-season games and then the Mountain West tournament left, good luck finding them at this point.
"Obviously, mentally and physically, we hit a wall," Menzies said. "But we're going to bounce back, and we're going to do the things we need to do. We're going to keep working hard as a staff. We have to figure out how to fix this thing because that was not who these guys are, and I've got to figure out how to get (into) these guys' heads and get them to do some soul-searching."
2. THIS ISN'T BREAKING NEWS, BUT …
The Rebels flat out can't shoot.
Every team goes through dry spells, but the Rebels make them a regular habit. They went 9:54 between field goals against Air Force, watching a two-point lead and chance for a road upset turn into a one-sided defeat.
UNLV made 38 percent of its shots against the Falcons. Entering the game, the Rebels were last in the Mountain West at 39.8 percent, and the next closest team was Wyoming at 42 percent.
The Rebels also were second to last in the conference in scoring offense at 70.7 points and last in scoring margin at a minus-4.7-point average.
Menzies stayed behind in Southern California after Sunday's game at San Diego State to recruit.
He needs to keep hitting the trail to find players who can shoot.
3. THIS IS WHAT IT'S COME TO
Air Force slowed the pace in the final minutes so as to not run up the score.
Menzies appreciated the class shown by Falcons coach Dave Pilipovich, but Air Force taking it easy to avoid embarrassing its opponent should never happen in this series.
Contact Mark Anderson at manderson@reviewjournal.com or 702-387-2914. Follow @markanderson65 on Twitter.
VS.