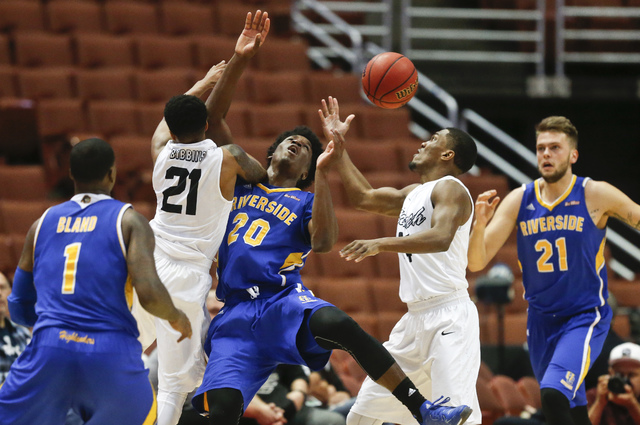 Five players to watch when UNLV plays Big West Conference schools UC Riverside on Wednesday and Cal State Fullerton on Saturday. Both basketball games are at 7 p.m. at the Thomas & Mack Center.
1. Tre' Coggins, senior guard, Cal State Fullerton: After sitting out the season opener against Caltech because of an unspecified injury, Coggins returned on Sunday to score 31 points in a 106-100 double-overtime victory over Portland State. He scored 28 of those points in the second half and overtimes. Coggins averaged 15.6 points last season.
2. Malik Thames, senior guard, UC Riverside: He is the Highlanders' point guard, but Thames is an aggressive scorer. He leads Riverside in scoring through its first two games, averaging 14.5 points while making 6 of 14 3-pointers. Thames also has totaled 10 rebounds and six assists.
3. Secean Johnson, senior forward, UC Riverside: Johnson is the Highlanders top returning scorer, averaging 12.1 points last season Johnson is at 12.0 so far this season, and is tied for the team lead in rebounds with a 7.0 average despite being 6 feet 5 inches.
4. Kyle Allman, sophomore guard, Cal State Fullerton: He is known for playing strong defense, but Allman also has averaged 19.0 points during the early part of this season.
5. Chance Murray, junior guard, UC Riverside: A transfer from Arizona State, Murray is a key addition. He averaged 10.5 points through two games, and is known as a quality defender.
Contact Mark Anderson at manderson@reviewjournal.com or 702-387-2914. Follow @markanderson65 on Twitter.