Alabama overcomes Caleb Grill's big night for UNLV
Updated December 1, 2020 - 9:46 pm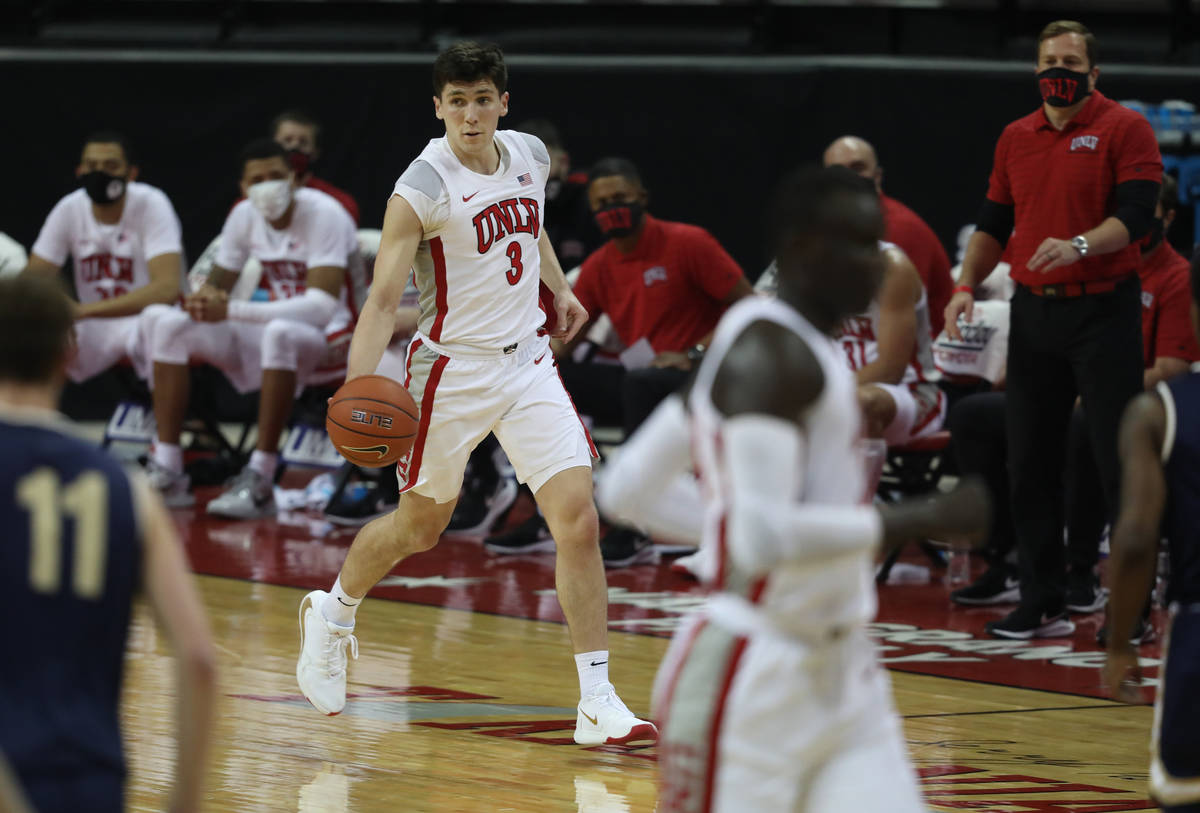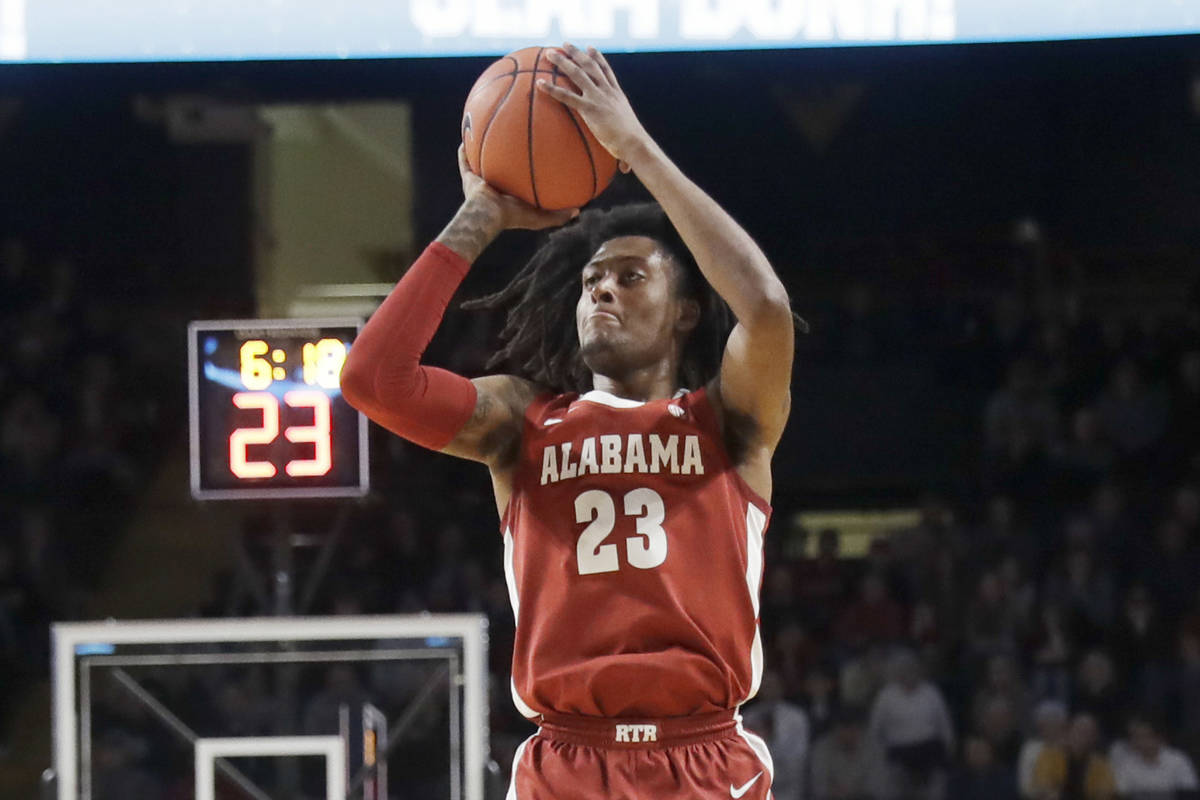 UNLV sophomore guard Caleb Grill showed everything in his bag of tricks Tuesday.
He dunked in transition. He hit long-range 3s. He snagged the ball on defense. It wasn't enough for the Rebels to get a win in their second game of the Maui Invitational in Asheville, North Carolina.
Alabama defeated UNLV 86-74 thanks to a barrage of 3-point baskets and strong play from senior guard John Petty Jr. It helped the Crimson Tide (2-1) overcome a sensational night from Grill, who finished with 27 points, six rebounds, three steals and two assists.
Alabama shot 15-of-40 (37.5 percent) from 3-point range after going 14-of-60 (23.3 percent) its first two games.
"We knew they were going to get up a lot of shots from 3," Grill said. "We tried to take that away from them but they just got hot."
The result is the Rebels (0-3) will play Davidson at 6:30 p.m. Wednesday in the seventh-place game of the Maui Invitational.
Here are three takeaways from Tuesday's loss:
1. Crimson Tide's guards show out
UNLV was dominated physically by North Carolina's formidable frontcourt in its first game of the tournament. In the second game, the team was bested by an opponent's backcourt.
Petty Jr. was the Crimson Tide's best player and had 22 points, six assists and four rebounds after scoring 21 points his first two games. The preseason All-Southeastern Conference first-team selection also was 6-of-10 from 3-point range.
His fellow starting guards, sophomores Jahvon Quinerly and Jaden Shackelford, had strong games as well. Quinerly scored 19 points and Shackelford added 13. Quinerly (6) and Shackelford (5) also attempted more free throws than the Rebels did the entire game (4).
"It felt great to come out and finally get in a rhythm, finally make some shots like we're capable of," Petty Jr. said.
UNLV, outside of Grill, couldn't match that effort. Junior Bryce Hamilton had 17 points, seven rebounds and four assists but was 7-of-21 from the field and fouled out. Junior David Jenkins Jr. was 4-of-14 from the field.
2. Grill makes a statement
Grill knew entering the season he might get easier matchups on offense as opponents focused on stopping Hamilton and Jenkins Jr.
He took full advantage of that Tuesday. The Iowa State transfer set a career high in points while scoring 10 or more for the third straight game. He's already become an integral part of the starting lineup thanks to his floor spacing, active hands on defense and basketball IQ.
Grill has made 13-of-30 (43.3 percent) from 3-point range this season after going 7-for-12 against Alabama. His 7 made 3s were the most by a Rebels player since Jovan Mooring made 7 on Jan. 21, 2017, against Air Force.
"I have tremendous belief in him because of his work ethic, because of how much he wants to win, how competitive he is," said coach T.J. Otzelberger, who also recruited Grill out of high school. "He just needs somebody to believe in him and keep challenging him every day. I can assure you that's what we're going to continue to do, and he's going to continue to flourish."
3. Key sequences haunt
Three stretches stuck with Otzelberger after the game.
The first was when the Rebels trailed 11-3 after 2:28 when the Crimson Tide started 4-for-4 from the field. The second was when UNLV gave up two 3-pointers the first 1:33 of the second half to trail 44-38. The third came after the Rebels cut their deficit to one 5:09 into the second half and promptly gave up a 10-3 run.
The three poor spurts were enough to sink UNLV in a game it hung around in. It served as a lesson that anything less than maximum effort isn't going to get it done against good competition.
"Overall, I thought it was 30 to 32 minutes of really good basketball," Otzelberger said. "But for us to get where we need to be as a team and be successful in a game like that, we can't have those lapses and stretches where we let them get going."
Contact Ben Gotz at bgotz@reviewjournal.com. Follow @BenSGotz on Twitter.
Game day
*What: UNLV vs. Davidson
*Where: Asheville, N.C. (Maui Invitational)
*When: 6:30 p.m. Wednesday
*TV: ESPN2
*Radio: ESPN 1100 AM, 100.9 FM
*Line: N/A