Amauri Hardy develops into co-starter at point guard for UNLV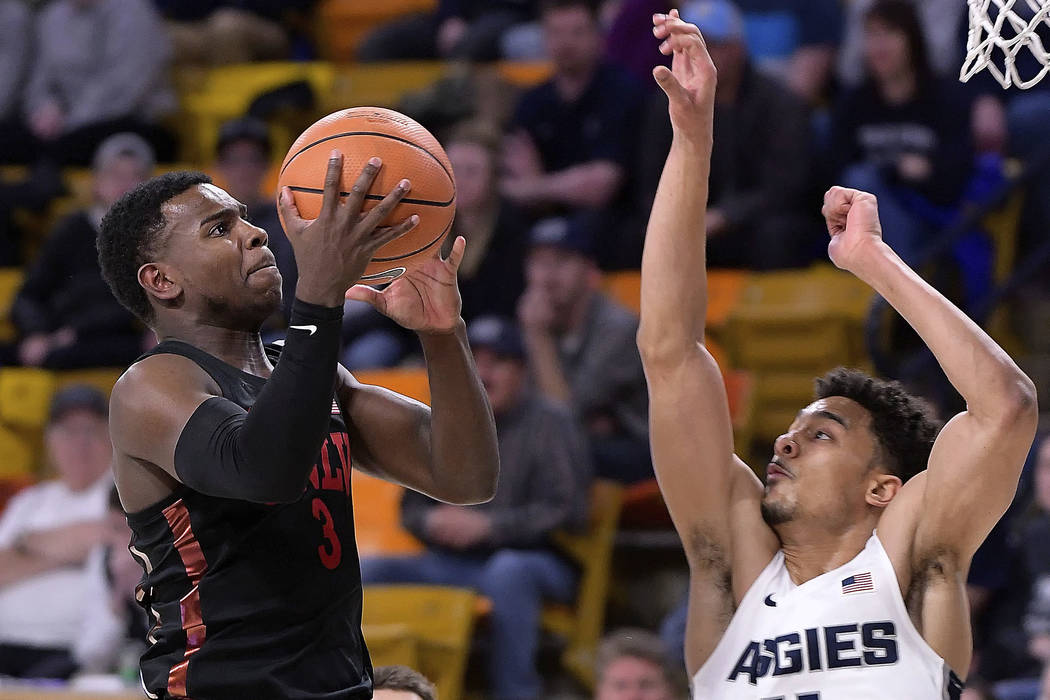 UNLV coach Marvin Menzies offered some simple advice to Amauri Hardy about feeling the stress that comes with playing Division I basketball.
Just relax.
Hardy took the suggestion to heart, and looked comfortable and confident as he made his first five shots, including two 3-pointers, and scored 12 points in Friday's 74-61 victory over Oakland.
"I just want to play comfortable and have fun and just enjoy the moment out there, enjoy the moment with my guys and play with confidence," Hardy said. "That's real big for me."

If the first three game were an indication, Hardy will come off the bench when the Rebels (2-1) play Pacific (3-1) at 7 p.m. Tuesday at the Thomas & Mack Center, but he essentially is a co-starter at point guard with senior Noah Robotham.
Both players received about 22 minutes of playing time against Oakland, which is the breakdown Menzies wants. Robotham is a pure point guard, and Hardy complements him by also playing some shooting guard.
But the sophomore Hardy usually is in the game running point when Robotham is on the bench. He did so against Oakland, which is located in the suburbs of Hardy's hometown Detroit.
"We needed an additional ball handler late in the game," Menzies said.
Hardy entered that night against Oakland having scored 10 points in two games. He also had made 4 of 12 shots.
After that talk with Menzies, Hardy responded with stronger effort against the Golden Grizzlies.
"He just played within himself," Menzies said. "He took the shots that came to him. I thought he was very aggressive when he needed to be. I thought he led the team when he needed to do that. He played with pace. You could feel the rhythm, and that takes a little time to really find that rhythm.
"NBA guys really understand who they are. We hope to get him to that level one day, so this is a good thing to kind of bottle and capture and remember what it feels like because I thought he played at a high level."
Now the Rebels turn their attention to Pacific, a team whose only loss was to No. 6 UNR. The Wolf Pack won the Nov. 9 game 83-61.
UNLV is a 4-point favorite against Pacific. AT&T SportsNet will air the game.
It's an opportunity for Hardy to show that the Oakland performance was more indicative of what's to come.
"Too many kids nowadays just don't play for the love of the game," Menzies said. "They have so much pressure in their heads, and they have so many people in their ear. Amauri and I were talking the other night, and he says, 'Coach, I want to get a little more relaxed.' So I listened and tried to give him that freedom."
More Rebels: Follow at reviewjournal.com/Rebels and @RJ_Sports on Twitter.
Contact Mark Anderson at manderson@reviewjournal.com. Follow @markanderson65 on Twitter.
Game day
■ Who: Pacific vs. UNLV
■ When: 7 p.m. Friday
■ Where: Thomas & Mack Center
■ TV/Radio: AT&T SportNets; KWWN (1100 AM, 100.9 FM)
■ Line: UNLV -4; total 141