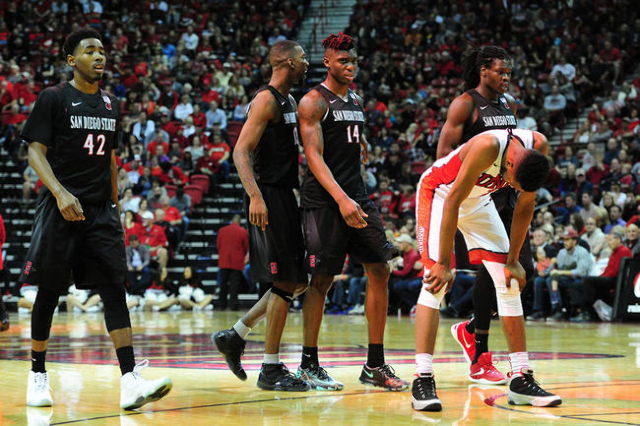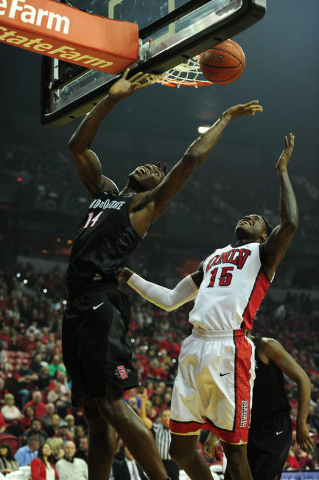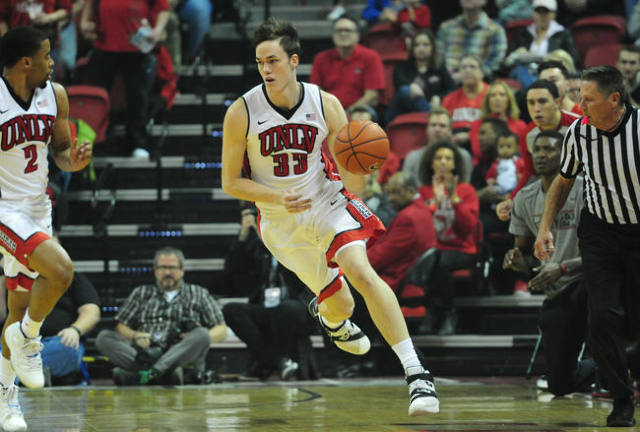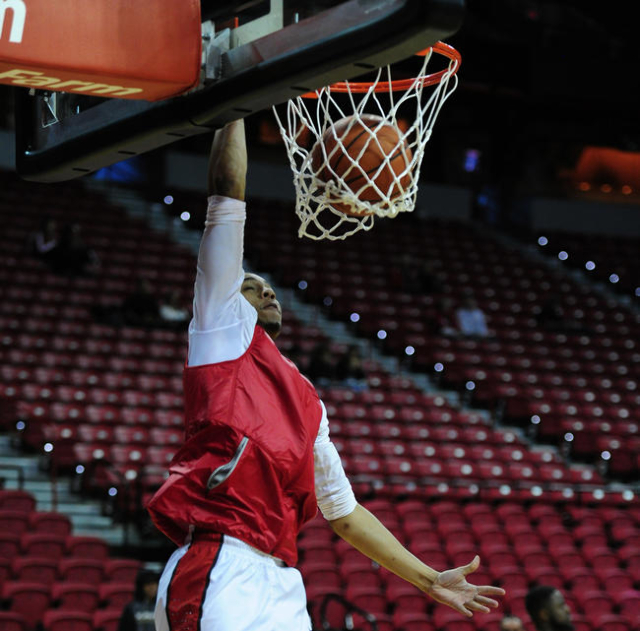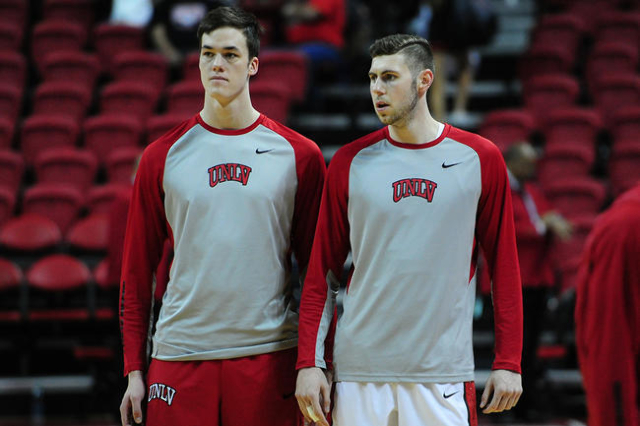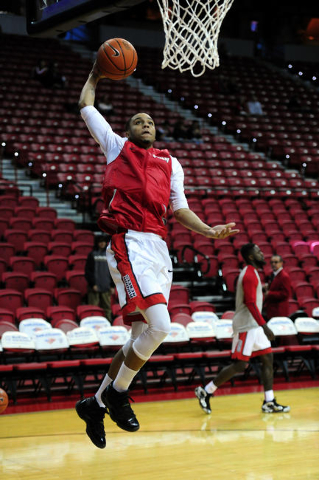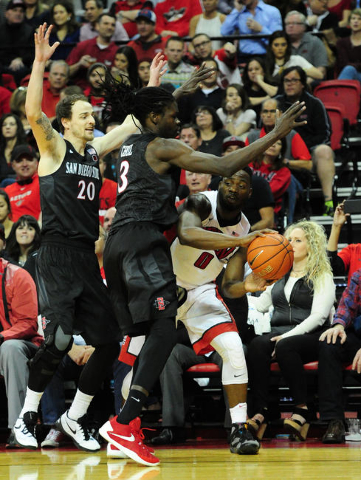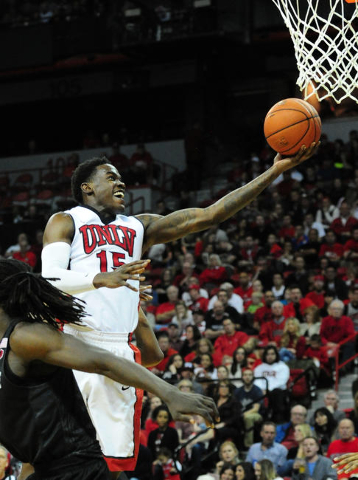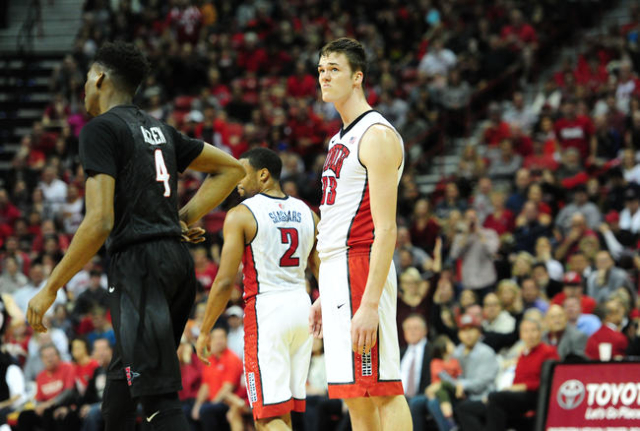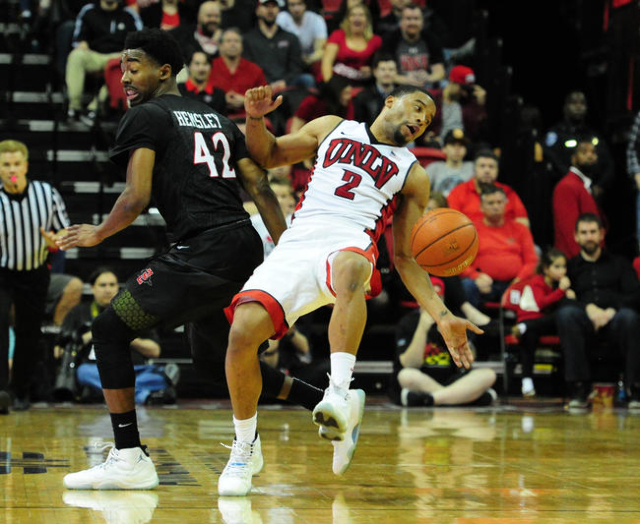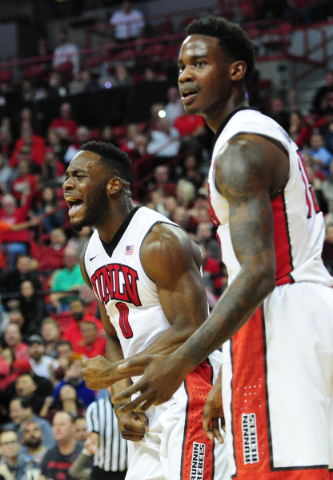 There was little mystery as to what was going to decide Saturday night's outcome.
UNLV had to get its transition offense going and do all it could to keep San Diego State from turning the game into a half-court scrum.
No basketball team wants to get caught in a half-court game with the Aztecs, especially if that team is as shaky in that area as the Rebels.
San Diego State shut down UNLV and pulled away late to blow out the Rebels 67-52 at the Thomas & Mack Center, its largest margin of victory in the 35 times the teams have met in Las Vegas.
The Aztecs (16-6, 9-0 Mountain West) also extended their winning streak over UNLV (13-9, 4-5) to seven games, and San Diego State has won 13 of the past 16 meetings. This victory also gave San Diego State sole possession of the Mountain West record with eight consecutive conference road wins.
Worse for UNLV, the Rebels lost junior forward Ben Carter to a sprained left knee midway through the first half. UNLV interim coach Todd Simon didn't have an update on Carter's injury, but there was little doubt how costly not having him against San Diego State's outstanding interior lineup was for the Rebels.
"Ben is one of the heartbeats of this team," Simon said. "We didn't quite bounce back the way we needed to. All of the sudden, you've got three guys instead of four at those two (forward) positions. It gives (the Aztecs) experience and size and strength down low. Over the course of 40 minutes, that takes a toll."
Even with Carter, the Rebels would have trouble inside against the Aztecs, who outrebounded UNLV 44-27. That domination helped lead to San Diego State getting 16 second-chance points to four for UNLV.
"This is a grown-man game, and they're grown men," said forward Stephen Zimmerman Jr., who led UNLV with 14 points and 10 rebounds.
The numbers were all sorts of ugly for the Rebels, who made 11 of 30 shots in each half. They also were three of nine from the free-throw line for the game and five of 23 from the 3-point arc.
UNLV's leading scorer for the season, Patrick McCaw, had 10 points, but only two in the second half.
Four Aztecs scored in double figures, led by Trey Kell's 14 points. Winston Shepard, who went to Findlay Prep, finished with 11 points and eight rebounds.
UNLV made a series of charges at the Aztecs, drawing the announced crowd of 15,243 repeatedly into the game, but San Diego State responded each time. Five times in the second half the Rebels drew to within a point only to see the Aztecs come up with an answer.
The last time occurred with 11:55 left on Ike Nwamu's dunk off a fastbreak to make the score 41-40. Then San Diego State's Dakarai Allen made a 3-pointer on the other end, beginning a seven-point run.
"That's why they're undefeated in the league," Simon said. "They're making winning plays, and they know how to stop runs, and they make big runs when teams do go on runs."
San Diego State ended any doubts with a 12-2 run to go up 66-48 with 1:53 remaining, its largest lead.
It was always San Diego State's game, though. The Aztecs dictated pace, taking the mystery out of the ending.
"They're a crazy aggressive team," Zimmerman said. "That's definitely something that we need to work on. That's something that Coach Simon really stressed before the game, that they're really aggressive and it's going to be a war that we're going to fight inside."
— Contact Mark Anderson at manderson@reviewjournal.com or 702-387-2914. Follow him on Twitter: @markanderson65.
Check our GameDay page for full coverage of the UNLV-San Diego State game.