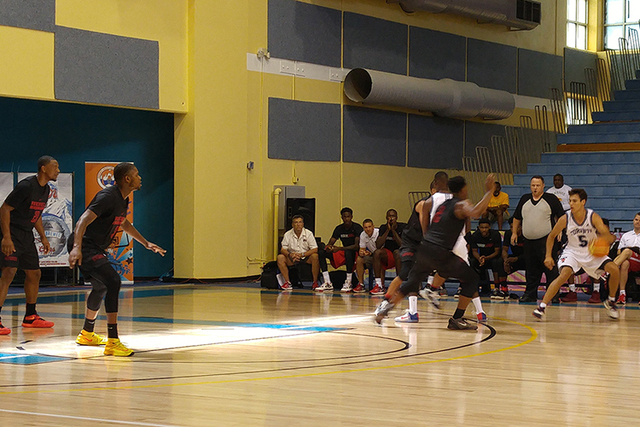 NASSAU, Bahamas — College basketball teams had been coming to the Bahamas for many years to play summer exhibitions, but there wasn't an organized effort to make it a large-scale event.
Lea Miller, president of Complete Sports Management, saw an opportunity to bring teams to this scenic Caribbean island known for its easygoing, fun atmosphere.
"It's a beautiful place," Miller said. "It's an incredible destination. It's a lot easier to get to than when you go to Europe or if you go to Australia, where a lot of the popular foreign tours have been.
"There are a lot of things in our favor, but this business is built off relationships, and we really have great relationships with a lot of the coaches."
UNLV is taking part in the Summer of Thunder at Sir Kendal Isaacs Gym. The Rebels play the CTG Knights of the Bahamas Basketball Federation at 2 p.m. PDT Tuesday.
NCAA rules allow schools to make one such tour every four years; the Rebels previously went to Canada in 2012 and Australia in 2008.
Fellow Mountain West member Wyoming was here last week and won all three of its games. Wake Forest, which is playing this week, is the only team from a power conference this year.
Georgia Tech and West Virginia played in the Summer of Thunder last season. In 2014, the event attracted a loaded field that included Kentucky, North Carolina, Ohio State and Cincinnati among others.
That trip saw the Providence (Bahamas) Storm upset North Carolina, 84-83. The Rebels know the feeling, losing 80-79 on Sunday to Toronto on three free throws with .5 seconds left.
Miller said one way she wants to grow the event is by continuing to invite teams that aren't from the United States or Bahamas.
"For us to get a team from Canada to come down and beat UNLV shows that there is competition all over the world," she said.
The genesis for the Summer of Thunder began with the Battle 4 Atlantis early season tournament, which in 2011 supplanted Michael Jordan's celebrity golf tournament after its contract wasn't renewed. Miller was hired to come up with a replacement, and she created Battle 4 Atlantis, which is played at the Atlantis resort and is one of the more well-known early season tournaments. Louisville and Michigan State headline this year's Battle 4 Atlantis tournament in November.
"I just thought it made sense," Miller said. "It's a sport-crazy atmosphere. It's a family atmosphere. It's close to the East Coast, where a lot of the college basketball powerhouses come from."
For the idea to become a reality, Miller worked for a year with athletic directors and conference commissioners to get the tournament approved by the NCAA.
"Any time you're having to change a bylaw with the NCAA, there are a lot of politics involved," she said. "It takes a lot of people who have to agree with you for a majority vote, so it was not an easy process. But it was definitely a blessing in disguise because it really showed the NCAA the professionalism of Atlantis and the Bahamas and how we went above and beyond making sure we complied with all their rules and regulations."
She used the contacts from that tournament to get the Summer of Thunder rolling.
"We've had perennial powerhouses, and we've had smaller universities as well who all have incredibly benefited bringing their teams together and developing different offenses and defenses and being able to enjoy the beauty of the Bahamas," Miller said. "It's been a complete success."
Contact Mark Anderson at manderson@reviewjournal.com or 702-387-2914. Follow on Twitter: @markanderson65