Balanced Rebels take control early, roll past Colorado State
February 14, 2016 - 12:35 am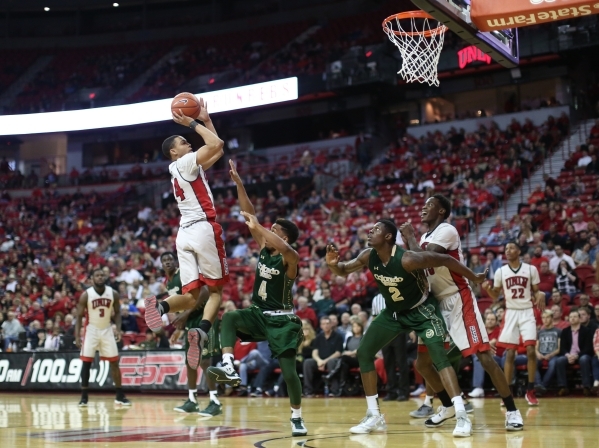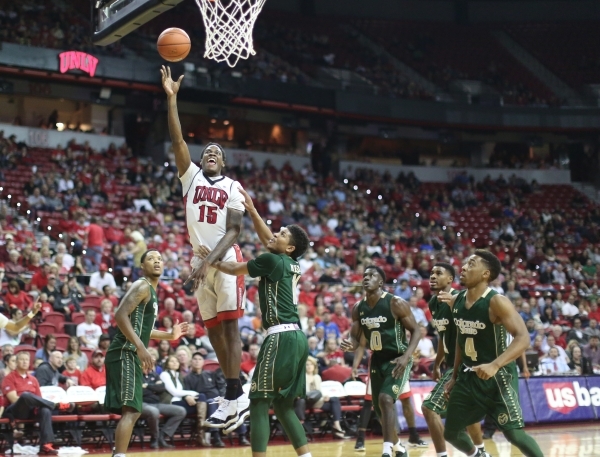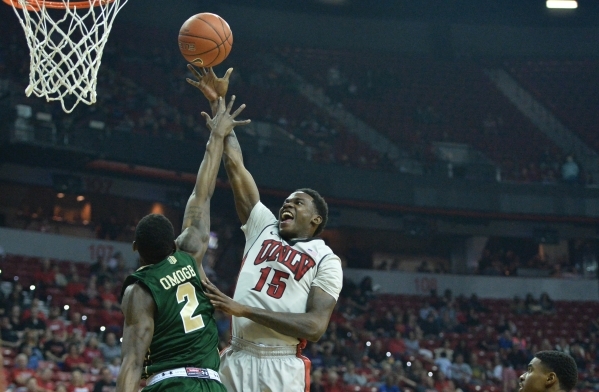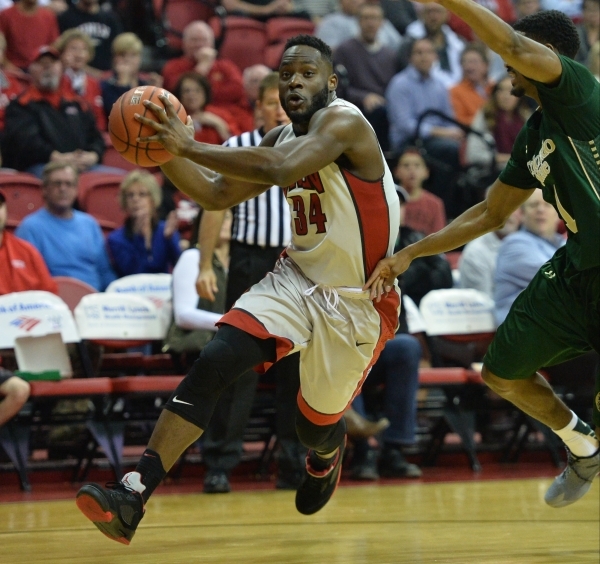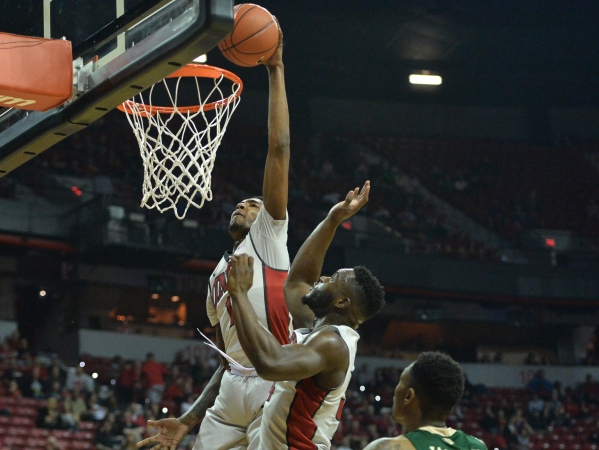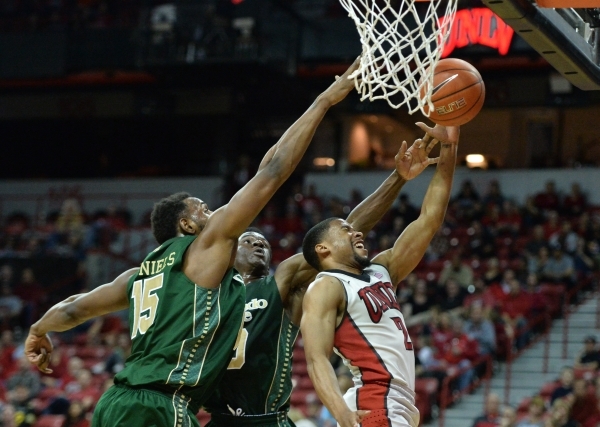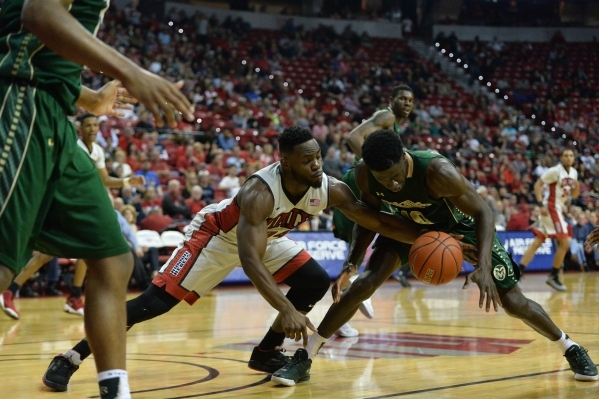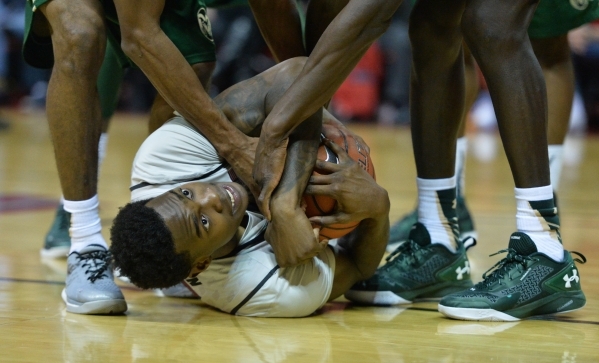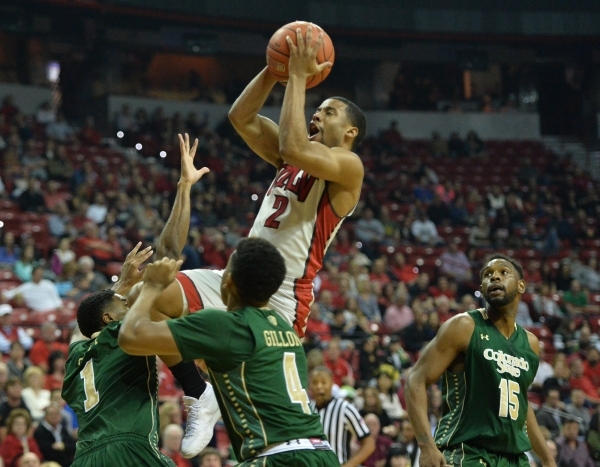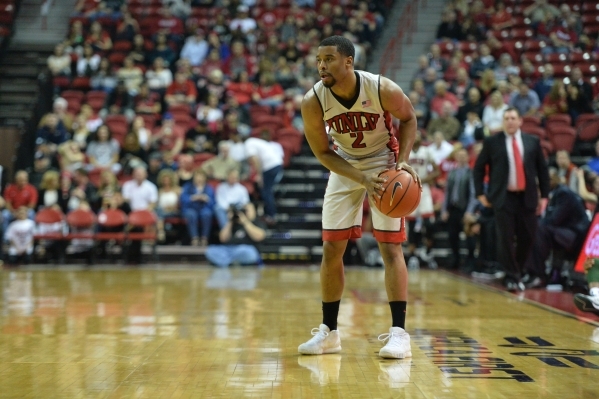 No second-half collapse this time.
Not even the hint of one.
UNLV never trailed on Saturday, taking as much as a 15-point lead and cruising to an 87-80 victory over Colorado State at the Thomas & Mack Center.
It was quite different from the Jan. 6 basketball game at Colorado State in which the Rebels led by 10 points with 5½ minutes left only to lose 66-65 on a free throw with 1.1 seconds remaining.
That loss hung over the players in the practices leading up to the rematch, and they were determined not to let that kind of defeat happen again.
"We were definitely mentally stronger coming into the game," UNLV guard Jalen Poyser said. "We focused on the details that we didn't key in on last time."
UNLV (15-11, 6-7 Mountain West) never allowed this game to become so dramatic, breaking the tie at 8 on Patrick McCaw's 3-pointer and leading the rest of the way.
The Rebels set the tone early against Colorado State (14-11, 6-6) with an aggressive play-making defense that forced 21 turnovers. UNLV outscored the Rams 22-10 on points off turnovers.
McCaw, who finished with 20 points and eight rebounds, led that defense by holding the Rams' Antwan Scott to 13 points on 5-for-17 shooting. He was 1 of 7 from the 3-point arc.
Scott entered the game averaging 16.4 points per outing and was making a conference-best 45.3 percent of his 3-point shots.
"Pat's the best defensive player in the league mano y mano, in my opinion," UNLV interim coach Todd Simon said. "He's shown that through and through, and when he can consistently take the other team's go-to guy and make them not have their best game, it changes everything. It changes the flow of the other team's offense.
"For him to be able to do that for 39½ minutes was a tremendous effort. Not only does he guard on ball, but he keeps the ball out of people's hands, and that's huge for us."
Poyser provided plenty of energy off the bench, driving to the basket and diving for loose balls. Poyser made 6 of 10 shots and finished with career highs of 19 points and six assists. The freshman's previous bests were 18 points and five assists on Dec. 22 against South Dakota.
"One of the key points that the coaches told the players was, 'Let's be aggressive on offense,'" Poyser said. "After they told us that, I saw a lot of opportunities to go score, and I made the best of it."
The Rebels did a lot right, including making 45.3 percent of their shots — 53.1 in the second half. They also made 22 of 30 free throws, including many when the outcome still was somewhat in question.
Five UNLV players scored in double figures.
"We got contributions from everybody," Simon said. "This is the most consistent we've been in terms of guarding every possession. The transition defense was on point every possession. We saw a ton of bodies blocking out and fighting for rebounds consistently.
"The ball movement for the most part at a fairly consistent rate was a point of emphasis for us."
Now the Rebels have won back-to-back games to end a three-game skid. They next play at Air Force (12-14, 3-10) on Tuesday, and the Rebels won the previous meeting 100-64 on Jan. 16 in Las Vegas.
That was quite a different UNLV team, however, before the losses of post players Stephen Zimmerman Jr. and Ben Carter to knee injuries.
But as made clear by Saturday's performance, this also is quite a different team from the one that last made a trip to the state of Colorado. In that previous visit, the Rebels fell apart down the stretch.
That was UNLV's theme at that part of the season, failing to make plays in crucial times.
Now the Rebels hope a new theme is being written.
"We've learned," Simon said. "We've gone through these situations over and over and over."
— Contact Mark Anderson at manderson@reviewjournal.com or 702-387-2914. Follow him on Twitter: @markanderson65
Check our GameDay page for full coverage of the UNLV-Colorado State game.
–Box score