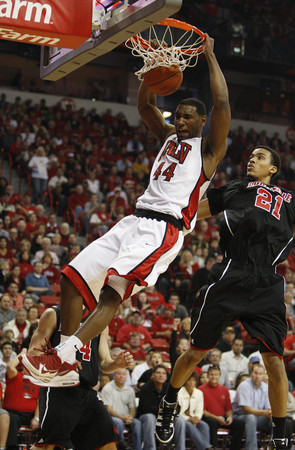 At the most critical stage of UNLV's young season, Oscar Bellfield felt the heat of the spotlight. He was cool and clutch, the sophomore guard performing the role of a star.
"No really nervous moments," he said. "But it was like, 'The bright lights are coming. OK, this is where we need to buckle down and execute on offense.' We knew it was time, and we didn't want to lose this game."
The Rebels threw away all of a 19-point lead in the second half before Bellfield led the way to a 76-71 upset of 16th-ranked Louisville on Saturday at the Thomas & Mack Center.
Bellfield finished with 17 points, including eight straight for UNLV during a three-minute span late in the game.
The Rebels (5-0) beat a ranked Cardinals team for the second year in a row. Bellfield's short bank shot with 16 seconds remaining lifted UNLV to a 56-55 win at Louisville on New Year's Eve. In the rematch, Bellfield made more than one big shot.
"Oscar was amazing," Rebels junior Derrick Jasper said. "I think he has Louisville's number. I'm real excited for him."
UNLV led 53-34 with 14 minutes to play, and the crowd of 14,390 was roaring and sensing a blowout.
But the Cardinals made a determined charge and tied the score 62-62 on Edgar Sosa's 3-pointer with 5:17 to go. At a point when the Rebels could have broken, Bellfield bowed his neck.
Bellfield started his run with two free throws. After Louisville's Rakeem Buckles scored inside to knot the score again with 4:24 left, Bellfield sliced through the Cardinals' zone and hit a runner in the lane.
Fouled on a jumper, Bellfield sank two more free throws. Jerry Smith missed a 3-pointer for Louisville, and Bellfield then made a play reminiscent of his New Year's Eve moment. He drove the right side of the lane and scored over 6-foot-9-inch Samardo Samuels to put UNLV up 70-66 with 2:25 to go.
"I thought he was about to block it, but I got it over him," said Bellfield, who also hit the winner over Samuels last year.
Senior forward Darris Santee helped seal the victory for the Rebels by rebounding a short miss by Smith. Santee was fouled and made two free throws. On the Cardinals' next possession, Santee stole an entry pass intended for Samuels.
In 20 minutes off the bench, Santee dunked twice and produced 13 points and five rebounds. Samuels, Louisville's star big man, was held to 13 points and three rebounds in 29 minutes.
"Samardo is a very strong guy, and I was up for the battle," Santee said. "It was very physical. My mindset was to go to the hole strong. I knew their guys were big and they would block your shot, so I was going strong."
The Cardinals (4-1) never led, but coach Rick Pitino found some positives in the experience.
"I hate losing. But I really like the game," Pitino said. "It's really going to be beneficial for us. This was a good game for us to play early in the season. It will make us stronger and tougher.
"I think (UNLV) is a very good basketball team because they play so hard at the defensive end."
Sosa, who led Louisville with 18 points, hit three 3-pointers in the second half to spark the comeback. Buckles had 10 points and 11 rebounds, also doing most of his work after halftime.
Tre'Von Willis scored 16 points and Jasper 12 for the Rebels. Willis threw two alley-oop passes to Jasper for dunks.
One highlight late in the first half came after Jasper missed a 3-pointer from the right corner. UNLV's Steve Jones chased down the rebound and batted the ball to Bellfield, who passed to Willis.
Jasper flew in from the baseline and Willis threw a high lob that Jasper slammed.
"I just kind of looked at Tre," Jasper said. "We've been playing basketball together for a while now, so I gave him that look, and he gave me that look and he threw it up. I had to put my springs on."
Bellfield consistently beat the Cardinals' full-court pressure. In half-court sets against a zone defense, Jasper flashed to the middle and created in the lane or moved the ball around the perimeter.
"Oscar was great," Rebels coach Lon Kruger said. "He battled that pressure all night long, and when you do that, it's fatiguing. Their pressure is relentless. Yet I thought we were able to handle it."
Bellfield's nine points lifted UNLV to a 40-30 halftime lead. Willis banked in a runner at the halftime buzzer. The Rebels shot 15-for-27 (55.6 percent) from the field in the first half, and stayed hot while extending the lead to 19 points.
"We hung in there," Willis said. "We let the lead slip away, but we grinded it out. We learned how much character we have and what it takes to close out games."
Contact reporter Matt Youmans at myoumans@reviewjournal.com or 702-387-2907.
UNLV — 76
LOUISVILLE — 71
KEY: Oscar Bellfield scored eight of his 17 points late in the game after the Rebels blew a 19-point lead.
NEXT: UNLV at Arizona, 6 p.m. Wednesday, Fox College Sports Pacific (Cox 332), KWWN-AM (1100)
View the slide show