Bennett soars to new high in UNLV's victory over CSU Bakersfield
January 5, 2013 - 6:42 pm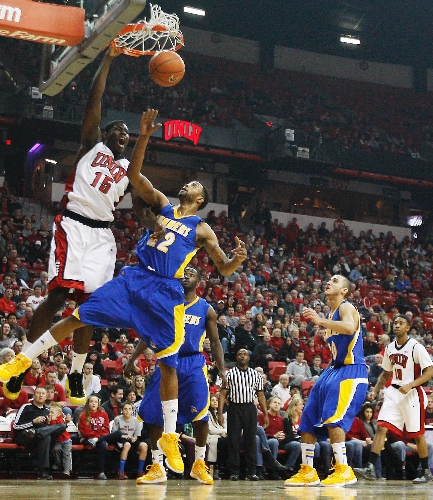 It remains to be seen if UNLV is ready for the speed traps quickly approaching on the Mountain West road. But Anthony Bennett is prepared for anything, and there's no doubt about that.
Wearing yellow shoes trimmed in black, Bennett set out to make more than a fashion statement Saturday night.
The freshman forward scored 16 points in the first eight minutes and finished with a career-high 28 to carry the Rebels past Cal State Bakersfield 84-63 at the Thomas & Mack Center.
He made the game look easy, and he explained it simply.
"I just kept shooting, and the shots were falling," said Bennett, who shot 10-for-13 from the field, hitting 3 of 4 3-pointers, and 5-for-6 on free throws in 29 minutes. He also grabbed 10 rebounds for his seventh double-double.
Sophomore guard Bryce Dejean-Jones had 12 points and six assists for UNLV, which also got 10 points from senior center Quintrell Thomas.
The Rebels wrapped up their nonconference schedule at 13-2, and their next stop is the Mountain West opener Wednesday at No. 20 New Mexico.
"I think the games we've played and the things we've gone through in nonconference have really prepared us," Dejean-Jones said.
As usual, Bennett flashed style and substance, scoring his team's first 11 points and finishing the half with 21. He made his first eight field goals, including three 3-pointers and two dunks.
"When a guy hits two 3s in a row and is dunking all over the place we have to keep feeding him," Dejean-Jones said.
After Bennett's outburst, sophomore center Khem Birch scored on a putback, and Anthony Marshall made a 3-pointer to put UNLV up 16-5.
Justin Hawkins sank a 3 from the corner to help send the Rebels to halftime with a 43-31 advantage.
A powerful fast-break dunk by Bennett ignited the crowd of 14,119 and extended UNLV's lead to 57-38 five minutes into the second half.
"The crowd gets me into it every game," Bennett said.
The former Findlay Prep star led the Rebels in scoring for the 13th time. He surpassed his previous career high of 27 points against La Verne on Dec. 13.
"Certainly, Anthony got us going and was scoring at will," coach Dave Rice said. "He scores in such a variety of ways and does it all within the flow of the offense. He never forces things. He's a gifted player.
"He continues to get better. We knew he would be a special player for us."
In his first start of the season, Birch produced four points and six rebounds. He replaced Thomas in the lineup.
The Rebels shot 50.9 percent (28 of 55) from the field and totaled 23 assists and 19 turnovers.
Stephon Carter led Bakersfield with 16 points, and Adam Young, a senior forward who played at Centennial High School, hit two 3-pointers and finished with 12 points.
The Roadrunners dropped to 0-4 on the road against Mountain West opponents, also losing to Wyoming (64-49, Nov. 24), Colorado State (78-58, Dec. 19) and San Diego State (72-57, Wednesday).
Three of UNLV's first four conference games are on the road, including trips to San Diego State and Colorado State.
Junior forward Mike Moser, who suffered a dislocated right elbow on Dec. 9, missed his sixth game. Rice would not commit to Moser being in the lineup this week against the Lobos.
Moser or not, Bennett said he's ready for the challenge.
"Conference is just hard in general," he said. "I think we are well prepared. It's just the game of basketball, nothing changes."
Contact reporter Matt Youmans at myoumans@reviewjournal.com or 702-387-2907. Follow him on Twitter: @mattyoumans247.
UNLV — 84
CSU BAKERSFIELD — 63
KEY: Anthony Bennett scored 16 points in the first eight minutes and finished with 28 for the Rebels.
NEXT: UNLV at New Mexico, 7 p.m. Wednesday, CBSSN (333), KWWN (1100 AM, 98.9 FM)