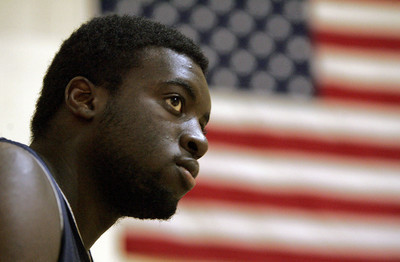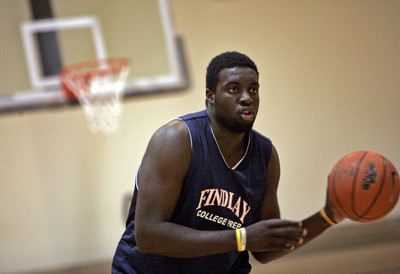 Secluded in the hills of Henderson, with the lights of the Strip visible in the distance, is a small campus that fits 6-foot-10-inch Brice Massamba perfectly.
Every weekday morning at 7:45, he reports for the first of six classes. Late in the afternoon, he sweats his way through basketball practice in a gym with about 200 seats.
Two years ago, Findlay College Preparatory was not on the map, and Massamba was living in Sweden.
But now, college coaches from all over the country know exactly how to find Findlay Prep, and Massamba is calling Las Vegas his home.
"I feel very comfortable here. I would like to stay here," said Massamba, a senior who orally committed to UNLV last week after developing a relationship with coach Lon Kruger.
Soon after he arrived at Findlay Prep in the fall of 2006, Massamba met Kruger.
"I always talk to Coach Kruger when he comes here," Massamba said, "and he comes here pretty often."
There is plenty of talent on display in the Findlay program. Four of Massamba's teammates are committed to Division I schools — DeAndre Liggins to Kentucky, Curtis Dennis to New Mexico, Deividas Dulkys to Florida State and Jacques Streeter to Cal State Fullerton.
Senior point guard Jorge Gutierrez from Mexico is on the Rebels' recruiting radar, as are two Findlay juniors, 6-11 Carlos Lopez from Puerto Rico and 6-8 Clarence Trent from Gig Harbor, Wash.
The head coach is 37-year-old Mike Peck, who spent three years on the UNLV basketball staff, one year under former coach Charlie Spoonhour and two years under Kruger, serving as video coordinator and handling administrative duties.
Peck's assistant coach is Todd Simon, who also spent two years on Kruger's staff. Seven of the nine Findlay players, including Massamba, live in a five-bedroom house with Simon and his wife.
The Pilots are 12-0, winning mostly in blowouts, and their schedule includes trips to Florida, Kentucky, Massachusetts, Michigan and Ohio.
"I love this team. The coaches are very good at developing us," Massamba said. "I picked this school because you're free to do stuff. It's not like a prison. You can go to the Strip."
Most prominent prep schools are located on the East Coast. The idea to establish one in Henderson came from Cliff Findlay, a local businessman who played basketball at UNLV from 1967 to 1970.
Findlay is the program's primary financial backer, and he has a small group of business associates who contribute to the team's funding.
"They believe in the concept, they support it and it works great," Peck said. "It prepares kids for that next step, because that's our goal … qualify them NCAA-wise and go on to play Division I basketball."
Findlay Prep's players attend classes at the Henderson International School, where tuition is about $16,000 per year, according to Peck. The school is for students grades 5 through 12.
"I think the most important thing that we have is full scholarships," Peck said. "We offer a kid tuition, books, fees, room and board. They just need to show up and we'll take care of their schooling and feed them and all that."
Massamba was playing for the Swedish Senior National Team two years ago, when a scout for the NBA's New Jersey Nets spotted him at a tournament in Germany. The Nets scout contacted the Findlay staff.
Peck, an assistant coach in Findlay Prep's first year, went to Atlanta in August 2006 to watch Massamba in a prep tournament. Peck brought Massamba to the Henderson campus, and it was a fit.
"Being with Coach Kruger for two years and knowing the type of players who thrive in his system, Brice is exactly that," said Peck, who praised Massamba's attitude and athletic ability. "He's not a selfish kid at all. He's interested in winning and in competing."
Massamba is the third member of the Rebels' 2008 recruiting class, joining Deshawn Mitchell, a 6-6 small forward from Monmouth Academy in Howell, N.J., and 6-8 power forward Darris Santee from Midland (Texas) College.
Massamba is awaiting his ACT scores and attempting to qualify academically, but he plans to be on the floor for UNLV next season.
"They need a big guy to get rebounds. I work 110 percent," Massamba said. "I will do whatever it takes. I will spit blood if I have to."
A small ligament tear in his left knee has kept Massamba out for about a month. He averaged 11.4 points and 7.6 rebounds in five games before the injury and returned to practice this week.
Massamba expects to play Friday and Saturday when Findlay Prep hosts Rise Academy (Pa.) at the Henderson International gym. The Pilots also play at Bishop Gorman High School on Jan. 25.
When he gets to UNLV, Massamba will be reunited with 7-foot Beas Hamga, who is practicing with the Rebels while serving an NCAA-mandated redshirt year. Hamga attended Findlay Prep for two months in the fall. Hamga and Massamba should make an imposing pair.
"I have a good relationship with Beas," Massamba said. "I look forward to that."
Contact reporter Matt Youmans at myoumans@reviewjournal.com or (702) 387-2907.