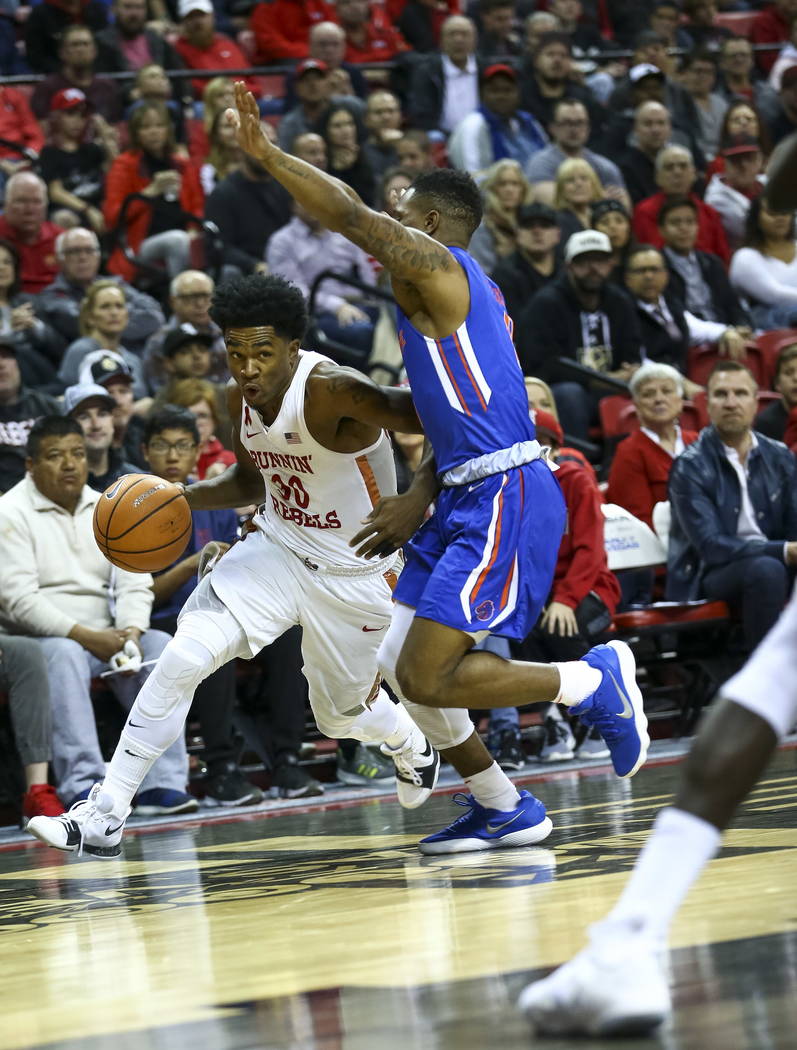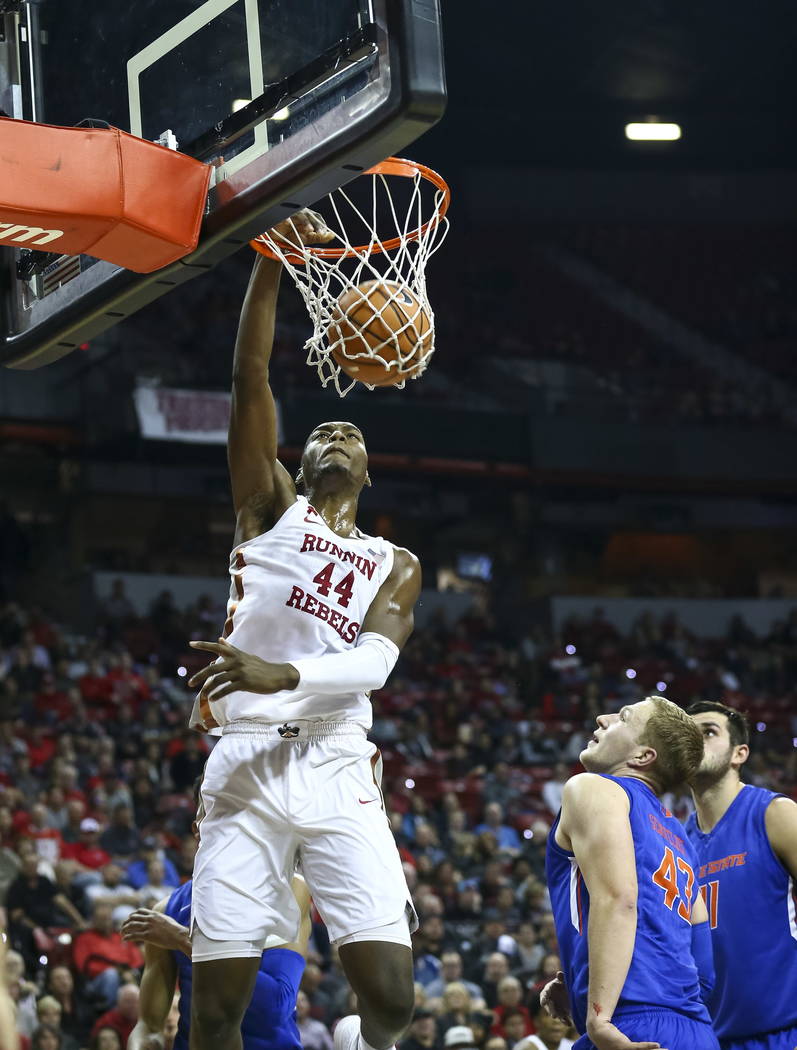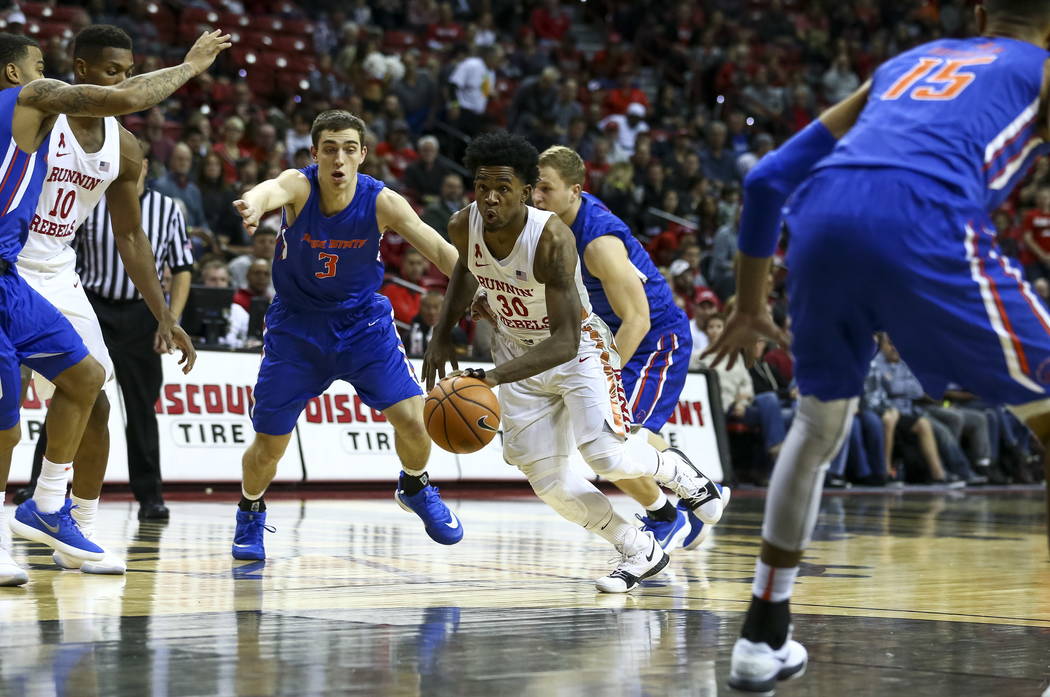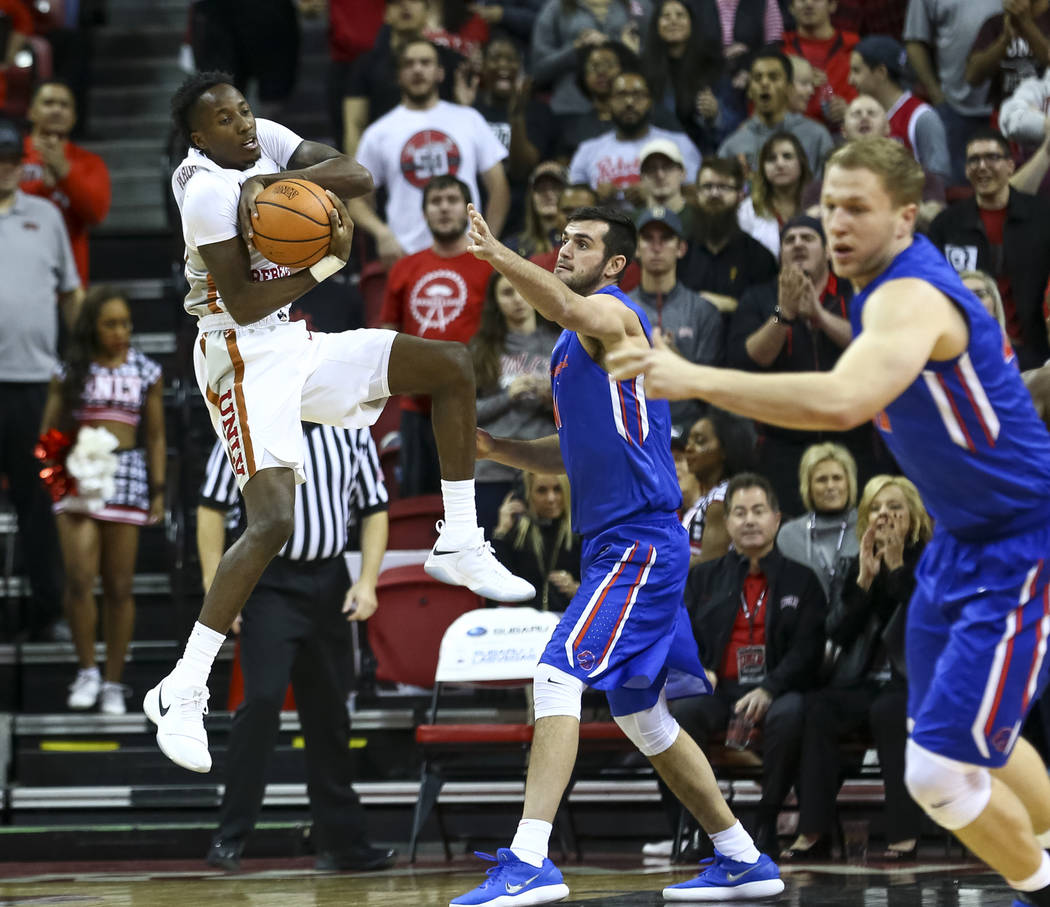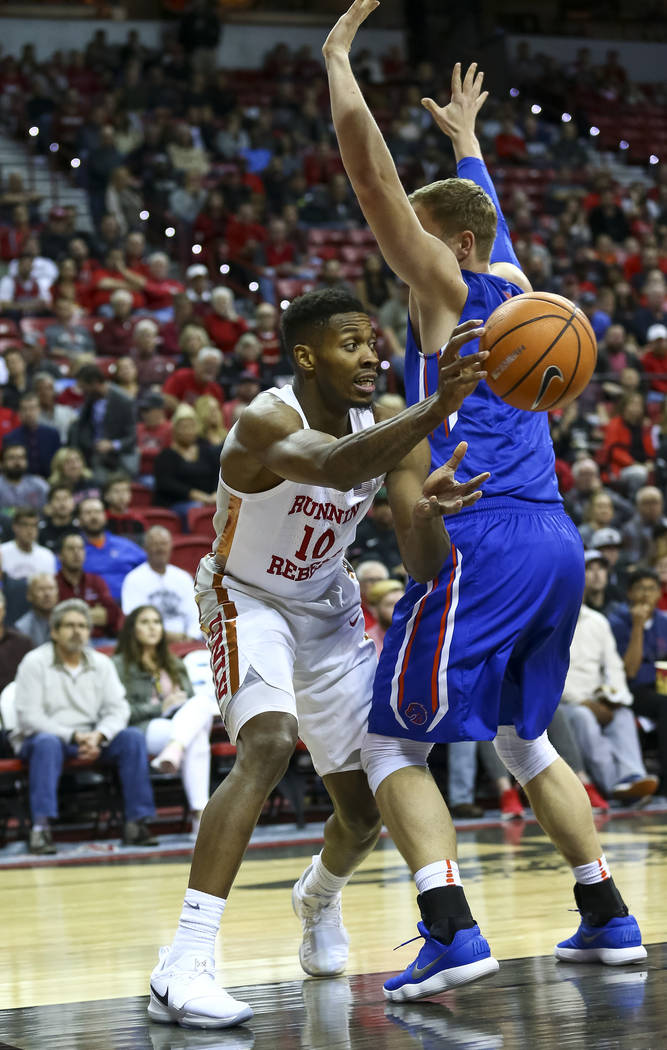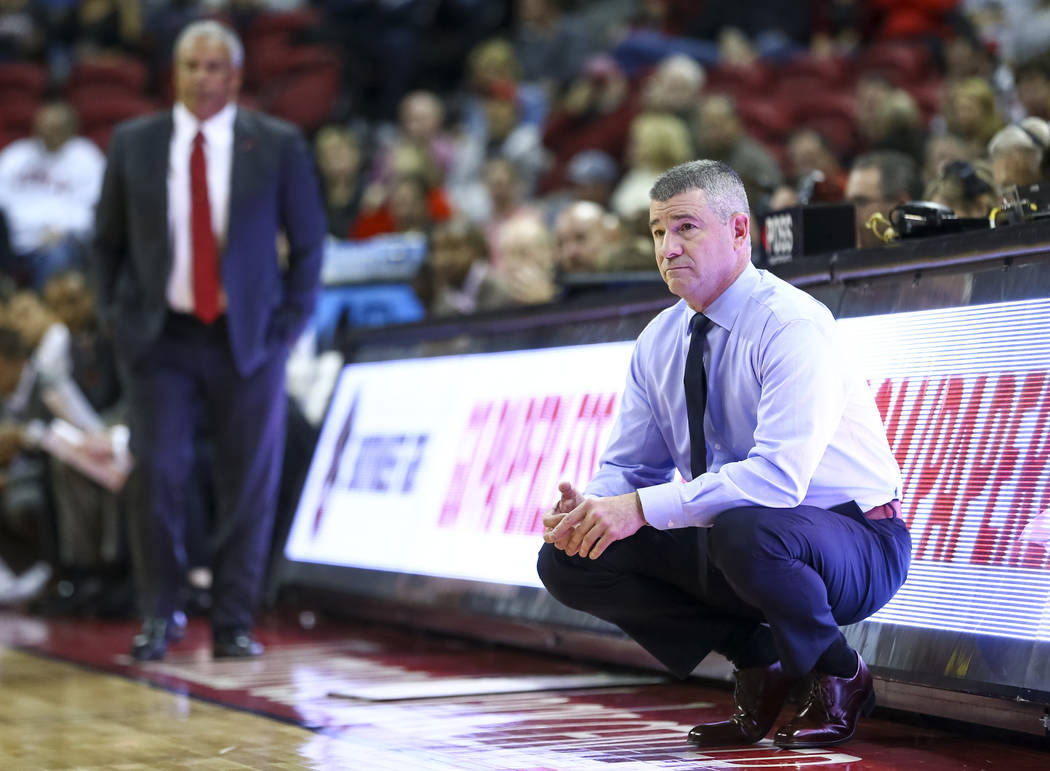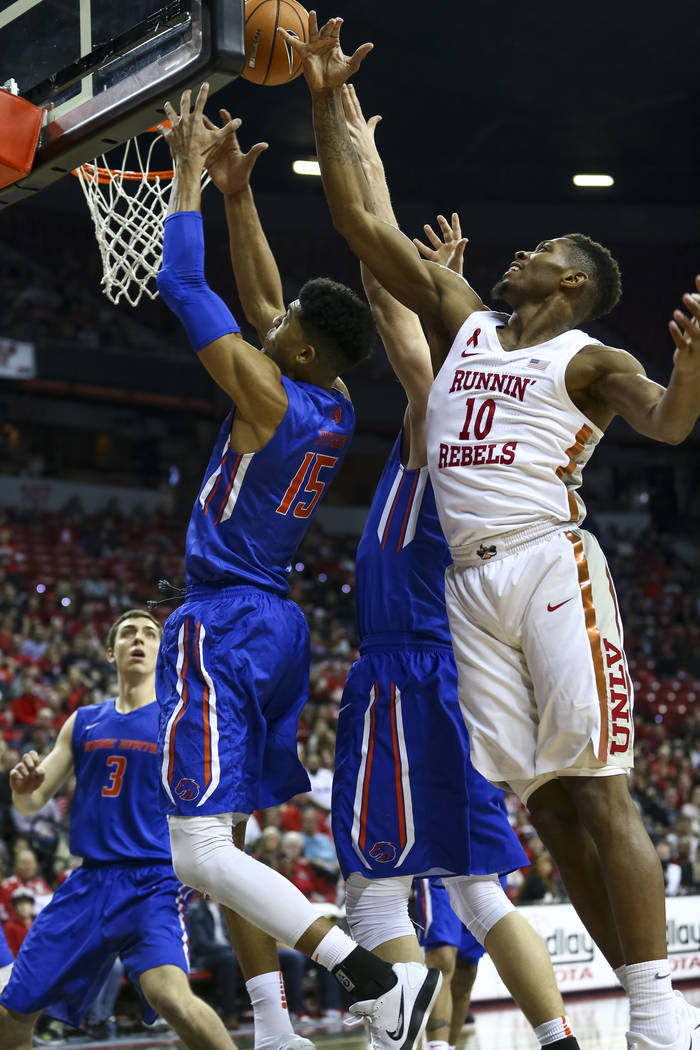 UNLV opened Mountain West play Saturday night hoping to make a statement that would resonate throughout the conference.
It was Boise State, however, that sent the message, taking control early in the second half and beating the Rebels 83-74 at the Thomas & Mack Center.
The Broncos (12-2, 2-0 MW) went on a 20-2 run in which the Rebels (11-3, 0-1) missed 10 shots in a row to go ahead 57-45 with 11:45 left and erase a six-point UNLV lead. The dominance of that run mirrored Boise State's superiority on the boards, outrebounding the Rebels 48-29.
"At the end of the day, we lost to a really good team that out-toughed us in more than one area, especially from the rebounding side," UNLV coach Marvin Menzies said. "That jumps out at me as being an obvious area of concern for tonight. We'll see if it's a pattern or not going forward, and we'll try to make the adjustments."
Boise State also made 50.8 percent of its shots compared to 40.3 percent for the Rebels.
"We were too stagnant on the offensive end," Jordan Johnson said. "The ball wasn't moving how we usually move the ball around."
UNLV also couldn't stop conference Player of the Year candidate Chandler Hutchison, who made 13 of 18 shots in scoring 32 points. He also collected 12 rebounds. Zach Haney also had a double-double with 11 points and 11 rebounds.
For the Rebels, Shakur Juiston made 10 of 14 shots and scored 25 points, Johnson had 20 points, and Brandon McCoy finished with 16 points and 10 rebounds.
UNLV played a solid first half, taking a 37-35 lead into the break. They came out in the second 20 minutes and pushed the advantage to 43-37.
Then came Boise State's big run, and the Rebels found themselves in catch-up mode the rest of the game. They made some runs, but never made up the difference.
"We can do better, and we will do better," Juiston said.
It was an incredibly disappointing start to conference play for UNLV, which at halftime honored the 1976-77 "Hardway Eight" team, the first Rebels team to make a Final Four. The Rebels hope to reach that glory again at some point, but Boise State showed the gap that still exists in Mountain West between the contenders and those at least a notch below.
UNLV had hoped — and still hopes — to be one of those teams fighting for the conference crown, and there are a lot of games to be played to see if that happens, but it's clear the Rebels have plenty of work to make that a reality.
The Rebels, though, enter a stretch in which they can compile victories and confidence, beginning Wednesday at San Jose State. They then follow with games against Utah State, at Air Force, against New Mexico and at Colorado State. All potential victories.
It's a chance to put behind them the sting of Saturday night.
"We've got to watch a lot of film and see what we did wrong and see what went wrong," Juiston said, "so next time we can have it locked in our heads so when it's about to occur. We can snap out of it and do the best we can to not have a loss like this again."
Note
UNLV forwards Cheickna Dembele (head) and Anthony Smith (ankle) didn't play.
More Rebels: Follow all of our UNLV coverage online at reviewjournal.com/Rebels and @RJRebels on Twitter.
Contact Mark Anderson at manderson@reviewjournal.com. Follow @markanderson65 on Twitter.