Bulldogs bounce Rebels from MW tournament
March 11, 2016 - 12:06 am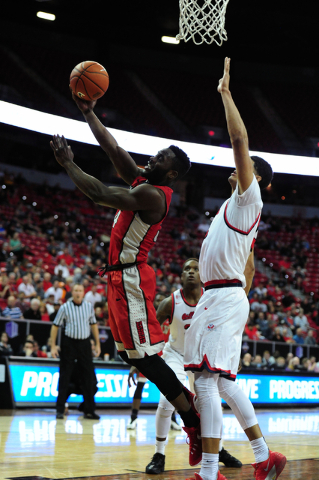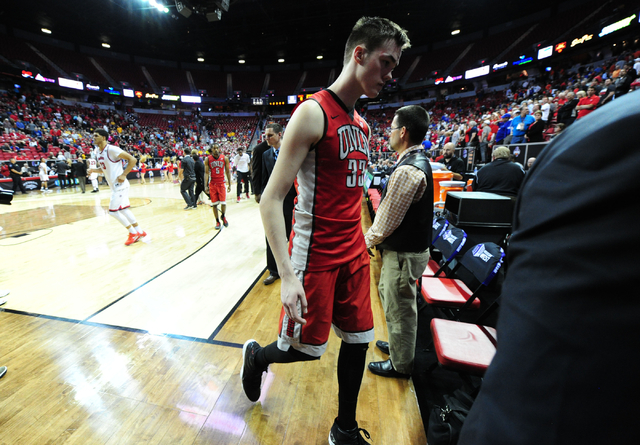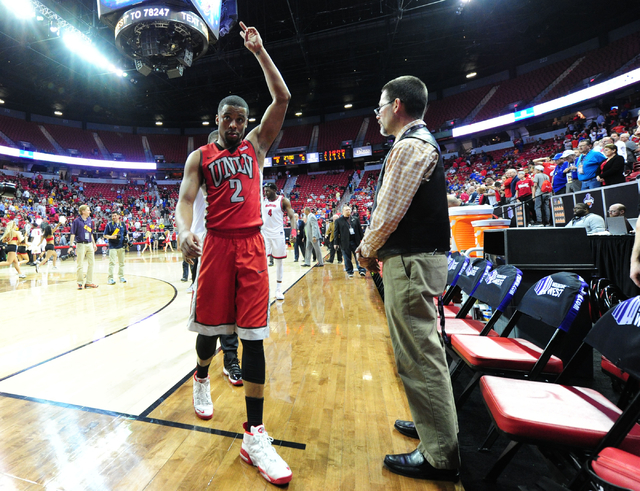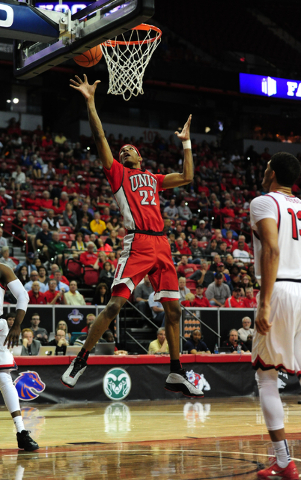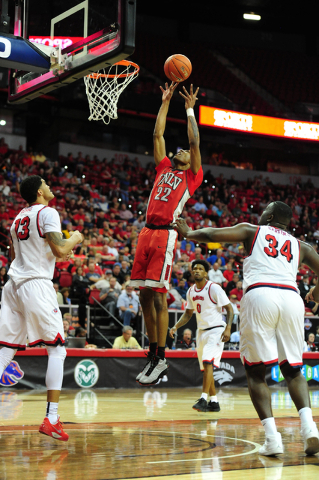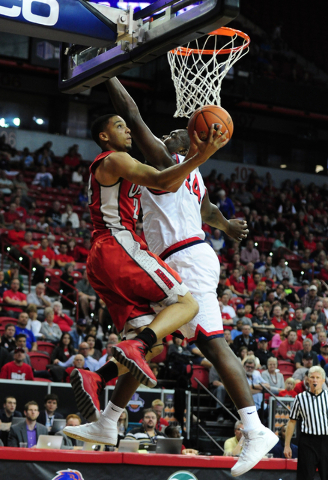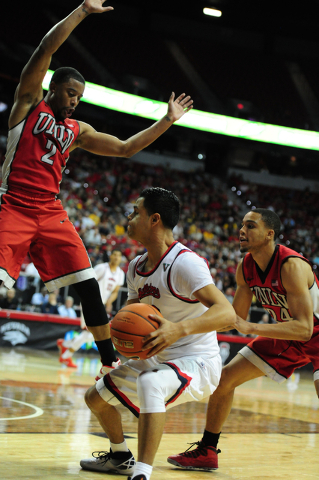 With the probable end of UNLV's season on Thursday comes the beginning of another type of season that will have long-term ramifications on the Rebels' basketball program.
The moment the final second ticked off the clock of a 95-82 loss to Fresno State in the quarterfinals of the Mountain West tournament, attention turned from what happened on the Thomas & Mack Center court to what's going to occur in the next several weeks.
Who will be the next coach?
How many players will come back?
Will the recruiting class stay intact?
The answers will begin to come fairly soon for UNLV.
No. 2 Fresno State (23-9) advances to the semifinals at 8:30 p.m. today against No. 6 Colorado State (18-15). Top-seeded San Diego State (24-8) will play No. 5 UNR (18-12) at 6 p.m. in the first semifinal.
UNLV (18-15) most likely is done. There is the chance of being invited to a lower-level tournament, but given the hits the team has taken with injuries and other issues that reduced the roster to six available scholarship players against Fresno State, the odds are almost nil of accepting such an invitation.
The lack of numbers, as well as a 108-102 triple-overtime victory over Air Force on Wednesday, made it difficult for UNLV to make a serious run through the tournament. And by the second half against Fresno State, it was clear the seventh-seeded Rebels had little left.
"We were battling hard, but you could tell on a few shots that we didn't have the same legs," said UNLV guard Ike Nwamu, who scored 12 points. "It's not an excuse, but it did play a role."
The Bulldogs didn't make it easier on UNLV by jumping on the Rebels early. Fresno State made its first seven shots and took a 17-10 lead by the first media timeout.
UNLV had some spurts, but never mounted the kind of rally needed to overcome that start and never took the lead.
"Felt like we could never get over the hump," Rebels interim coach Todd Simon said. "We didn't have that burst that we've displayed over the last 17 games. We showed a little glimpse of it, and then we just couldn't sustain it."
Early foul trouble for 7-foot forward Stephen Zimmerman Jr. didn't help, either. The Rebels made a strong effort to get him the ball early, and he scored 13 points in the first half but was shut out in the second.
With Zimmerman on the bench during one stretch of the second half, Fresno State 6-6 post player Karachi Edo took advantage by scoring 12 of the Bulldogs' 16 points. Zimmerman went back in, and Fresno State countered with 6-10, 285-pound Terrell Carter II, who scored eight of his team's next 10 points.
"Once Zimm got in that foul trouble, you're stuck in the middle because you don't want to give up buckets, but you also need him to stay on the floor," Simon said. "Because if he's not on the floor, there's no Plan B at times. A number of times we had (6-1 guard) Jerome Seagears on Terrell Carter fronting the post just on basic switching action when we were five guards. He did a heck of a job, but you're talking about unbelievable mismatches."
In the end, it was too much for UNLV, which was led by Patrick McCaw's 28 points. Seagears scored 17.
Julien Lewis had 27 points for the Bulldogs, and Cezar Guerrero scored 17. Marvelle Harris, chosen by the coaches as the league Player of the Year, scored 16 points and fouled out with 1:47 left.
UNLV now has its own season to get ready for, and it doesn't involve bouncing basketballs.
Athletic director Tina Kunzer-Murphy said she would meet with the players and staff today and have a preliminary discussion with coaches interested in taking over the program. That probably includes at least Simon and assistant Stacey Augmon.
"To be the head coach at UNLV is a tremendous honor and privilege," Simon said. "Whether it was for 17 games or for a long period, I'm thankful to Tina for the opportunity to be able to lead these guys even for 17 games. And whatever the future may hold, that I don't know."
Kunzer-Murphy said she didn't want to put a stringent deadline on naming a coach.
"We may go into the Final Four, but I think by the end of this month, we'll have a head coach," she said.
The name of the next coach could influence two other pressing questions — who is coming back and whether the recruiting class stays together.
Few expect Zimmerman to return, and McCaw and Derrick Jones Jr. will have decisions to make as well. UNLV signed four players in the fall, and they are committed for now but could change their minds depending on the coaching hire.
The future holds as much uncertainty as a season that was filled with injuries and off-court distractions. But even if the Rebels didn't have the numbers, they had the effort.
"Guys never gave up this year," Seagears said. "There were so many situations where guys could have put their head down and wrapped it up for the end of the season just in terms of guys ready to go to the next level. Guys never looked at the situation like that."
Contact Mark Anderson at manderson@reviewjournal.com or 702-387-2914. Follow him on Twitter: @markanderson65
Check our GameDay page for full coverage of the UNLV-Fresno State game.