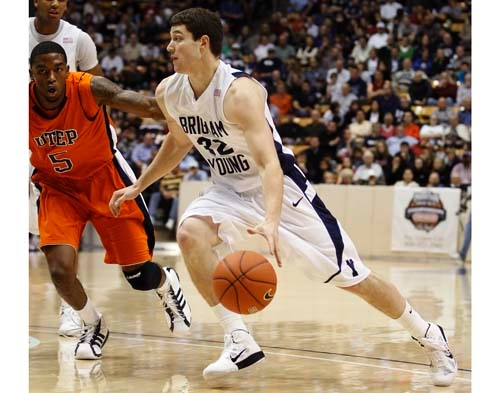 Every time Jimmer Fredette takes his shooting show on the road, defenders swarm him and fans harass him.
The Brigham Young star would have it no other way.
"I do like that kind of stuff," he said. "It's kind of you against the world when you play on the road. I like playing in tough circumstances. I try to silence the crowd a little bit."
Fredette has yet to quiet the crowds at the Thomas & Mack Center, where the senior is 0-5 against UNLV. He is about to get another shot, and perhaps his last.
The 25th-ranked Rebels (12-2) and the 15th-ranked Cougars (14-1) open Mountain West Conference play at 7 p.m. today in the earliest meeting between ranked conference teams in the league's 12-year history.
UNLV has defeated BYU eight straight times at the Thomas & Mack, a streak that includes conference tournament games and dates to 2006.
"It's so hard to win in their building," Fredette said. "Obviously, it's something I haven't done since I've been here. It's going to be another battle."
Both games last year attracted sellouts of 18,500-plus. The Rebels, behind a career-high 33 points from Tre'Von Willis, crushed the Cougars 88-74 on Feb. 6. In the MWC tournament rematch on March 12, Willis scored 18 points in UNLV's 70-66 win.
As of Tuesday night, more than 2,000 tickets were available for purchase and tickets still remained in the student allotment. A third consecutive sellout is unlikely, but emotions will be running just as high.
"You've got a preseason All-American and supposedly the best player in the conference on the other team, so it's going to be nothing but fun," Willis said.
Led by Willis, the Rebels took both meetings in Las Vegas a year ago, but it was not just because they threw a wet blanket on Fredette. He scored 21 points in the first game and 30 in the second.
His field-goal shooting (11-for-35) was not as sharp as usual, but he made 23 of 25 free throws in the two games.
"It's not like we've shut him out by any means," UNLV coach Lon Kruger said. "He's very good at the free-throw line, and he's very good at drawing fouls. He's going to score in a lot of different ways. We try to keep fresh people on him."
The Rebels are deep and strong at the guard and wing spots, so they have been more effective than most teams at curtailing Fredette's wizardry. UNLV will switch defenders and double-team the 6-foot-2-inch Fredette, but Willis said he wants the primary assignment.
"I'll try and guard him every chance I get," Willis said. "He's got all those accolades, but he's got to come in here and prove it. I take wonderful pride in my defense. I don't like to let anyone to score on me.
"If we keep him off the free-throw line, it's going to be a plus for us. You can't relax. That's basically the key point. If you relax on him, he's got a quick trigger."
Fredette, scoring 24.1 points per game, is a threat behind the 3-point line (42-for-112, .375) and displays an array of clever moves on drives to the basket. He's a likely NBA first-round draft pick.
While Willis was reluctant to praise Fredette, calling him "supposedly the best player in the conference," the senior rivals do share respect.
"Tre'Von's a very, very good player. He's a strong guard, and he can really play with anybody in the country," Fredette said. "I'm looking forward to the matchup. I like to play against great players and try to elevate my game."
The game ultimately might be decided by other players — such as UNLV point guard Oscar Bellfield or BYU big man Brandon Davies — but Fredette will have to play a major role if the Cougars are to quiet a loud Thomas & Mack crowd.
"I really like the challenge," he said.
n NOTES — Kruger is seeking his 150th win in his seventh year at UNLV. BYU leaves for the West Coast Conference next season, and the teams have not made plans to extend the series. The Rebels and Cougars meet again Feb. 5 at Provo, Utah.
Contact reporter Matt Youmans at myoumans@reviewjournal.com or 702-387-2907.
BRIGHAM YOUNG VS.UNLV
WHEN: 7 p.m. today
WHERE: Thomas & Mack Center
TV/RADIO: CBSC (333), KWWN (1100 AM, 98.9 FM)
LINE: UNLV -3, total 145