Cincinnati's Cronin expected to visit UNLV; potential deal could reach $3 million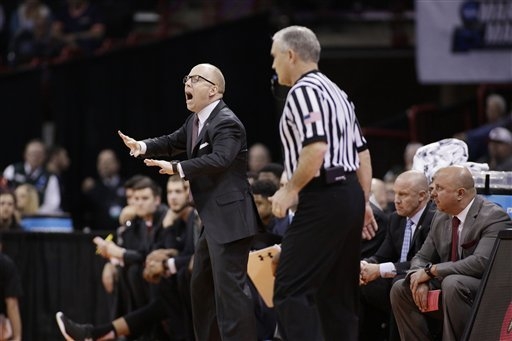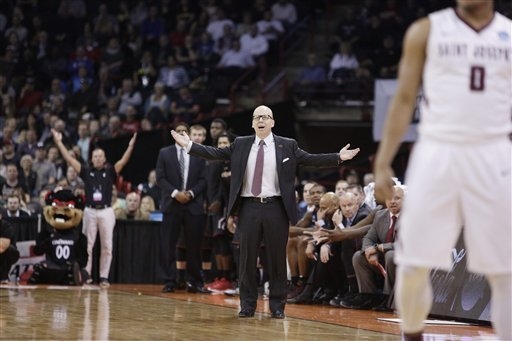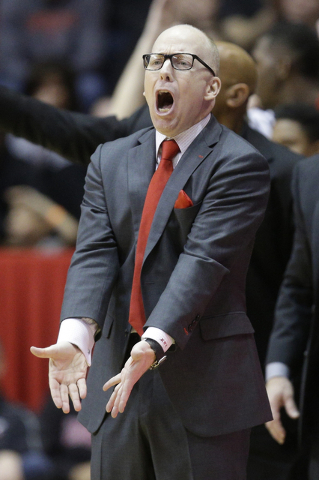 Cincinnati basketball coach Mick Cronin is expected to visit UNLV in the next day or two to discuss the school's vacant coaching job, and apparel company Under Armour could push a potential deal to the $3 million per year range, sources said.
In individual meetings with members of the University of Nevada Board of Regents, UNLV officials have received enough positive feedback that if they were to offer a potential coach at least $2 million per year, it would be approved by the state's governing body. The Under Armour part of a potential deal was not believed to be part of such discussions with regents.
"Wow," was the response of a regent when told of the figure.
Assurance by the regents is important if UNLV president Len Jessup and athletic director Tina Kunzer-Murphy move forward in their efforts to land Cronin. Cincinnati granted UNLV permission last week to speak with him, and Cronin is the Rebels' top candidate.
"We have had good discussion and input (from regents) that has been very valuable!" Kunzer-Murphy wrote in a text message. "The president and I are speaking with many people to produce a positive outcome!"
Attempts to reach Jessup were unsuccessful.
UNLV has an apparel contract with Nike that is expected to expire soon, and Under Armour wants to establish more of a presence in the West. Under Armour is the apparel provider at Cincinnati, and it would provide about $1 million annually to Cronin once the Nike deal expires.
If the deal is indeed in the $3 million-per-year range, the other roughly $2 million would be split between UNLV and outside sources. Even if the school's commitment was $700,000 to $1 million, it would not be a for-sure sale to the regents, though the belief by UNLV officials in discussions with several sources that included regents, the votes probably will be there.
"In athletics, it's time to go big or go home," regent James Dean Leavitt said.
The newly created five-member ad hoc Committee on Athletics is scheduled to discuss the potential new coach's contract March 30, and the deal is scheduled to go before the full 13-member board March 31.
Leavitt and fellow Southern Nevada regents Kevin Page and Michael Wixom are on the committee. They are joined by Kevin Melcher and Jason Geddes.
Wixom said the entire board will review whatever contract is put in front of them.
"Anything the committee does has to be affirmed by the board up and down," said Wixom, the regents vice chairperson.
As for his own feelings on a contract, Wixom said he had to know where the money was coming from, how firm were the financial commitments and what the overall financial package looked like.
"I have to get a satisfactory answer to all three," Wixom said. "It's a high bar. It's a public institution, and it's appropriate for me to ask those questions."
Such a large contract would be far more than what the Rebels have ever paid a coach. Former UNLV coach Lon Kruger, who was with the Rebels from 2004 to 2011 before leaving for Oklahoma, made as much as just more than $1 million a year.
"I've had briefs and conversations as things have developed, and I do know there are serious discussions with Cronin of Cincinnati," regent Mark Doubrava said. "I'm watching, and I'm excited they could bring him in to be the head of the UNLV program."
Fellow regent Sam Lieberman also supported UNLV hiring Cronin.
"The institution where he is coming from is not eager to see him go," Lieberman said. "He really wants to be here."
Regent Trevor Hayes wanted to withhold judgment on any possible coach or contract until he saw the details.
"At this point, we haven't seen anything," Hayes said.
The regents might not be UNLV's primary obstacle to getting a deal done. It could be whether Cronin, who with incentives makes as much as $2.2 million per year, is genuinely interested in the job or is using the vacant position as leverage to improve facilities at Cincinnati.
Cronin, 44, also has to weigh if he's willing to move from his native city and his alma mater.
He has been the Bearcats' coach for 10 seasons, recording a 207-129 record in that time. Cronin has taken Cincinnati to six NCAA Tournaments in a row, and this season the Bearcats went 22-11 and lost 78-76 to Saint Joseph's in Friday's first-round play.
If Cronin turns down UNLV or the regents don't approve the contract, the Rebels will have to turn to their next choices. Former UCLA and St. John's coach Steve Lavin and current New Mexico State coach Marvin Menzies appear to be the front-runners after Cronin.
UNLV also has interviewed three members of its staff, but interim coach Todd Simon on Tuesday agreed to become Southern Utah's coach. Assistants Stacey Augmon and Ryan Miller also were interviewed.
Hints have been made that other potential candidates, whose names have not been made public, also could be considered. South Carolina's Frank Martin and Arkansas-Little Rock's Chris Beard also reportedly could be considered.
Contact Mark Anderson at manderson@reviewjournal.com or 702-387-2914. Follow him on Twitter: @markanderson65
RELATED:
UNLV gets permission to interview Cincinnati basketball coach Cronin
Cincinnati's Cronin jumps into the mix for UNLV job