Cincinnati's Mick Cronin says he seriously considered UNLV job
Updated November 30, 2018 - 2:30 pm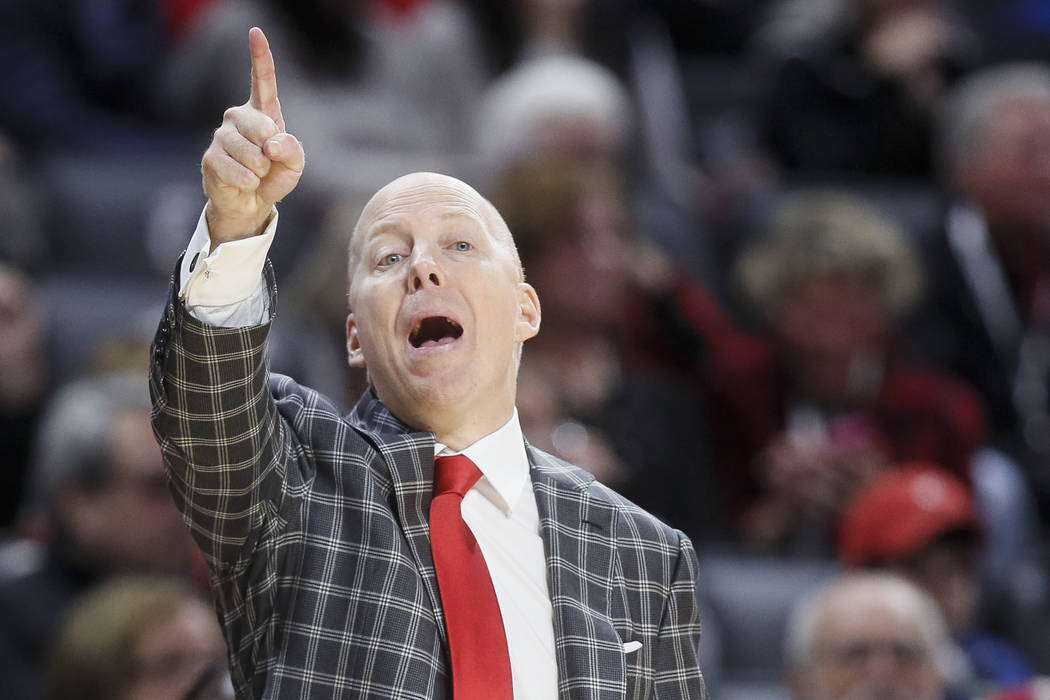 Mick Cronin considers Las Vegas his second home, saying the only city where he spends more time is Cincinnati.
Two and a half years ago, Las Vegas could have been his primary residence.
UNLV offered him its basketball coaching job, but Cronin decided to remain with the Bearcats, whom he will lead into the Thomas & Mack Center to play UNLV (4-2) at 3 p.m. Saturday. CBS Sports Network will televise the game.
What kind of atmosphere greets Cronin is uncertain. UNLV fans probably won't be shy to boo him, but there likely won't be many of them in attendance.
"For me, I don't really worry about stuff like that even at home," Cronin said. "I think you can't coach for those type of things."
Cronin said he's good friends with UNLV coach Marvin Menzies and his wife, Tammy. The home-and-home arrangement — the Rebels play there next season — was scheduled because Cronin also is friends with UNLV athletic director Desiree Reed-Francois.
"So I figured I owed UNLV one," Cronin said.
Cronin, 47, leads a Cincinnati team that is 6-1 and has made the past eight NCAA Tournaments. In his 12-plus seasons at his alma mater, he is 274-141.
It was a strong enough resume to attract UNLV's attention in 2016. The question that has lingered since the job offer was rejected was how much interest did Cronin truly have in the job.
"It was real," he said. "I had been here 10 years. It was a real assessment of my life and where I was at at the time. Like I said, I've got a lot of friends there. (Former UNLV assistants) Tim Grgurich and Mark Warkentien are both very close friends and mentors of mine as a young coach. I grew up coaching at (Cincinnati's) Woodward High School, and we ran UNLV's offense and defense. I was a huge fan and got to know the staff really well in their heyday.
"I'm a weird guy in that I don't get caught up in Power Five stuff. For me, it's about places where I'm comfortable living in, places you think you can be successful and where you know people. So that's all what made it very real for me."
Cronin said he decided he couldn't leave his daughter, Samantha, with whom he shares custody with his ex-wife. He said his ex-wife had shown prior interest in moving even though they aren't together, but not at that time.
Those involved in the search for UNLV didn't go on record as to what happened behind the scenes, but there is a split between those who think Cronin used the Rebels as leverage for a better deal at Cincinnati and those who believe he seriously considered the offer.
Cronin said he didn't get a raise by the Bearcats for staying, but two years were added to his contract.
As for whether he accepted UNLV's offer, Rebels boosters Tom Jingoli and Bill Paulos told the Review-Journal in early November that Cronin said he was taking the job.
Cronin told the Cincinnati Enquirer shortly after turning down UNLV that he "never officially accepted."
"That's what I'm not going to get into," Cronin said Thursday. "I can just tell you I don't lie. I've never lied. There's nothing to lie about."
Tina Kunzer-Murphy, then UNLV's athletic director, complained at the time that she read about Cronin's decision on social media.
"Something got leaked two minutes before I was calling," Cronin said. "Tina and I have talked many times since. I've got nothing but love for Tina. We're all past it.
"Anything to the contrary of that, who called when, none of that matters at the end of the day. There are a lot of things that are a lot more important in the world than that."
Kunzer-Murphy agreed the two have become friends.
"Mick and I have stayed in touch, and we got a chance to visit this summer in Del Mar (Thoroughbred Club)," she said in a text message.
More Rebels: Follow at reviewjournal.com/Rebels and @RJ_Sports on Twitter.
Contact Mark Anderson at manderson@reviewjournal.com. Follow @markanderson65 on Twitter.
Game day
Who: Cincinnati at UNLV
When: 3 p.m. Saturday
Where: Thomas & Mack Center
TV/Radio: CBS Sports Network; KWWN (1100 AM, 100.9 FM)
Line: Cincinnati -4½; total 132
Probable starters
Cincinnati (6-1)
Coach: Mick Cronin (274-141, 13th season)
Player Pos Hgt Ppg
Justin Jenifer G 5-10 6.5
Keith Williams G 6-5 9.4
Jarron Cumberland G 6-5 17.0
Trevon Scott F 6-8 10.4
Nysier Brooks C 6-11 7.4
UNLV (4-2)
Coach: Marvin Menzies (35-36, third season)
Player Pos Hgt Ppg
Noah Robotham G 6-1 7.0
Kris Clyburn G 6-6 11.7
Joel Ntambwe F 6-9 4.7
Shakur Juiston F 6-7 12.3
Mbacke Diong F 6-11 9.2