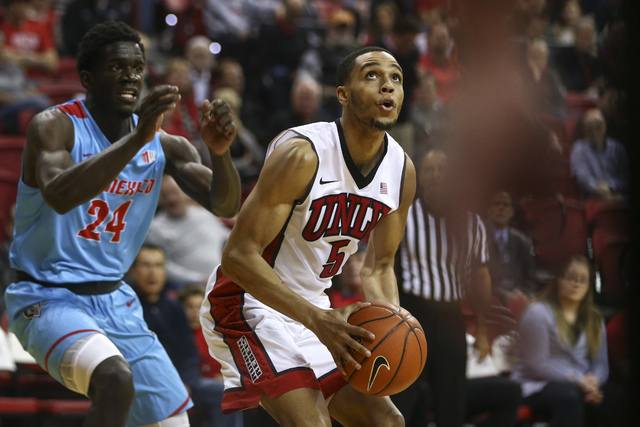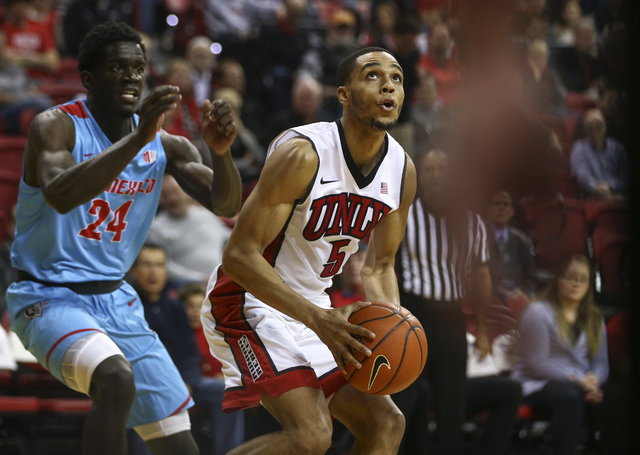 RENO — Shooting slumps come and go, but what has made this season so challenging for UNLV is how many players have experienced them for such long stretches.
Some players have gone cold for a game or two, others for a month or more.
"Different guys get in different slumps on every level, but it seems as though we've had multiple guys in shooting slumps at the same time, which is very unique," UNLV basketball coach Marvin Menzies said.
A series of shooting slumps is far from how the Rebels (10-14, 3-8 Mountain West) want to head into Wednesday's 8 p.m. game against UNR (18-5, 7-3 MW) at Lawlor Events Center.
The game, which will be televised by CBS Sports Network, should be emotional for the three Rebels who played under coach Dave Rice last season, now a UNR assistant. Dwayne Morgan is out for the remainder of the season with hip and shoulder injuries, but Jalen Poyser and Tyrell Green will take the floor.
Most UNLV players, though, don't have such a history and know little about the rivalry.
"It is something we try to educate them on," Menzies said. "Some of them obviously are familiar with rivalries, but I don't know if they understand the intensity and the passion behind this one, so we've tried to make it as clear as we can what environment they're going to face so they're prepared mentally."
UNLV leads the series 59-23, including 26-15 in Reno, but times have changed. The Rebels, who will try to break a four-game skid, are 12½-point underdogs.
Perhaps the Wolf Pack smell blood. They will wear special "Battle Born" jerseys, and famed boxing voice Michael Buffer will announce the starting lineups.
If the Rebels truly want to rumble with UNR, they badly need to improve their shooting.
Before Tuesday's two conference games, they were last in the Mountain West in shooting percentage at 39.5, the only school below 40 percent. UNLV, at 32.5 percent, also was second to last in 3-point shooting.
Look even further, and the numbers are especially troubling for the Rebels. They haven't shot better than 40 percent in a game since making 56.8 percent of their shots Dec. 19 in a 68-61 victory over Southern Illinois.
"There's no real quick fix, and there's no one way to handle it," Menzies said. "Every kid is different. Every guy's mentality is different. So you have to approach different players different ways through conversation to getting on the floor and making shots."
UNLV has players who have shot well in spurts.
Jovan Mooring, who shoots just 36.8 percent, has been UNLV's most reliable shooter in clutch situations. His six-game string of double-digit performances ended Saturday against Colorado State.
Green has made 11 of 23 shots in his past two games and scored 36 points to end a monthlong slump.
Poyser began the season as UNLV's best shooter, averaging 17.3 points on Dec. 10. But against Duke on that day, he shot 5 of 14 to begin a downward spiral.
"I haven't lost faith in these young men," Menzies said. "I haven't lost confidence in their ability to put together a run of games and give us a positive ending to the season, and that's what we're working towards every day."
Contact Mark Anderson at manderson@reviewjournal.com or 702-387-2914. Follow @markanderson65 on Twitter.
UNLV at UNR
When: 8 p.m. Wednesday
Where: Lawlor Events Center
TV/Radio: CBS Sports Network; KWWN (1100 AM, 100.9 FM)
Line: UNR -12½; total 146½